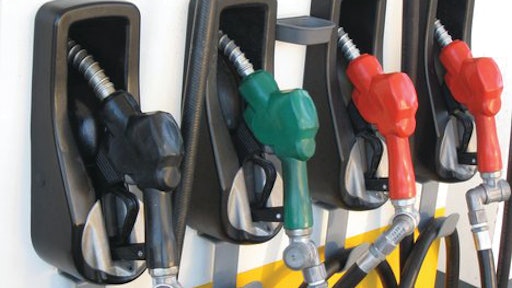 When costs such as fuel suddenly skyrocket, there are basically three things you can do in order to hold your margin:
• Take steps to reduce your consumption/cost in this area
• Pass the increased cost along to customers
• Work to reduce other costs so overhead as a whole stays in line
We asked landscape contractors what they are doing to combat the record-high fuel costs this season. Dozens responded, offering numerous suggestions in each of the three main areas listed above. A summary of best practices is below, although responses are being kept anonymous to encourage future participation in "best practice studies."
WORK SMARTER
Also faced with a soft market and increased competition, most contractors first think about things they can do to reduce fuel consumption because there's a general fear of losing business as a result of a price increase. Contractors are trying to become more efficient to cut down on windshield time and wasted fuel.
"We have weekly meetings to discuss ways to save fuel, like cutting warm-up and idling time with our trucks," said one Canadian full-service firm. A Louisville contractor said he's implemented a policy that says trucks can never idle for more than two minutes. "If it's sitting, it isn't running," he added.
In Florida, a large design/build company has found a way to cut back on miles logged by its bigger vehicles. "We're looking to our vendors to have most of our materials delivered," this operations manager said.
Working smarter includes not only trucks, but also equipment. "My truck has a mileage computer that shows fuel usage on the fly," said this North Carolina contractor. "I try to keep it above 10 mpg when accelerating from a stop and over 25 mpg when cruising. When mowing, I've dropped my throttle back just a bit, especially in light grass or tight areas where I can't utilize my full speed anyway."
"We tell our employees not to run blowers, trimmers and edgers wide open," said this Georgia maintenance contractor. "We also make sure all of our equipment is properly maintained with fluids and lubes, and the right tire pressure."
"Be sure to mow with properly sharpened and balanced blades," said a Virginia operator. "Properly sharpened blades will cut through turf with less resistance, which can reduce fuel consumption by as much as 30%. Sharp blades can also help cut back labor hours by reducing the need for slower mowing or double-cutting in order to achieve the desired result, which is a clean, manicured cut. Also, properly balanced blades will allow for minimum vibrations, which will decrease resistance and friction, too."
Also on the topic of mowing, adhering to the 1/3 rule can help. Cutting no more than 33% of the shoot growth in a single mowing will prevent excessive clipping yield, a prime catalyst for increased engine load. "The difference in fuel consumption when cutting tall, thick grass vs. properly maintained turf is substantial," the Virginia operator pointed out. "It would be like driving your vehicle uphill forever."
VEHICLE SELECTION
Speaking of driving your vehicle, some contractors are relying more heavily on a fuel-efficient model(s) for running simple errands and making client visits. Scheduling of these tasks has also been fine-tuned. One contractor said appointments for estimates are now scheduled only two days a week, which helps plan better routes and cuts down on total miles driven. Also, managers who drive company vehicles are asked to schedule client visits first thing in the morning on their way to work and late in the afternoon on their way home.
A Florida maintenance contractor has made a more dramatic change this year, though it's still too soon to quantify the benefits. He went from a 2002 4x4 7.3L Ford F-250 with a 7x16 enclosed trailer to a 1991 Ford F-450 with a 16-foot flat bed in hopes of saving money on fuel. "If I cut off about 2,700 pounds of trailer weight, plus the wind drag behind the trailer, it should help," he explained.
BETTER ROUTING
Short of reinventing their existing truck/trailer package, like the above contractor did, landscapers are focusing on other things that can help cut back on the fuel their rigs are burning.
Mapping software and GPS devices are being widely used. As one contractor put it, drivers might learn about a shortcut they never new existed.
Better routing is huge. A full-service Florida firm said it has consolidated tasks as much as possible to reduce the number of visits to a property. For instance, their maintenance crew now does irrigation checks and installs annuals to avoid sending another crew.
Here are some other tactics being used by green industry companies:
• Market area has been divided into four zones, which are handled Monday-Thursday; jobs are being scheduled by zone on that zone's given day; Friday is a catch-all day
• In neighborhoods where maintenance or lawn care contracts already exist, incentives are given to potential new customers in an effort to build up the client base in that area
• Although a little risky, perhaps, one Indiana company said it has begun parking its truck and trailer "in the city" closer to the properties it maintains; this has dramatically cut back on miles logged to and from the shop
• Working fewer but longer days is an increasingly popular tactic. For one North Carolina company, a four-day work week has helped slice fuel usage by 20% while still maintaining production levels. In Florida, that design/build contractor said longer shifts, sometimes 15 hours for a three-day work week, have actually had a positive effect on production—and employees have yet to complain.
CHARGE FOR IT
For some companies, clients have yet to complain about paying more for services. "I initially raised my prices 3-5% this season, and also use a fuel surcharge when needed on larger projects," said one Pennsylvania contractor. "No one has complained or discontinued my service."
Fuel surcharges appear to be the most popular way of passing the increased cost along to the customer. "I implemented a transportation charge this year," said a Tennessee landscaper. "Clients expect a rise in prices now to relate to the fuel costs. So I keep other costs the same, especially for those services where customers are a little more price-conscious. A line item for the actual fuel costs associated with their project has worked well."
A Kansas contractor says he's been forced to implement a 7.5% fuel charge on typical billings this year. "On landscaping and other large projects, we have a flat fee of $65 per day to help offset fuel in the equipment as well as the vehicles."
In South Carolina, all contracts for one landscaper now have a separate line item for fuel. "The estimated annual fuel usage for the contract is adjusted on a monthly basis (up or down)," the contractor explained. "Since we use more diesel than unleaded, fuel costs are weighted at the proper ratio to compensate for the difference. After some additional tweaking earlier this year, we are essentially billing out what we are spending on fuel."
While some contractors are instituting fuel surcharges, others are simply raising their prices. In Georgia, a lawn maintenance operator did an analysis of the fuel increase over the past six months. He then increased his prices by that percent, plus another 5% to allow for potential fuel price increases going forward.
An Indiana landscaper has tried to combat the increase in fuel cost by raising his rate on new customer contracts. He signs all customers up on an annual service agreement, so they pay a set rate every month. "For new customers, I figure out how much fuel (at $5 per gallon) and labor (at $30 per man hour) it takes to service their yard," the contractor related. "I then charge what I need to make at least a 30% profit."
REFINE YOUR MARKET
When you're an established business with a substantial repeat customer base, tactics like this are a legitimate option. A second Indiana contractor has refined his coverage area to one county. He's also begun adding a fuel surcharge per mow. "Next year I'm going to have to raise my prices across the board," he added.
That first Indiana contractor has also refined his market. "I'm heavily marketing to the neighbors of current customers," he said. "I have also traded customers (who were a long drive away) with other LCOs who have accounts in my area. We're all looking to hold the line on sales but reduce windshield time."
BUY SMART
A lot of contractors are also looking to greatly improve their ability to pre-qualify potential customers over the phone before investing the money and time in driving out to make an estimate.
Many are also putting a lot more thought into how they're buying gas:
• Use a credit card that provides a discount when purchasing fuel; one contractor said a Chase BP card gives him a 5% discount
• Ask station owners if you can get a cash discount
• Avoid filling up in the heat of the day, as gasoline expands in the heat
As you can see, there are a lot of things you can do to at least soften the blow fuel costs are having on your business. One thing you can't do is carry on with business as usual. Perhaps this is an opportunity for the most savvy of operators.
As one Midwestern contractor so aptly stated, "The economy is slowing and the fuel prices stink. But times like this help weed out all the fly-by-night landscape companies that have cut their prices over the years. And it teaches those of us who have been in the business for a long time to keep a very close eye on the bottom line.
"It's been said that the one thing in business we have the most control over is our overhead. Over the past 12 years in the Midwest, the economy was booming, so you tend not to watch the bottom line as much. The current economy, although slowing down and not welcomed, also has a benefit to it: It teaches us to get back to the basics of running a very efficient company."
Ask a PRO: "Invite donations!"
"My company specializes in the fertilization and weed control treatments of residential and commercial properties. In 2007 I added a fuel surcharge to my invoices to help offset the rising fuel cost. I felt like the extra $1.75 per customer was not asking much. To my surprise, though, many customers complained about the increase in price without prior notice, and about a third of them actually refused to pay it.
"This year I decided to go a different route. I knew I had to raise prices, but I wanted to make sure that my customers were not upset again. With this in mind I decided to offer an optional fuel surcharge. I simply stapled a leaflet to my invoices reminding customers that most service companies add fuel surcharges without their customers' prior knowledge—and that I felt like that was a poor way of doing business. I made it clear that I understood that they are also experiencing higher fuel costs and have a tighter budget.
"I finished by asking if they could add a few dollars to their next payment to help offset my higher fuel expense—if their personal budget allowed. A couple weeks after I implemented this idea, I started seeing one customer after another sending $2 here and $3 there with their payments. I even had a few customers send $50 and more because they were so pleased and impressed with how my company handled the rise in cost.
"On top of this optional fuel surcharge, I also implemented a policy stating that every customer who sent extra money would receive a thank you call from my staff. Trust me when I say that not only are my customers more loyal to GrassRoots, but they are also spreading the word to friends and family members about what GrassRoots did—and are telling them to use our service.
Josh Wise
GrassRoots Tree & Turf Care
Acworth, GA