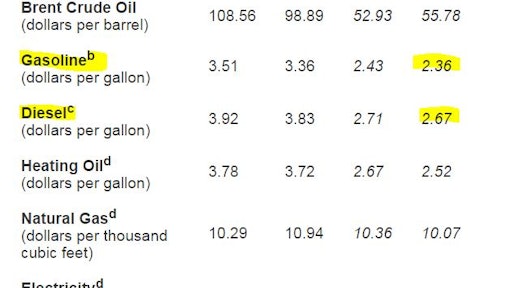 http://www.eia.gov/forecasts/steo/
According to a story by CBS News, the U.S. Energy Information Administration says Americans will continue to reap the windfall from energy prices that will remain well below their historic highs. However, those prices won't be quite as low as they were last year.
Data at the EIA's website shows that gasoline is projected to average $2.36 in 2016, compared to the slightly higher average of $2.43 in 2015. That $2.36 average is still up about a quarter compared to the especially low prices consumers enjoyed to close out 2015. But $2.36 is still a real good price—especially when considering how, just a couple of years ago, the price of gasoline was well over three bucks.
Think about what 7 cents a gallon could mean to your bottom line this year. Say you're a lawn maintenance contractor who spends roughly 5% of sales on fuel. If you generate, say, $400k a year in sales, you'd be spending around $20,000 on fuel. A 7-cent decrease on $2.43 is 3%. So you'd save around $600 a year on fuel. That doesn't appear to be much in the grander scheme of things—but it sure beats having to spend more on fuel than you did last year.
There's one more positive effect of stable, relatively low gas prices. Analysts figure that every 1-cent reduction in the cost of gasoline puts about a billion dollars in consumers' pockets. Some of that money can be spent on discretionary items such as tattoos, fifth and sixth viewings of movies like Star Wars, and of course lawn care, landscaping and power equipment.
So as we forge ahead into 2016—and figurative wars rage on the U.S. campaign trail and literal war rages in the Middle East—be thankful for stable fuel prices. Stability can be hard to come by these days.