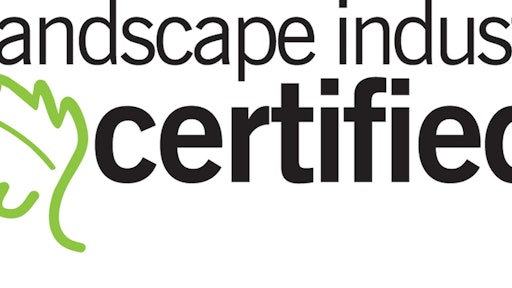 After last year's excellent series featuring professionals who hold the Landscape Industry Certified Manager (CLP) designation, I'm particularly pleased to see our Technician certification program highlighted in Green Industry PRO magazine and at greenindustrypros.com throughout 2012.
As background, PLANET's certification opportunities encompass the following choices:
Today the more than 4,000 active certificants in North America are featured on a new Honor Wall of Landscape Industry Certified at landcarenetwork.org.
New lawn care exam. We continue to build the program and recently launched the new Lawn Care Technician-National exam. This exam is broad in scope, whereas the long-available cool-season designation focuses on lawn and grounds management in the northern United States. The Lawn Care Manager program administered through the University of Georgia Center for Continuing Education offers a well-rounded foundation in warm- and cool-season turfgrass establishment, growth, maintenance, troubleshooting and customer relations.
Less confusing to consumers. We rebranded the certification program in 2010 for all designations to Landscape Industry Certified, which speaks clearly to consumers, is supported and used internationally, shows credibility and commitment to best practices, and leaves a lasting impression. We do have certificants who have earned more than one designation—Landscape Industry Certified prevents an alphabet soup of acronyms. Today, you are either a Landscape Industry Certified Manager, Technician, or Manager & Technician combined.
'Exterior' remains most popular. The most popular designation continues to be the Technician-Exterior, which is offered by numerous state and provincial association licensees. This is a unique written and hands-on exam with specialty areas in Softscape Installation, Hardscape Installation, Turf Maintenance, Ornamental Maintenance or Irrigation.
In 2011, Technician-Exterior licensee California Landscape Contractors Association created a video supported by PLANET that tells the story of this exam beautifully. "PLANET's certification program is a great training experience for employees and an important way for companies to differentiate themselves," says Tim Saunders, Landscape Industry Certified Technician, CEO of Coastal Pacific Landscape Management in San Diego, CA. Saunders thought a video would convey the value of certification. The CLCA agreed, and today customers and landscape professionals alike can view the meaning of certification online: Version 1: to educate consumers and clients about the program (http://vimeo.com/24103660) and Version 2: for contractors (http://vimeo.com/24703360).
How certification can help you this year. Make 2012 the year you decide to get Landscape Industry Certified. In today's marketplace, having certified staff gives us an added competitive and professional edge that we can use to our advantage. And as professionals, certification helps boost our career portfolios and makes us more valuable to our employers.
I can tell you first-hand that becoming Landscape Industry Certified has upped my game ten-fold and made me more marketable to customers, and it can do the same for you. Winning bids, impressing customers, distinguishing yourself from the competition—these are just a few of the potential benefits of becoming certified.
Michael Becker is a Landscape Industry Certified Manager and has been involved in the landscape industry since the early 1980s. He is the owner of Estate Gardeners Inc., in Elkhorn, Nebraska, and is the chair of PLANET's International Certification Council.
Companies in this article