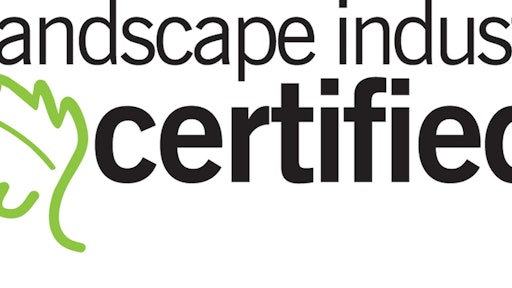 Ever wonder how you could become a more valuable employee, advance your career and maybe make more money? One way is to become certified through the national association known as PLANET.
Becoming Landscape Industry Certified would put you in the top 1% of landscaping professionals across the country. That's right: Of the roughly half a million people employed in the landscaping services industry, fewer than 5,000 have earned Landscape Industry Certified status; roughly 3,600 to be exact.
Pick your specialty. The most popular certification is the Landscape Industry Certified Technician - Exterior. But there are several others available, as well. You can specialize in interior, irrigation, lawn care, horticulture, softscape installation, hardscape installation, turf maintenance or ornamental maintenance. There's even a Landscape Industry Certified Manager program for those who want to solidify their business management and customer service skills.
You should simply choose the certification(s) that best fits what you do, or are looking to do, in the landscaping industry.
Getting ready to take the test. If you want to become certified, you have to pass a test. With all tests comes a bit of studying. Most recommended study materials can be found in PLANET's online book store.
David Hupman, a production specialist with The Brickman Group, is both a Landscape Industry Certified Manager and Technician. He offers the following insight: "Typically one of our crew leaders will get a copy of the study manuals and prepare on their own. When we get close to test time, we'll set up a day with other employees who are already certified to review the skill set required for the exam. Prior to the test, applicants will receive a test book to further help them prepare.
"The important thing we teach," Hupman continues, "is that they need to do it how (the International Certification Council) is asking for it to be done, which may be different than how they would normally do it."
Taking the test and maintaining certification. Several of the exams can be completed right on the computer at a PSI computer-based testing center near you (visit psiexams.com to locate one). Those exams are: Landscape Industry Certified Manager, Interior Technician, Horticultural Technician, and Lawn Care Technician.
Additionally, tests are often administered at various industry events put on by state and regional associations, such as the Illinois Landscape Contractors Association on June 14. On that note, the Technician Exterior certification requires a hands-on test which obviously must be taken in person. You can visit PLANET's website to keep up with testing dates and locations.
Also with respect to the Technician Exterior test, the written portion is translated into Spanish. The same can be said about the Lawn Care Manager exam offered through the University of Georgia.
Once you've worked so hard to earn your certification, it's important to take the necessary steps to hang onto it. You must recertify every two years by reporting 24 continuing education credits (CEUs) to PLANET. Details can be found on their website.
Companies in this article