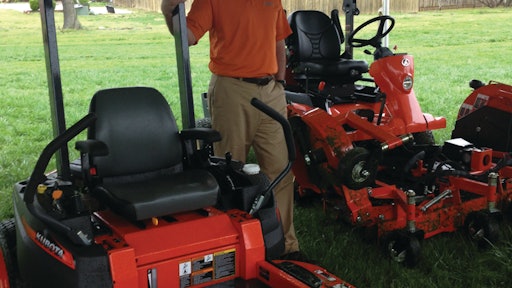 It's a been a big week for Kubota Tractor Corp. as they celebrated their Jefferson, GA, expansion, hosted media in Springdale, AR, at Springdale Equipment Co. for a Kubota Kommander event, and plan for a dealer open house at the same dealership Saturday April 13. There is much excitement over the new product line that brings Kubota to the residential zero-turn mower market with force.
Jefferson expansion
On Monday April 8, Kubota celebrated the grand opening of its new $73 million manufacturing facility in Jefferson, GA. With 100 workers on staff now, the company plans to hire as many as 200 more. The production facility has been up and running since October, and produces 60 units a day. With the completed expansion, Kubota assembly and manufacturing in the state of Georgia totals 2.1 million square feet. Celebrating their 40th year, Kubota continues to grow and thrive.
Kommander popularity grows
Kubota has grown their mower offering with the addition of a residential zero-turn mower. The Kubota Kommander ZG100-Series is made up of four models. This includes two economy models, the ZG124E and ZG127E, and two upgraded models, the ZG123S and ZG127S, available with 48- and 54-inch decks. Kubota says the new mowers are specifically designed for homeowners seeking professional-grade mowing results. Kubota assistant turf products manager Christine Chapman shared that the Kommander is the first mower to be designed and manufactured entirely in the U.S.
The mower line has many features for easy operation, added luxury and professional results. Product features include:
Sleek design, low-profile tires and LED headlights
Professional-grade, 10-gauge welded-steel deck mowing deck
Economy models feature Briggs & Stratton Pro vertical-shaft engines in either 24 or 27 hp
Upgraded models feature Kohler Courage Pro vertical-shaft engines in either 23 or 27 hp
Commercial-grade Hydro-Gear ZT-3100 transmission
4.3-gallon fuel tank capacity
Comprehensive manufacturer warranty of four years or 300 hours on both the mower and engine
Kubota hosted a few members of the media at Springdale Equipment Co. to learn more about the mower line that was introduced at GIE+EXPO this last October, and gave them a chance to test out the equipment on their own. The same opportunity will be available to the public at the dealership's open house. Kubota sent out some of their turf staff to help support the event. Most of the attendees will be local customers who registered for the open house where two Kommanders will be given away.
John Scott, president of Kubota of Northwest Arkansas with four locations including the one in Springdale, says the Kommander series has already performed favorably. They have sold 32 units since February. He has also seen some interest in the 48-inch model from commercial cutters working on residential properties. While some commercial customers have purchased the 48-inch mower, most are stepping up to Kubota 200 and 300 mower units. The dealership has targeted customers through a mower giveaway, direct mail pieces to homeowners in the area with 1-5 acre properties, as well as radio and TV advertising.
Additional products highlighted at the event included:
The Kubota ZP330, a commercial mower with a clean-burning 31-gross hp 3-cylinder, liquid-cooled liquid propane gas (LPG) engine for greener performance and reduced CO2 emissions.
The Kubota Z200-Series Zero-Turn Mowers for tighter work spaces, equipped with a compact chassis, providing a lower center-of-gravity resulting in light maneuverability and superior navigation.
The Kubota Z300-Series Zero-Turn Mowers with a full-size chassis and large mower decks that increase comfort.
The Kubota RTV1100 with a Premium Grand Cab that creates "all-weather comfort and protection".
Companies in this article