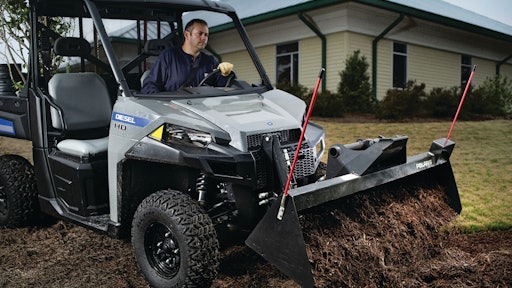 The utility vehicle (UTV) market is continuing to see growth as more and more contractors add the units to their fleets. With that growth comes user-friendly design developments as well as government regulations for safety and emissions. As these things impact UTV design—across a broad range of vehicles—the best way for a contractor to decide on the right unit for their fleet is to sit in the driver's seat.
"The utility vehicle market as a whole continues to grow," explains Aaron Stegemann, business development manager at Polaris in the off-road vehicles division. "For Polaris business grew in 2013 and it continues to grow in 2014. A lot of that is evidenced by the need that landscape professionals have for utility vehicles for moving people and cargo."
Product use and development
For many contractors, the UTV is replacing or supplementing a work truck on the jobsite. Not only are contractors using them for hauling materials like pavers and mulch as well as their own crews, they are also using their UTV with hydraulic and PTO attachments to complete all sorts of installation and maintenance tasks.
"More and more professional users are looking for multipurpose vehicles that they can use for more than one specific task," says Stegemann. "That is where the Polaris Brutus excels—especially for those lawn maintenance professionals who run in both seasons. We have a vehicle with front PTO and integrated controls that can operate a full line of commercial attachments."
There are a wide range of attachment options available—like snowplows and sweepers for the winter months—and also tools that can be held or mounted in the bed of the UTV. Contractors may consider and in-bed sprayer or spreader for their lawn care chemical and seeding applications.
As more contractors add UTVs to their fleets, manufacturers are looking for ways to allow them to do more. The more these units can handle, the longer the days spent working in them. That has led to design efforts to improve the level of comfort for the operator.
"The workers are spending full days in these vehicles in some situations," says Stegemann. "Comfort is about having a good ride and feeling good at the end of the day. It will also then give you more productivity with a quality suspension, the ability to quickly move from forward to reverse (with features like the Polaris treble pedal that allows changing directions without hand shifting gears), and heating and air conditioning in full cab vehicles."
Contractors can also find UTVs that are powered by several different fuel sources. There are gas, diesel and electric options to choose from.
"Industry-wide as well as company-wide, we still sell more gas than we do any other fuel source," explains Stegemann. "You do see people who are looking at electric vehicles for the green option or diesel because they may have that as a shared fuel source that they run across some of their other vehicles (mowers, skid-steer loaders, compact tractors)."
Emissions and safety regulations
As this market segment evolves, so do the safety and emission standards the UTV products must meet. These standards could lead to added cost paired with reduced capabilities.
"The utility vehicle (UTV) landscape has been a dynamic one for the last 10 years," says Greg Knott, director of industry affairs for the Outdoor Power Equipment Institute (OPEI). "Advancements in drivetrain technology have led to more versatile UTVs with larger payload and towing capacities, and higher power and performance; and there-in the need for new vehicle standards."
According to epa.gov, the Environmental Protection Agency (EPA) has established progressively stricter emission standards for carbon monoxide, hydrocarbons, nitrogen oxides and particulate matter for off-road vehicles starting in the 1990s. For UTVs and All-Terrain Vehicles (ATVs) manufactured after 2007, exhaust emissions are permitted to contain 1.5 g/km of both HC (Hydrocarbon) and NOx (Nitrogen Oxide), and 35 g/km of CO (Carbon Monoxide).
"Like most power equipment which is engine-driven, there are a host of issues tied to engines and tightening emissions regulations," says Kris Kiser, president and CEO for the OPEI. "There is also the interest of the Consumer Product Safety Commission (CPSC) in establishing safety criteria."
Kiser warns that mandatory standards set forth by the CPSC could greatly impact the design of UTVs. These design changes have the potential to create added cost at the manufacturing level that would raise consumer purchasing price.
"The CPSC doesn't seem to think what the industry is doing is adequate, and is likely to pursue a rulemaking which would then make mandatory some of these safety standards," explains Kiser. "It is a big deal if you are a manufacturer. It can increase their manufacturing costs and costs to the consumer."
Beyond the potentially added cost to the purchase price, the added restrictions may lead equipment design in a direction not as user-friendly. Certain UTV features and capabilities could be limited.
"If successful, the new (CPSC) rule would mandate additional operator restraint and vehicle stability requirements for vehicles with top speeds exceeding 30 mph, without consideration of machine design, use or other important performance characteristics," says Knott. "The new rule would directly impact work-oriented function and features for agricultural, turf, farming and construction professionals needing a higher-speed utility vehicle that is separate from a recreational vehicle."
OPEI published ANSI/OPEI B71.9, American National Standard for Multipurpose Off-Highway Utility Vehicles in 2012. In March 2013 OPEI initiated the first B71.9 standard revision. As part of the process, the committee is reviewing comments submitted during the original standard development, including those of the CPSC.
Demos to seal the deal
For any contractor who is thinking of adding a UTV to their fleet, the best way to discover what product is the right fit is to demo it. With a wide range of available equipment, knowing your needs and testing equipment against those needs will help you decide where your on-the-job requirements fit in that scope.
"We have UTVs that range from $8,000 to $24,000," says Stegemann. That's why the biggest thing that comes into question when choosing a UTV is really getting a chance to demonstrate a vehicle and talk to the dealer to find out exactly what best fits their (contractors) needs. It's critical to see if the machines can handle what they do on a daily basis."
At this year's GIE+EXPO in October, there will be a greater presence from UTV manufacturers. Growth in the market segment has led to more UTV booths on the tradeshow floor and more opportunities to try products out in the outdoor demo area.
"Utility vehicles are becoming, and will become, a larger segment at the show," says Kiser. "These vehicles have not historically had a tradeshow home. We have tried to convince those manufacturers that GIE+EXPO is the place to showcase their vehicles. With PGMS, hardscape and landscape professionals, it is the perfect venue."
Equipment demos have always been a big part of GIE+EXPO thanks to the unique outdoor demo areas. Rain or shine, contractors and dealers can be seen trekking out to test the newest piece of equipment. This year, Polaris has increased their outdoor demo area by 400% to 16,000 square feet. No details have been disclosed about the layout of the demo area, but Polaris promises contractors an experience that will show how the UTVs perform in situations similar to how they operate on a day-to-day basis. Their full product line will be available for demo. Other manufacturers that usually also have UTVs in their demo area include Cub Cadet, Kubota Tractor, Kawasaki, Bad Boy Inc., The Toro Company, Bobcat Company and John Deere.
Companies in this article