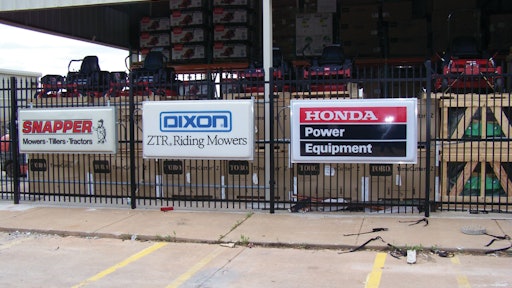 Back in mid-August, Husqvarna announced that it would stop producing Dixon-branded lawnmowers for the North American market at the end of this year (2014). For Husqvarna, the decision fits within a broader strategic plan to reduce operational complexity and drive efficiency and profitability. For some Dixon distributors and dealers, the decision adds complexity, along with some degree of uncertainty.
Craig Long's family has been closely tied to the Dixon brand for four decades. His father, Don, pioneered the first zero-turn riding mower (known as Ram) into the state of Iowa in 1969. Dixon Industries, then an independent company based in Kansas, acquired Ram in 1973 and changed the name to Dixon ZTR. Don then established a regional Dixon distributorship, Enterprises Inc. based in Omaha, NE. Enterprises remained a Dixon distributor right to the bitter end, providing equipment and parts to more than 100 dealers in Iowa, Minnesota, Nebraska and Colorado.
"I'm obviously very disappointed," Craig says in regard to Husqvarna's decision. "I was really hopeful that Husqvarna would be in it for the long haul. But looking back on things, I guess there were indications that their heart maybe wasn't in it completely. Regardless, we're now having to scramble. We're talking to some other manufacturers and have already signed up to become a distributor for a new product called the Raven Mower (a hybrid lawn tractor/ATV/generator). We're excited to now have the opportunity to pioneer another unique product in our territory. And we're looking forward to attending GIE+EXPO October 22-24 to see what else could be out there for us."
For companies like Enterprises Inc., where the majority of business was tied to the Dixon brand, Husqvarna's decision definitely stings. For others, it's not nearly as much of a blow.
"We have been a Dixon dealer for almost 30 years," shares one dealer from the Mid-Atlantic area. "The line was very good to us. But in recent years, the Dixon brand lost momentum after going through numerous ownership changes. New owners of the brand not only failed to promote the line with enthusiasm but ultimately rebadged other-branded units as Dixon models, which in many cases didn't perform as well as the traditional Dixon units.
"To add to the difficulty, the Dixon dealer demographic profile, evident in many regions, was a small mom-and-pop dealership," the dealer continues. "In the 'grow or die' marketplace we (dealers) presently compete in, many of these smaller dealers have struggled—and finally succumbed to the pressure of slim margins, low volume, cost of operation, etc. All sad news, but a common occurrence in today's competitive marketplace." This Mid-Atlantic dealer also carries three other lawnmower brands.
Read next: Dealers see propane as proven alternative fuel for commercial mowers
Another Dixon dealer, Eric Fenton of Southside Mowers in Tulsa, OK, says he was a bit surprised by Husqvarna's decision. "The Dixon brand name had been around for 40 years and had good recognition in North America," Fenton says. "In any event, we'll be looking at other options this fall—something that isn't deep in the box stores." Southside Mowers also sells Husqvarna-branded equipment, along with Toro and Wright mowers, and Echo, Shindaiwa and Maruyama handheld equipment.
Still supporting previously sold equipment
Dealers will obviously no longer be selling new Dixon equipment. But that's only half of the equation. What about providing parts, service and warranty support to consumers who have purchased Dixon mowers over the past several years and plan to continue operating them?
"We will continue to support service, parts and warranty for several years," says John Marchionda, Husqvarna's vice president of marketing and customer care. "At the end of the day, we have to support the dealers because they are trying to support the end-consumers."
Better support for end-consumers is at the crux of Husqvarna's broader strategic plan, which came to include the suspension of the Dixon brand in North America. "One of the elements of our strategic plan is around simplification, less complexity, and really focusing on the consumer," Marchionda points out. "We still have several brands in our portfolio (including Husqvarna, RedMax, McCulloch, Poulan, Jonsered and BlueBird). So when we did the analysis and looked at our strategic plan, we looked at complexity reduction so we could become more efficient and more focused on our end-customer. That really was the catalyst in the decision to eliminate the Dixon brand in North America. Overall I think it's the right thing to do for our industry, our organization and our customers."
What a difference a Great Recession makes
Dixon was one of more than 20 brands of zero-turn riding mowers on the U.S. market. It had built up a loyal following over the years but still had a relatively small piece of the overall market, and an even smaller one with respect to landscape contractors specifically.
Since the Great Recession, several zero-turn brands have fallen by the wayside, including EverRide and Great Dane (Ariens Company brands) in 2010. Husqvarna suspended its Yazoo/Kees brand of commercial mowers at the end of 2011. Dixie Chopper narrowly avoided extinction when they were acquired by Jacobsen Textron earlier this year.
Husqvarna is now putting all of its focus, where mowers are concerned, on its Husqvarna brand. Thus, it is quite possible, if not likely, that some former Dixon dealers will begin selling Husqvarna-branded mowers instead. That trend will be influenced by each given dealer's desire to sell Husqvarna, along with whether or not a Husqvarna dealer already exists in a certain geographic market area. Additionally, since many dealers obtained their Dixon product from regional distributors such as Enterprises Inc., those distributors can influence a dealer's desire to take on other brands those distributors might sell or begin selling.
Read next: New KIOTI Zero Turns Receive Rave Reviews
It's important to remember that just as large manufacturing companies like Husqvarna have to make tough decisions in the interest of sound business, so do distributors and dealers. Markets and other circumstances change, often prompting significant changes from manufacturers, distributors, dealers and landscape companies alike.
Since being acquired by Husqvarna in 2006, the Dixon zero-turn mower line also came to include lawn tractors and walk-behind mowers. Back in 2006, when Green Industry Pros first reported on the acquisition, then Husqvarna president Henric Andersson had this to say: "Dixon is a strong brand ... Dixon actually pioneered the zero-turn-radius mower concept, and has developed a strong dealer base and equally strong, loyal customer base ... Our strategy is to grow each of our brands individually. One of the advantages of having different brands is that you're able to go to market in different ways and attract different customers ... Husqvarna will maintain the Dixon brand identify by paying close attention to product differentiation in the product development process."
That was 2006. This is 2014. A lot has changed in this industry. All that matters today is that the cute baby-blue mower that helped revolutionize lawnmowing is no more. Husqvarna is moving on, and so must its hundreds of dealers and distributors.