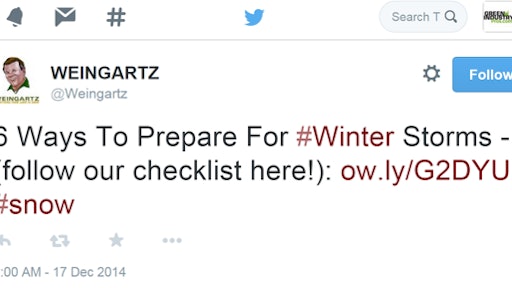 Some of you may have heard of content marketing, but it may not be clear how businesses like yours can benefit from it. According to the Content Marketing Institute, "Content marketing is a marketing technique of creating and distributing valuable, relevant and consistent content to attract and acquire a clearly defined audience—with the objective of driving profitable customer action."
Content marketing provides helpful and useful information to your targeted customer base. Positioning yourself as a valuable resource to customers helps put your products and services in front of them, while building their trust in your expertise along the way. As customers turn to you again and again for content that is valuable, useful and sometimes entertaining, they will become familiar with your brand and think of you when it comes time to purchase a piece of equipment or bring it in for service.
Actually, many dealers have been utilizing content marketing for years and years. Think about it. Anytime you speak at a local garden show or other event, offer tips to a local TV or newspaper reporter, publish newsletters for your mailing list, etc., that's content marketing. Today, though, in the age of digital social media where people can more easily distribute and share ideas, content marketing has become far more pronounced.
Content creation
When you begin to think of creating your own content, think about the tasks your customers are or could be completing with your products or service. You want to create content that is closely related to the brands, products and services you offer. The type of content you create (video, flyer, article, etc.) will vary based on the topic covered and how the target audience likes to get their information.
For your landscape customers, you can provide content that helps them increase uptime by handling light maintenance or repairs on their own. Whether in video form or written instruction accompanied by assisting images, you can give contractors the tools to keep equipment running. Leaving these lower-margin service repairs to the contractor also frees your shop up for more high-margin work while still securing the parts sale. Consider packaging this custom content with a parts sale for the customer for further added-value.
For your homeowner customers, consider "How To" videos or tips that show them how to achieve that clean edge or perfectly manicured lawn. You could even enlist the help of one of your loyal landscape customers in the video production. This will not only gain exposure for your valued contractor customer, but also show the homeowner base that your dealership is one that the pros trust.
An increasingly important topic for commercial cutters and homeowners alike is ethanol. Educational pieces on ethanol can be distributed in your store and housed on your website, etc. OPEI's "Look Before You Pump" campaign is a fantastic place for dealers to access educational tools. Visit opei.org/ethanolwarning/dealers for a look.
There are certainly plenty of additional ideas you can run with that relate to your specific area. For instance, what turf troubles are plaguing your area and how can you educate customers on combatting them? While you may not be supplying the chemical lawn care products customers need, you can still educate customers on their options as well as ideal application times, equipment and other tools. Again, you could enlist the help of a lawn care contractor customer with expertise in this area.
Content distribution
In an article written for Forbes, contributing writer Jason DeMers stresses that content creation is just the first step. Distribution of the content, then, is where the real value lies.
"Most businesses have gotten the message that content creation and publication are the cornerstones of a content marketing strategy. However, where many are still lagging significantly is in the distribution of that content," says DeMers.
He goes on to say that distribution is what will set content marketers apart. He suggests optimizing your content for search and mobile (read "Tips on Creating a Search Engine Marketing Campaign" at greenindustrypros.com/11131006), building relationships with relevant publications, and making connections with local and industry influencers to ensure that your content reaches its target market.
According to a 2014 study conducted by the Content Marketing Institute, the top five Content marketing tactics used by businesses targeting consumers are:
Social media
Website articles
E-newsletters
Blogs
Videos
Consider writing a guest blog or simply contributing insights to local newspapers, state landscape association magazines, or even national industry publications such as ours. Also, your blog can link directly to your dealership listing on our website's Dealer Locator, helping potential landscape and consumer customers connect with you quickly.
Social media has proven to be a powerful tool for businesses looking to distribute content. With the help of social media, you can reach a larger audience organically through content sharing. To further your social media marketing success, DeMers suggests spending some extra dollars promoting your social media posts and generating leads.
A budget for content marketing is not something many dealers or even small businesses in general have in place. Nonetheless, research shared by DeMers suggests that companies will be investing more in content marketing for 2015.
"As marketers and business owners experience the many benefits of content marketing, they'll be willing to increase their investment in it, dedicating money previously used for SEO (search engine optimization) campaigns," says DeMers. "This investment will mean increased funds for the creation of diverse types of content: white papers, blog posts, syndicated content, case studies, videos, mobile-specific content and more. However, marketers will also increase their spending on the distribution of this content through paid media and earned media."
However you choose to distribute your content, be sure each piece has your business name, a link to your website and business contact information. Once you have a plan for what content to create and how to distribute it, create a budget and schedule for production and implementation. The strategic creation and distribution of informative, entertaining content could bring many customers to your door.