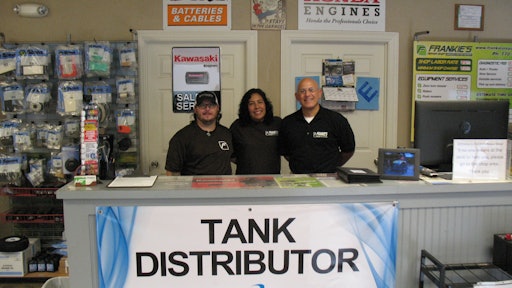 Frankie's Repair Shop
Frankie Morales built his dealership from the ground up, at a time when the world of business was uncertain. Morales opened Frankie's Repair Shop in Loganville, GA, in 2008.
"I had a vision of what kind of business could be successful in this industry," says Morales.
This wasn't his first job in the business though. He worked for a fertilizer and commercial equipment company for 15 years. He then went on to manage a store and repair shop for 10 years before becoming a golf sales representative. Morales was in charge of selling chemicals and fertilizers to almost 400 golf courses. His work area stretched from the east side of Atlanta, and over into areas of South Carolina. After five years of working as a golf representative, the company he was working for was purchased by one of the industry's big players, which soon started the process of downsizing.
Morales was faced with a major change. "Many of us lost our positions, and it was at that point that I decided to go into business for myself," he says.
He made the decision, which Morales says took a lot of courage especially in the bad economy, to open his own dealership. One of the things that made his transition easier was that he had made a great deal of business connections throughout his previous careers. Morales didn't find the transition from an outside sales job into a retail setting to be difficult either. Due to his previous positions, he was comfortable running a showroom and a service center. Morales began building up a steady customer base. His vision was to be an attractive dealership for landscapers, lawn care service companies and hardscaping companies.
"In this industry, there aren't many shops a landscape company can go to that can take care of their equipment, trucks and trailers," Morales says. "So I wanted to be a one-stop-shop for the lawn care companies and landscapers. That's where our main business comes from."
Making his vision a reality
Frankie's Repair Shop originally opened in a 500-square-foot space. Morales sold Bob-Cat and Little Wonder, and in those first few years it was about building the customer base. Within one year, though, he had to add an additional 1,000 square feet to accommodate his flow of business.
The growth of his company didn't stop there. Three and a half years after he opened his doors, he had outgrown the 1,500-square-foot location. Morales purchased a 4,000-square-foot building that had an office, showroom as well as a large repair shop area.
Morales himself works on "anything and everything". Frankie's Repair Shop has two other employees besides Morales. Secretary Martha Vazquez runs the front, and his associate Doug Jones and he manage everything else. Morales says that he, Jones and Vazquez enjoy using their individual expertise to assist customers and tackle the daily job of running the shop.
"I'm pretty blessed. Martha runs the main room when all the customers come in, and she answers the phones and takes care of the books. Doug and I take care of everything else," Morales explains. "We both know how to weld, and we both can fix everything from a chainsaw all the way to any engine that runs with gas. If it runs with gas, we can fix it."
The service center favors commercial customers over residential. They have a sign hanging behind the counter that states, "Three to five days for commercial and seven to 10 for residential".
It's that approach that keeps commercial customers returning. There isn't another business in a "30-mile radius" that offers the same variety of services, Morales points out. Morales is often told by his customers that they've never been to a shop like his. Frankie's Repair Shop also offers welding and custom fabrication services as well as equipment services.
"We thrive on providing the service our customers need because most of these guys (landscape contractors) do not have spare equipment. So we try the best we can, within three to five days, to have their equipment up and running again. That's how we push our sales for these guys, because a lot of times they complain about other shops where their equipment has been there for two weeks and they still have to mow. So we try everything we can, unless there's a part that's back ordered which is obviously out of our control. But if we have the part or we can get the part in one or two days, three to five days is how long that piece of equipment will be here."
Expanding sales
Although they've already come a long way, Frankie's Repair Shop is looking to continue their growth. The shop's primary source of business comes in through the service center. Around 20% of the business's revenue is generated from equipment sales, but Morales is looking to add additional equipment brands to his showroom. As of this fall, Morales said that he plans scout out new products to add when he and Jones attend the GIE+EXPO. The show is a valuable way for dealers to meet with manufacturers and test out commercial equipment before making the decision to add them to their showroom.
"When we go to Kentucky we are looking at a couple companies to add. We are looking at adding only commercial equipment right now."
Companies in this article