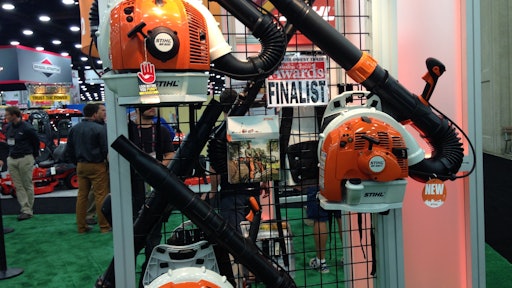 At GIE+EXPO 2015, Stihl introduced new Battery KombiSystem products - the BGA 100 handheld blower and FSA 90 R trimmer - along with the BR 450 and BR 450 C-EF backpack blowers.
Kent Hall, senior product manager for Stihl, says one of the key new products is the BR 450 backpack blower. The gas-powered blower has an electric start, which makes operation a breeze for contractors.
"For landscape contractors when operating a blower, it's aggravating when they have to stop it, and put it down to start it. With the BR 450 C-EF you just hit the button and the electric start turns on the blower. That's a key feature that we're excited about and we've been given great feedback on," explains Hall.
According to Hall, Stihl decided to create the blower because an electric start blower was a product that dealers were inquiring about. Hall says that weight is a large problem, but with Stihl's new backpack blowers the weight is either focused on the operator's shoulders, or on their waist. Hall is hopeful that easy to operate backpack blowers is a trend that will continue to catch on.
The BGA 100 handheld blower and FSA 90 R trimmer are KombiSystem products. That means there's no exhaust emissions, no gas and no cord. The products are equipped with the Stihl Lithium-Ion battery. The BGA 100 is the lightest handheld blower, at 5.5 pounds, and is the quietest in the Stihl line at 56 dB(A). Stihl also says that the BGA 100 is the most powerful handheld blower in their line.
"We like to call it a KombiSystem in reference that the batteries can be used interchangeably. There are some products that require more battery power than others, for example the chainsaws and the blowers. So with the smaller battery, you won't get as much run time on it. With a battery, you kind of look at it like the fuel," says Hall.
Stihl plans to continue developing innovative gasoline products for their customers. But along with that, Hall predicts that battery products will continue to increase in popularity.
"I think that you're going to see more and more, industry wide, battery products being introduced into the market. It's almost, as some people refer to it, a battery frenzy. Manufacturers have suddenly gotten caught up in this battery tsunami focus," says Hall. "So I think you're just going to see more and more existing companies expand their battery range, like Stihl has."