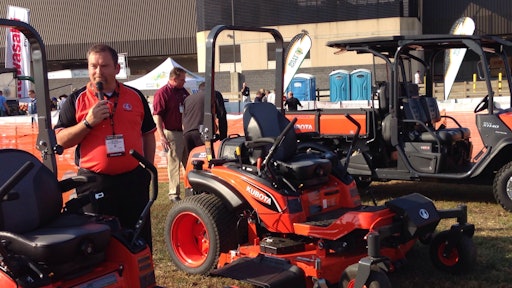 At a GIE+EXPO 2015 press conference in the outdoor demo area, Kubota Tractor Corporation introduced an all-new ZD Series zero-turn mower lineup. The ZD1000 and the ZD1200 are designed with operator performance and comfort in mind.
The two new ZD mowers feature Kubota's innovative Aerodynamic Cutting System (ACS), which Kubota says increases faster cutting performance and allows for a more efficient use of power and fuel. The ACS system features both a new blade and deck design, which allows for grass to move through and discharge at a quicker rate. With grass moving freely beneath the cutting deck, Kubota says that operators can achieve a higher rate of mowing performance, with less horsepower.
Both of the ZD Series mowers are equipped with Kubota diesel engines with hydrostatic transmissions and pivoting front axles.
Available deck widths are 48, 54, 60 and 72 inches. Kubota says that the ZD Series' premium suspension seats improve rider comfort, which they say, combined with the low-profile tires, offers side holding on hills. An LCD display panel on the ZD1200 allows easy monitoring of vehicle functions.
The new ZD Series will be available at Kubota dealerships beginning in November 2015.