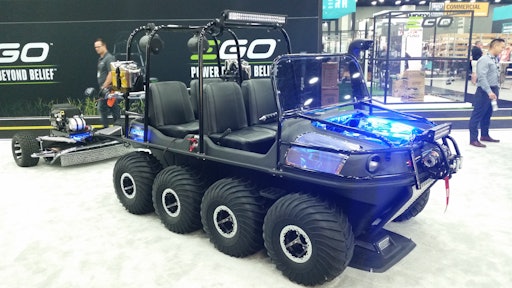 Kohler Engines was turning heads at another GIE+EXPO on October 19-21 with its one-of-kind, customized UTV specifically designed for green industry professionals. The Kohler Command Center, powered by a Kohler Aegis EFI engine, is loaded with unique features and customizations, including a tool rack for weed eaters and chainsaws as well as a colossal tow-behind mower featuring a Kohler 7500 EFI engine.
"This custom-made promotional UTV promised to be the envy of any hard-working landscaper at this year's GIE show," said William Schnell, senior product manager for Kohler Engines. "Our goal was to have some fun with this vehicle while drawing attention to our new Kohler Aegis EFI engine, which offers a number of benefits to landscapers, including increased durability, maximized power and optimized fuel efficiency."
The Kohler Command Center, a highly modified ARGO Extreme Terrain Vehicle, is outfitted with many exclusive customized features in addition to the lawn care specific tools and storage compartments. Standout features include:
Bluetooth MP3/radio with waterproof speakers
Extended axles for increased stability
Diamondplate skids
Custom rollover protection with equipment clamps
Integrated trunk storage compartment
Gas can storage rack
Four custom off-road seats
Smoked bulletproof windshield
Snorkel air intake
Chrome rims and engine detailing
Custom handle grips
The Kohler Command Center also features a one-of-a-kind Kohler custom tow-behind mower powered by a Kohler 7500 EFI engine. The monster mower is decked out with a 50-inch deck, chrome lift bars and safety guards, custom deep-tread tires, a reinforced diamond-plate deck and a custom stainless steel fuel tank.