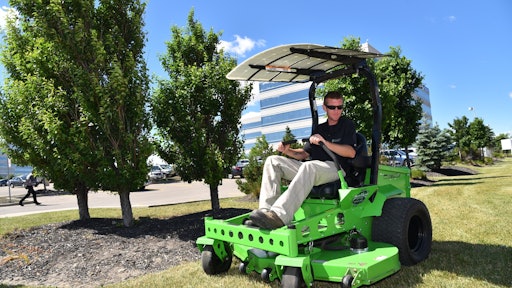 What makes a zero-turn mower productive? Speed, power and size … but what else? Given the fact that reliable employees are becoming a hot commodity, perhaps operator comfort should also factor into the equation.
And it does—now more than ever.
Contractors want mowers that are easy to operate and easy on the operator. They also want options. Manufacturers are responding—and for good reason. Demand for zero-turn mowers is through the roof.
"If you were at the Green Industry & Equipment Expo (GIE+EXPO) this past October, you saw that landscapers can get all-electric and hybrid zero-turns, as well as diesel-, gasoline- and propane-powered models," says Kris Kiser, president and CEO of the Outdoor Power Equipment Institute (OPEI).
"So much of the industry is housing-driven and mortgage rates are still at historic lows. Unemployment is low. The market is strong. We've seen double-digit growth in this product segment in the past couple of years and, looking at 2018, we project continued strong growth," Kiser continues.
Maximizing the Productivity of Each Employee
Kubota is one manufacturer that has operator productivity in mind. "In talking with contractors, we found that reducing operator fatigue is a really big deal," says Tom Vachal, Kubota's senior turf product manager. "The desire is to keep employees working at a higher level and longer."
To that end, Kubota enhanced the seat package on its new Z700-2 Series zero-turns. "We added a new premium suspension seat to all six models," Vachal confirms. "We also wanted to make sure we didn't overcomplicate things. Contractors told us that, while operator comfort is important, they want features that are manageable and easy to maintain."
Kubota's new seat has a simple dial cam to adjust the spring setting based on your body weight and desired cushion level. You can also slide the seat forward and backward by 6 inches to settle into the perfect comfort zone.
Exmark Manufacturing has several new mowers for this season. One is a diesel-powered, 96-inch version of its popular Lazer Z zero-turn.
"This is a very important product for us this year," says Jamie Briggs, product marketing manager at Exmark. "One of the big things we continue to hear from landscapers has to do with the labor shortage. With a 96-inch wing deck configuration, operator productivity is elevated. The contractor can do more with less. Plus, the contractor can now pay this employee more [due to the increase in productivity], which helps with retention."
Briggs says this massive mower was also carefully designed to ease operation. Anyone familiar with a standard-size zero-turn is not going to have trouble operating this machine. Additionally, the articulating wing decks are designed to follow the contours of the terrain. "You get the same cut quality as a 72-inch Lazer Z," according to Briggs.
Another key to the design was to make sure the wing decks were hydraulically driven. This allows the operator to flip the decks up and easily transport the mower on a typical trailer.
Big mowers like this are obviously ideal for maintaining properties with expansive areas of grass. But what about when you're servicing smaller commercial and residential properties?
In that case, Walker Manufacturing has you covered with its new S18 front-mount, grass-catching zero-turn. The mower design made its debut in 2016, but now it features an 18-HP Vanguard engine to power the 48-inch deck.
"This mower also features a new blower design," says Tim Cromley, Walker's marketing manager. "We call it the PTO Thru-Shaft Blower design. The shaft runs right through the center of the blower, so it's much more efficient. It allows for less power to operate the power take-off (PTO). That allows us to use a smaller 18-HP engine."
The result is better mowing and grass-catching performance, along with reduced noise and weight. "This mower only weighs around 827 pounds," Cromley says. "That's pretty light for a 48-inch machine. So it's easier on turf and more agile. When you combine those two things, you get improved productivity."
Transmissions, Engines and New Technologies
Kubota's new Z700-2 Series zero-turn uses the Parker TorqPact HTG 14 transmission. "This transmission has been on the market for a couple of years, but the size we're using is pretty unique," Vachal says. "We chose to upsize both the pump and motor to help keep operating temperatures lower, and also keep the rotating groups in better shape over the long term." The result is better mowing performance, reduced heat to the hydraulic oil and less frequent oil changes.
This Parker transmission also offers the optimum combination of speed and torque. Because the sheer size and enhanced operation of the transmission requires less power, more horsepower can be delivered to the deck. That results in better cut quality and reduced fuel consumption.
"When it comes to transmissions, Kubota doesn't like to leave anything on the table," Vachal admits. "Kubota manufactures transmissions itself. Our engineering team can see where we could make an improvement. Then we can work with manufacturers like Parker to get to the transmission performance we need. We did that with our new Z700-2 Series."
As touched on earlier, Exmark recently launched its new diesel-powered Lazer Z mowers. "This truly represents a ground-up design," Briggs points out. "In previous years, we took an existing Lazer Z chassis and adapted a Kubota diesel engine to it. With these new mowers, we were able to design the entire machine around its new power plant—a diesel engine from Yanmar. The result is greatly improved performance." Six diesel models are available for this season, including the 96-inch zero-turn.
Exmark is also making advances with its unique RED Technology platform. "Three years ago, we introduced the first generation of RED Technology," Briggs explains. "It was designed to improve operator interface with the machine, provide fuel savings and protect critical components through machine health monitoring. Now we improved and expanded that technology for this season."
Exmark talked with contractors to find out what else they needed from RED. One thing that came up was maintenance reminders, such as engine and transmission oil changes. This new generation of RED provides these reminders. Another new feature is the large LED screen that makes information easy to see from the operator's seat.
With respect to machine health monitoring, error codes are now kept within the RED system. This helps technicians to easily diagnose and resolve any issues.
As far as fuel savings, contractors now have more options. While RED has been available on mowers powered by Kohler electronic fuel injection (EFI) electronic governor (e-Gov) engines, this year, RED is also available on mowers powered by Kawasaki EFI e-Gov engines, as well as the new Yanmar diesel engine.
The Growing Market for Green
Last season, Mean Green Products introduced the electric-powered Nemesis NXR zero-turn mower for prosumers. "That was a whole new market for us," says Joe Conrad, president of Mean Green. "We found that they were people who already had electric vehicles and solar panels for their homes. We often heard that it was embarrassing for them to have to drive their electric vehicle to the gas station to get gas for their mowers. So this was a natural market for us to break into."
One year into the launch, Conrad could not be more pleased. "The Nemesis is a scaled-down version of our bigger CXR commercial mower," he explains. "But it still has the electric deck lift, the big, comfortable seat and even the suspension front end. It's a smooth-riding mower. A lot of these customers were buying $8,000 or $9,000 heavy-duty zero-turns. The Nemesis fits right in that price category, plus you have the benefits of electric."
The Nemesis is a lot lighter than the CXR because it only holds one battery pack as opposed to three. That said, the single battery provides more than enough runtime to mow a 5-acre lot. In comparison, the three-battery CXR commercial zero-turn can mow for an entire day, providing six to seven hours of blade-on runtime.
Conrad says that more and more professional users are open to the concept of electric riding mowers. Examples of landscaping companies that recently incorporated Mean Green riders into their fleets include Jackson Dodds & Company in Southampton, New York; Military Cut in Sarasota, Florida; EQ Grounds in Waterford, Michigan; and International Landscaping in the greater Toronto (Canada) area.
Meanwhile, the highest profile Mean Green conversion took place at BrightView, one of the largest landscaping companies in the U.S. That contract was signed last year. "The company purchased 200 mowers, both our CXR and Stalker stand-on models," Conrad points out. "They're mainly used where customers are asking for quieter and greener landscaping services. A lot of times, you see our mowers on corporate campuses, hotels and resorts, and universities."
Speaking of which, Mean Green also has success in selling mowers directly to universities. Examples include the University of Florida; the University of California, Berkeley; Yale University; the University of Texas; North Carolina State University; and the Rochester Institute of Technology. Several municipalities are purchasing Mean Green mowers as well, including Fort Collins, Colorado; South Pasadena, California; Cambridge, Massachusetts; and Southampton, New York.
Many other mower manufacturers introduced new zero-turn models and innovations this year. For example, Husqvarna overhauled its entire 11-model Z500 and Z500X line. Toro is expanding its MyRIDE suspension system to additional models. And Grasshopper recently released its most powerful diesel mower ever.
In other words, if you're in the market for a new zero-turn mower this year, you have plenty of options. Keep overall productivity in mind when making your final selection. Both you and your employees are going to be glad you did.
Companies in this article