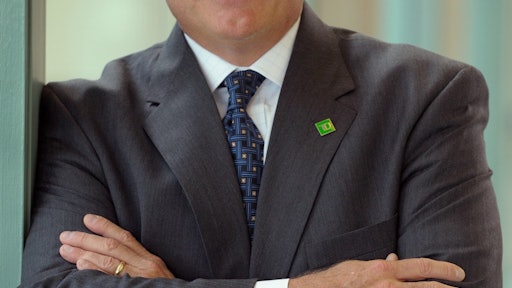 Confidence in the green industry is on the up, according to a recent TD Bank survey of 115 retailers at the Green Industry & Equipment Expo (GIE+EXPO). With 61 percent expecting purchasing volume to increase in 2018, retailers are upbeat about sales growth for the year ahead.
So how can retailers capitalize on the increased demand?
1. Stock Up and Staff Up to Meet Demand
Retailers can start by planning key inventory pushes around seasonal spending habits. For example, in preparation for spring, start buying up popular equipment, such as lawn mowers, so competitors don't meet demand for these larger purchases as consumers gear up for the warmer weather. The spring season is also a popular time for wider landscaping projects, so stock up on irrigation and other equipment as well.
In addition to keeping inventories supplied, retailers may need to consider staffing needs. In fact, TD's survey found that more than one in five businesses are already planning to grow their workforce over the next year. Having a full team of informed, attentive sales professionals is key to ensuring that customers receive enough one-on-one face time and can get their last-minute questions answered on big-ticket items.
2. Establish Loyalty Programs to Keep Customers Coming Back
The expected influx of customers presents an opportunity for retailers to boost customer retention through customized loyalty programs. Over half of retailers (52 percent) are not currently offering customers any form of rewards bonuses, coupons, discounts or free merchandise. Given that power and outdoor equipment are major expenditures for consumers, offering a lower price or cheaper add-on items to loyalty members can persuade consumers to spend big.
Being able to bank rewards for future purchases can also entice customers back. Retailers can offer to sign up customers to their rewards program at online and in-store checkouts, making sure the process is seamless and allowing customers to accrue rewards points straightaway.
3. Partner with a Financial Institution to Offer Financing
Retailers should also focus on how to expand their market share to customers who view large purchases as out of reach, even when accounting for member perks and discounts.
By partnering with a financial institution, retailers can offer financing options to customers so that larger ticket items seem more manageable. They can take advantage of the current low-rate environment to offer competitive rates, introducing their products to a new set of customers and boosting customer loyalty. Customizable financing options can boost overall customer satisfaction by allowing customers to pay a little at a time for large purchases, so they can enjoy the exact items they want when they want.
When considering possible financing options to offer, retailers should focus on their core audience. TD's survey found that 55 percent of customers who seek financing options fall in the 35- to 54-year-old age range. Many in this age group are already juggling a variety of different loans and payments on other items, such as their house, car and furniture. As an added incentive to sign up for financing, retailers can consider offering a low interest rate or even an initial interest-free period.
The anticipated sales growth for 2018 provides retailers with an opportunity to expand their market share. To capitalize on this, retailers should start prepping early. Determining if inventory and staff are ready can help to make sure they capture the demand, while rolling out loyalty and financing options can help bind customers to the retailer, and draw them back for future purchases.