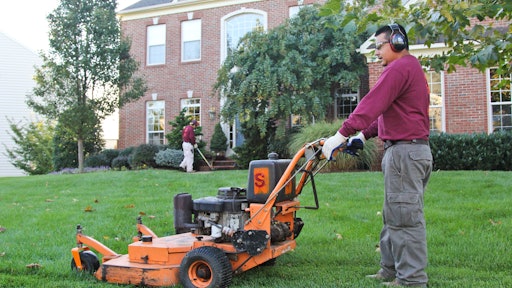 National Association of Landscape Professionals
It seems like a no-brainer to say that safety is important, but have you really thought of all the short- and long-term reasons why it is so important to your company? If you focus on those reasons, it will help keep safety training and good safety practices at the forefront of everything you do.
So why is safety so important?
It is at the core of your company's professional image. Safety is important to your clients. Clients, especially commercial clients, need to see that your staff is well-trained and operating safely on their property. If your staff isn't wearing personal protective equipment, using cones and making their work area safe, and adhering to equipment safety practices, your clients will notice and it can damage your relationship—even if you don't have an accident on their property.
It helps you retain employees. We all know how hard it is to find a great crew and keep them year after year. People want to work in a professional, safe work environment, so your commitment to your employees' health and welfare is a great step to keeping great employees.
A good safety record makes you more profitable. A bad safety record leads to higher insurance rates, medical costs, lost time, equipment repair costs and more. An effective safety and health program can save $4 to $6 for every $1 invested according to the Occupational Safety & Health Administration (OSHA).
How Do You Make Injury Prevention a Higher Priority?
How do you reduce injuries at your company? You must establish a strong safety culture and make sure everyone in your company knows it is the top priority, and reinforce that message with regular training and education.
Education and enforcement are keys to a strong safety culture.
Preparing and delivering safety policies and training should be ongoing activities during the entire work season. Many companies do tailgate training in the morning before crews head out for the day. If that format doesn't work for you, then try weekly safety training.
Use your own experience to choose the most critical safety training topics. Close-call incidents are great teaching tools. All safety policies and training resources should be in a language your workers can understand. OSHA and the National Association of Landscape Professionals provide almost all safety resources in English and Spanish. Remember to fully document policy and training delivery.
A fair and consistent enforcement of company safety policies and work procedures is important for all employees. If personal protective equipment is required on a jobsite, ensure that all workers, supervisors and sub-contractors utilize these injury prevention tools. When enforcing workplace safety rules, keep the consequences of unsafe behaviors consistent for all crew and supervisory personnel.
Drew Garcia, member of the National Association of Landscape Professional's Safety Committee and partner in its Worker's Compensation Insurance Program, stresses, "Employee buy-in is critical to a strong safety program. Having your employees participate in safety trainings or lead safety trainings creates ownership of ideas and empowers individuals, which ultimately helps your company."
And a strong safety culture will help employees make safe decisions even when they are not being directly supervised.
What Safety Topics Should You Focus On?
Depending on the type of landscape or lawn care work your company does, there are literally dozens of crucial areas of safety training for your employees, including but not limited to:
Equipment safety.
Personal protective equipment.
Slip, fall and trip prevention.
Protection from crystalline-silica dust.
Roadway safety.
Chemical safety.
Preventing heat-related illnesses.
Lifting injuries.
Driving safety.
Mower safety.
Carbon monoxide poisoning prevention.
Protecting eyes, ears, nose and throats.
Tree care and pruning safety.
You can quickly see just how many different safety topics apply to the work your employees are doing daily, and how many opportunities there are for accidents and injuries.
Equipment Safety
Equipment safety is especially critical to your overall safety program and equipment maintenance deserves special attention. Sometimes there is a big focus at the beginning of the year to get equipment ready for the season, but then the momentum dies off. Don't let that happen to you—maintain a regular inspection and maintenance schedule. Also, make sure you do extensive training on safe equipment operation.
Make Sure You Are Continually Improving
If you have a great safety education program, but don't take the time to evaluate and assess accidents and near-miss incidents, then you are missing an opportunity to fix problems. Make sure you have a process for your crews to report safety accidents and even near misses or bad practices that could—but didn't—result in an accident.
Accidents can and will happen. But you can make a huge difference in your company by doing everything you can to limit the amount of preventable injuries from occurring.
Also, stay on top of the latest safety trends, rules and regulations with information from OSHA, from your state association and from the National Association of Landscape Professionals. Join a safety program like the National Association of Landscape Professionals' Safe Company Program to help plan your year-round safety tailgate training.
Internal safety campaigns, employee involvement, unique slogans, and praise and recognition for following safety requirements are all examples of how you can build your company's safety culture.
A Few Items to Start Your Injury Prevention Checklist
Use personal protective equipment. Ensure that your employees are wearing the right personal protective equipment for each specific task.
Use warning signs and cones. Keep the work area safe by using cones and warning signs to keep drivers and pedestrians away from the worksite.
Maintain clean machine operating platforms. Remove any tripping hazards from equipment and trailer decks.
Use equipment and chemicals according to manufacturer specifications.
Prevent falls. Never use an aluminum ladder near electrical lines, don't place a ladder on another object and don't overreach.
Keep shop area floors free of slippery liquids. Clean up spilled oil and lubricants immediately.
Drive safely. Maintain safe speeds and don't drive distracted.
Use mower shields and discharge chutes.
Ensure roll-over protection is in the up and locked position, and accompanied by a seatbelt for the operator.
Prevent heat exhaustion. Proper hydration includes 2 gallons of water per each 8-hour shift. Time in the shade or air-conditioning is necessary on hot days. Know that everyone tolerates the heat differently based on their health.