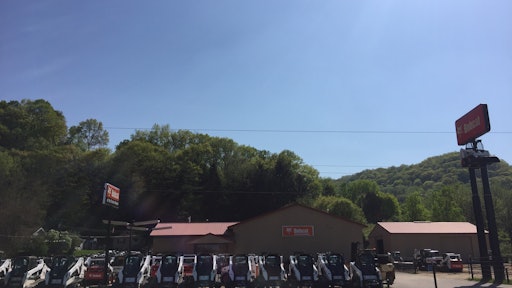 Bobcat of the Coulee Region, located in Dresbach Minnesota, provides Bobcat and Hustler equipment, parts and service to a unique market. Their location near the Mississippi River allows them to attract customers from the tri-state area of Minnesota, Wisconsin and Iowa. According to the general manager, Andy Kasten, "the business was started by Dale Husman as Chain Drive Inc. in 1975 and located in a two-car garage in Nodine, Minnesota. In January of 1979 it was moved to Dakota, Minnesota and as the business has grown we had to relocate to our current location here in Dresbach, Minnesota in November 1994."
Kasten started working with the dealership in 1979 and over the next 25 years worked his way "up through the ranks," as he said, to the general manager position in 2004. Kasten described Bobcat of the Coulee Region as a full line Bobcat dealer. "We carry the Bobcat skid steer loaders, track loaders, mini excavators, Versa handlers, mini track loaders and the Bobcat utility vehicles, along with the full line of Bobcat attachments. We also carry the Hustler line of turf equipment and multiple loader attachment lines," he states.
Expanding Beyond Agriculture
Throughout the years, Kasten saw Bobcat of the Coulee Region grow to serve new customers beyond the agricultural market the Midwest is known for. "As of right now the agriculture industry is in a downtime so we are seeing more activity in the landscaping and construction side of the business, which means we are selling more of the Bobcat compact track loaders, mini excavators and attachments," he observes.
Regardless of a shift in market, Bobcat of the Coulee Region places customer service as a high priority. "We keep our equipment lines to a minimum, so we can concentrate on knowing our products better than our competition, and also making sure after listening to our customers' needs we can direct them in the best possible choice of equipment," Kasten says.
Kasten also notes "the complete line of Bobcat equipment are products that have stood the test of time because of the company's commitment to quality and customer service." Bobcat, a Doosan company, demonstrated its commitment to quality equipment by winning the Pillar of the Industry Award last year.
According to a November 2017 Bobcat press release, "The Association of Equipment Manufacturers (AEM) honored Doosan Bobcat North America with its Pillar of the Industry award, reflecting Doosan Bobcat's work to improve the business environment for the equipment manufacturing industry during this election year."
Landscape Customers Weigh In
And for many of their customers, the quality and features of Bobcat equipment is second to none. Tri-state area contractor, Justin Aulik notes, "On the jobsite they [Bobcat] are known to be on the cutting edge of technology and dependable." Additionally, Aulik prefers Bobcat's control offerings. "They are a manufacturer of skid loaders that use foot controls to control the bucket, which I prefer, and they make a ridiculous amount of attachments," he adds.
Wisconsin landscaping business owner Jordan Fennikogh of JD Lawn Care & Maintenance LLC concurs with Aulik's viewpoint. Fennikogh owns a Bobcat S590 and is partial to its speed options. "The feature I like best is the 2-speed option, which makes moving materials and "bucketing" materials over long distances much quicker." According to a bobcat.com description of the S590 skid steer, "the 2-Speed travel option boosts your top travel speed by as much as 57 percent, reduces your travel time across jobsites, limits the need to load and unload your machine on a trailer, and shortens your long-haul tasks."
Additionally, Bobcat compact track loaders, popular in the Green Industry, offer new and exclusive features such as automatic ride control, selectable joystick control, and deluxe instrumentation. According to the Bobcat company website, "Deluxe Instrumentation brings upgraded communication, monitoring, productivity and control to your Bobcat® skid-steer loader or compact track loader. It monitors key loader functions, communicates alerts and provides additional attachment information to track usage."
Bobcat of the Coulee Region doesn't just tout the Bobcat line, they're also familiar and experienced with the equipment. "We pride ourselves on product knowledge and service of the equipment after the sale," Kasten says. "We offer a wide range of services such as rental, sales and service."
Furthermore, Bobcat of the Coulee Region can help whether a landscape contractor is in the market for a new machine or is looking for parts to keep their current equipment going. "We have the largest inventory of parts in the tri-state area, as well as the largest inventory of new and used Bobcat equipment," Kasten concludes.
Angie Mellor teaches communications and writing classes at Western Technical College in La Crosse, Wisconsin, while freelance writing and editing. To check out inventory and learn about all Bobcat of the Coulee Region's services, visit www.bobcatofthecouleeregion.com.