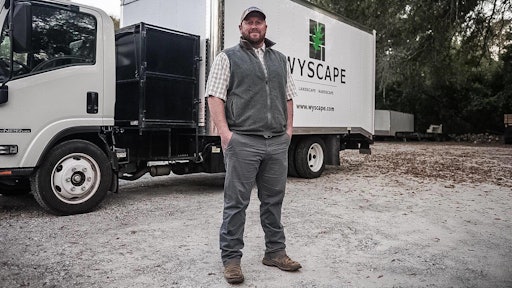 After completing a bachelors in Landscape Horticulture and Design from Auburn University, Landon Wise worked for his father's construction company while developing his own business. By 2007, Wyscape Landscape Contractors was in full swing. With six trucks and a range of 12-18 employees depending on the season, Wyscape Landscape Contractors LLCS services primarily Okaloosa County, Florida.
Offering services such as design, new installation, landscape renovation and maintenance, Wyscape Landscape Contractors LLC has a customer base of 90 percent residential properties and about 10 percent commercial or HOA properties.
Wise began his company focused on those services because of his familiarity with and love for those types of projects. "Quickly transforming someone's yard to something they have always dreamed of is what made me happy and we were really good at it," he said.
As time passed, Wise noticed the increased popularity of hardscaping. Initially, Wyscape offered those services through subcontractors, but soon began to build their own hardscape team. "We quickly realized that the only way to get the quality that we were after would be to build our own hardscape crew and have this as an 'in house' service," Wise said. After obtaining management certifications through the Interlocking Cement and Pavement Institute (ICPI) and training from industry leaders, Wyscape began offering their own hardscape services.
One hardscape project Wise fondly recalls was a renovation in Destin that required his crew to keep the "old Florida feel" with a manicured look. Wise and his crew used the Choctawhatchee Bay, majestic live oaks and saw palmettos as part of their inspiration. They replaced the driveway with a light faded paver to match the color blend of shell driveways seen in older areas of Florida and added stucco columns connected by a custom bronze gate at the entry to the driveway. "In addition, we installed Sabal palms amongst the clumps of live oaks to add to the genuine Florida look we were after and the rest of the planting areas were filled with Silver Saw Palmettos, Hydrangeas, Camellias, Azaleas and Muhly Grass," Wise said. "We finished off the open areas of the yard with St Augustine grass which tied it all together."
While the size and type of hardscape projects Wyscape handles vary, Wise's approach and process doesn't drastically differ from project to project. Wise begins by meeting with a client to determine their desires and needs, and of course, budget, before moving into design.
When Wyscape first began, Wise drew all his designs by hand, which he sometimes still indulges. "This was really before landscape design software hit the market," he noted. Although there is some reliance on design software to create a visual presentation for the client, Wise mentioned that the majority of Wyscape designs are 2D, blueprint style drawings. "We obtain a the property survey in a CAD or PDF file, then we will do onsite measurements to locate additions, trees, pools, and so on, but blueprints are the backbone are and will always be the best option to use when building the project; there's no substitute," he concluded.
While drawing up designs by hand was the method he learned at Auburn, Wise soon found it time consuming. "This takes way too long and its not efficient at all, so I started to use Prolandscape design software maybe 10 years ago and had to teach myself." This software also allows Wise to take photos of the client's yard and add 3D images of plants, water features, walkways and retaining walls, so the clients can visualize how their design will come together.
"The 3D image editor really works best for us on smaller areas of the yard and clients love them," Wise said. "I have had several clients tear up when we present these 3D image design they are that real looking."
Along with adding hardscape services to their repertoire, Wyscape Landscape Contractors also made several changes to improve the company. Change came in the form of supporting and investing in employees, marketing and anticipating and preparing for changes in the green industry.
"Over the past few years I have really started focusing more on our people," Wise said. "In the beginning, my priorities were to make clients raving fans and meet man hours, now we focus way more on our people and making Wyscape a place they want to work." Through the hot summer and long days, Wise keeps employee morale up by offering company breakfasts, offering incentives to the best performing crew and even investing in quality uniforms that are lightweight and more comfortable for his team.
Wise also emphasizes an importance on the appearance and quality of his machinery and trucks by leasing all of his large equipment. "We believe in providing our people with reliable, state of the art equipment. I don't want crews to lose time because a machine broke down," Wise said. In addition, Wyscape upholds and presents a professional image by using clean and well maintained Superlawn Truck Box vehicles, and using uniform products for ease of repair.
"For example, we use Stihl products for weedeaters, edgers and backpack blowers, that way when we replace filters and spark plugs, we only have to buy one type of equipment. Additionally, Stihl very common and reliable manufacturer in our area, so it is easy to get this equipment serviced in our area," Wise said.
While Wyscape has previously relied heavily on securing new business via word of mouth, Wise anticipates that he will soon be turning more toward social media platforms such as Facebook and Instagram as a marketing tool. "We've been blessed to live off word of mouth and hit that niche with folks over the age of 65," Wise said. However, Wise recognizes and is preparing for doing business with the next generation.
While Wise was raised to appeal to his current client base one way, "by meeting face to face, shaking hands and be presenting the big package," he believes this will soon change. "Now, it's email, fast, quick, pumping it out so they can sign it and go. We need to be prepared and skilled to utilize email and mobile apps such as Aspire to sell our work. If we aren't prepared and we can't provide that, then they won't use us" Wise said.
Since its beginnings in the mid 2000s, Wyscape Landscape Contractors has been able to adapt and make necessary changes to the company to stay successful, and the future is no different. Whether it's through new software, employee retention, or a changing clientele, Wyscape has rolled with the punches and isn't satisfied with status quo. In fact, Wyscape Landscape Contractors has recently broken ground on a new facility and will now be offering irrigation services as well. "For the past 13-14 years we've subcontracted that work out and been very successful," Wise said. "With the economy being so strong a lot of our work has been new construction, new developments and new houses. The opportunity is already there."
Angie Mellor is a freelance writer and editor in La Crosse, Wisconsin.