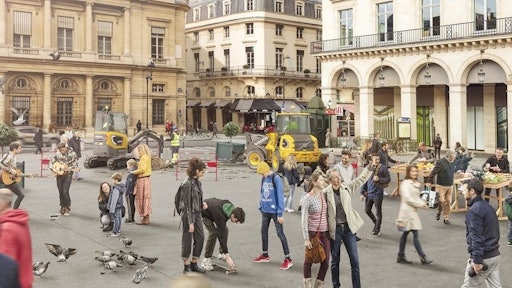 The compact construction equipment market faces major changes as powerplant choices continue to evolve. Diesel engine technology will be the dominant power source for the foreseeable future, and it continues to evolve with increased efficiency and reduced noise emissions. Simultaneously, there are an ever-increasing number of electric models being introduced that fill a growing demand for sustainable solutions in emissions-sensitive and indoor applications.
"It's clear that our industry is in a period of rapid change," says Fares Beainy, electromobility strategy and business development manager, Volvo Construction Equipment. "That's why Volvo CE is taking a lead on electromobility, including being the first construction equipment manufacturer to commit to an electric future for its compact machine range.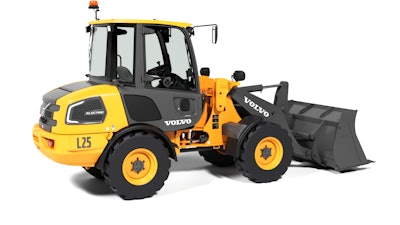 "We're conducting extensive research and product development on a range of hybrid and battery-electric solutions," he adds. "We've learned that electrification is possible with different machine types and sizes using different technologies. But for many machine sizes, applications and markets, the diesel engine will remain the most appropriate power source for a number of years, and we will continue to manufacture diesel engines of all sizes. So ultimately, the decision between diesel power or electric rests with the owners and operators."
Oliver Lythgoe, Perkins product concept manager, sees a continued strong demand for diesel in compact equipment. "We don't see electric machines replacing diesel-powered machines across the board. The long-term growth trend is positive for small diesel-powered equipment around the world," he comments. "What we do see, however, are a few niche applications for compact electric machines that will see real growth in the future. One promising market is for small wheel loaders used to handle various materials on farms or construction sites where they are never far from a charging point and have multiple opportunities to recharge during the day."
The challenges confronting compact electric machines are not technical. "We already know how to design and build them," Lythgoe says. "The challenges are logistical and economic. Many construction machines operate in places where there is no grid electricity and it makes zero sense to recharge an electric excavator with a diesel generator. The economic challenge is the battery cost. The dominant technology, lithium-ion (Li-ion), is still expensive to buy and use.
"Even assuming grid electricity is much less expensive than diesel fuel, the payback time still is long," he notes. "That may change in the future. There is a long-term cost reduction trend in batteries so there is hope this economic challenge will fade."
Diesel Technology Evolves
Noise has become a major consideration for compact equipment.
"By its very nature, a compact machine puts the operator closer to the engine and that makes control of fatigue-producing noise and vibration both more difficult and more important than it is on a full-size machine," Lythgoe says. "It also is becoming more common for engine noise to be regulated in terms of both sound power and decibels by local governments down to the municipal level."
Perkins addressed this issue by incorporating features such as quieter gears using materials with intrinsic sound-deadening characteristics, and stiffening the structure of the engine block itself. "Our Syncro 2.8L and 3.6L engines, for example, use sound-deadening composite materials for the oil sump and top cover, along with a stiffened block and a gear train that is relocated from the front of the engine to the back to achieve significant noise reduction," Lythgoe points out.
"Working together with efficiency-enhancing technologies like 'smart' turbocharging that improve machine responsiveness and 'driveability,' this combination of features can make a small engine feel and perform like a larger one and a compact machine as comfortable to operate as its full-size counterpart," says Lythgoe. "We do get more power from a smaller displacements engine with technologies like turbocharging and common rail fuel systems. The turbo puts more air in the cylinder and the fuel system injects and atomizes more fuel. It is a simple equation — more air plus more fuel equals more power.
"The tricky part is designing an engine to withstand the higher mechanical and thermal loads implicit in that equation without sacrificing either durability or reliability," he continues. "Perkins approached that challenge with sophisticated simulation tools and literally terabytes of real-world field operational data to work with." This allows more efficient compact machines to depend on smaller displacement engines with higher power densities.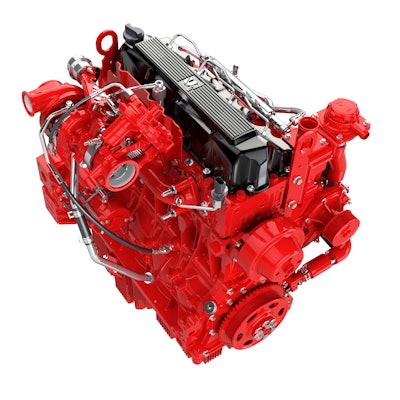 The concept of delivering more with less is the goal of the Cummins Performance Series engines. "They are delivering more with less for our customers — more performance with lower installation costs for OEMs and lower running costs for operators," says Alexei Ustinov, vice president, Cummins Off-highway Engine Business.
"Cummins Stage V/Performance Series points to the future of engine design and development — simpler, lighter, more powerful, more efficient," says Steve Nendick, marketing communications director, Cummins. "Cummins has continued to increase the power density of its products since emissions regulations began at Tier 1. For Stage V/Performance Series, our four-cylinder product has taken a real leap forward in its capability. The increase in capability means that smaller displacement engines can be used with no impact on machine performance, with added total cost of ownership (TCO) benefits of better fuel efficiency and lower servicing costs."
The 3.8-liter F3.8 Performance Series engine moves up from 130 to 173 hp with the new architecture, a 33% increase. The B4.5 Performance Series 4.5-liter engine jumps 16% from 173 to 200 hp. Peak torque of the F3.8 increases by more than 31% to 620 Nm, and an 11% increase moves the B4.5 up to 780 Nm.
Volvo says its diesel-powered compact equipment is focused on fuel efficiency. "Reducing fuel consumption is not only more sustainable, but it also reduces expenses for owners and improves the TCO of a machine," says Beainy. "Our newest compact models feature Tier 4 Final engines and other fuel efficiency features."
For example, the Volvo ECR18E and EC20E compact excavators offer optional auto engine shutdown and auto idle features that help reduce fuel consumption. The L45H and L50H compact wheel loaders have load-sensing hydraulics that deliver power to hydraulic functions only when needed, while a fuel-efficient hydrostatic transmission offers smooth speed increases.
Fuel efficiency gains are beneficial to TCO. "It's a long-term cost-saving benefit that will be realized over the life of the machine," says Bart DeHaven, national sales representative, Kato Compact Excavator Sales. The latest emissions regulations are having a definite impact. "The newer regulations have affected an engine's strengths and weaknesses. The challenge now is on product engineering to develop machines that operate at peak optimization with the Tier 4 engine, taking advantage of the new design strengths to deliver the most to operators."
Electric Options Emerge
Hybrid and full electric options for compact machines are becoming more popular.
For example, the F3.8 features the Cummins HPP (Hybrid Power Plug-in) concept, part of a wide portfolio of power solutions the company will offer moving forward. The HPP offers a balance of battery power with a compact engine-generator. It works in the same manner as a full electric driveline, but has both an F3.8 Performance Series-powered generator and plug-in operation for charging. This provides more flexibility where charging infrastructure is more challenging.
"The HPP solution lowers total emissions, with the opportunity to operate at zero or near-zero emissions during the shift," says Ustinov. "Noise and fuel consumption are reduced using a smaller engine operating for less time."
Electrified power is a good solution for zero emissions and lower noise. "The use of electric power will be influenced by regulations, price of batteries and their component materials, power holding capacity and availability of charging infrastructure," says Nendick. "It is not practical for every application. For certain equipment types, it is not cost competitive due to the increased purchase price, which is limiting take-up. It could be supported going forward with financing options, government subsidies, potential industry regulations and innovation in charging solutions"
Duty cycles remain a key factor in the adoption of electric-powered equipment. "The nature of construction industry applications requires powertrains to be assessed against a backdrop of tough duty cycles and high power requirements," says Nendick. "Currently, battery technology cannot provide the same power density as diesel fuel, or meet the full duty cycles of larger excavators, cranes and heavy-duty construction equipment while also meeting the total energy demand. Additionally, as Stage V and Tier 4 Final emissions legislations mandate the use of ultra-clean diesel technology, heavy-duty construction equipment can operate effectively and meet even the strictest low emissions zones using a Performance Series Stage V or Tier 4 Final diesel engine."
But compact electric machines are coming. "Ultra-low emissions zones (ULEZ) in urban centers are becoming an accepted standard for the on-highway sector, pushing public transit, delivery trucks and school transport systems to look at hybrid and full electric transportation," says Nendick. "In the coming years, ULEZs will undoubtedly focus on construction equipment, as well.
"There have already been many emissions incentives and regulations set by cities and countries," says Beainy. "Additionally, we see demand from our customers to meet self-set emissions goals."
In order for electric equipment to become the norm, machines need to be designed and proven to overcome the main concerns voiced by skeptics regarding energy capacity, performance and price.
"When it comes to price, the TCO should be considered with electric models largely around fuel savings, less scheduled maintenance and extended component life," says Beainy. "Even though electric machines might not be cheaper at purchase, they add more value in the long run. They allow owners to bid on emissions-restricted jobs, work during the night in densely populated areas and work indoors, as well as in many other niche applications that we might not even know about yet."
To show its commitment to alternate power, Cummins recently displayed an all-electric prototype mini-excavator at bauma. Powered by its BM4.4E flexible battery modules (4.4 kW each), the 3.5-ton excavator prototype is designed to support a full work shift and charge in under three hours. The excavator eliminates all gaseous emissions and substantially reduces noise, making it ideal for use in urban and suburban construction.
The excavator contains eight BM4.4E modules connected in a series configuration to provide a total energy of 35 kWh. Mounted near the base of the excavator, the Cummins-designed and built battery modules utilize Li-ion technology to achieve a higher energy density and proprietary control technology to maintain the battery state-of-charge for a longer range. The modular design also allows for scalability to other applications and duty cycles.
Volvo plans to launch a full range of electric compact excavators and wheel loaders starting in mid-2020, ending new diesel engine development of mini-excavator models from the EC15 to EC27 and compact wheel loaders from the L20 to L28. "The first two electric models will be the ECR25 excavator and the L25 wheel loader," says Beainy. "They run on lithium-ion batteries and have zero exhaust emissions. They offer significantly lower noise levels, reduced energy costs, improved efficiency and less maintenance requirements compared with their conventional counterparts.
"While some may think performance will be a hurdle, the electric models we're working on actually have similar performance," he indicates. "The electric versions have performance levels similar to their conventional diesel equivalents, so customers will get the same performance in more efficient, environmentally-friendly machines."
For example, the ECR 25 electric mini-excavator has a 9-ft. digging depth and a breakout force of 4,541 lbf. The L25 electric wheel loader has a full-turn tipping load of 3.7 tons, a dump height of 8.2 ft. and a 2.2-ton payload fork load capacity.
"Battery and electric machines are a disrupter in the equipment market," says DeHaven. "Our [Kato] 9VXB battery machine has pushed the boundaries on what is possible in this area. There is definitely an interest from indoor excavation guys for the smallest of machines to reach into tight quarters. Our 9VXB will fit through a standard 30-in. door frame, which has been an incredibly popular feature.
"We're still pushing the envelope with the 9VXB's eight-hour battery life and rapid recharge time," says DeHaven. "The biggest constraint on growth in this segment is cost. The technology is there, but it costs more than a diesel engine. Can you engineer a product that meets the quality that we are known for, but at a price that is still profitable? It isn't easy, but we feel good about what we have taken to market so far. I think we've got the results to back that up, as well."
DeHaven believes the electric and battery revolution is just getting under way. "There are so many implications for what can be done to meet unique requirements of jobsites (regulated emission caps, indoor sites, etc.)," he states.