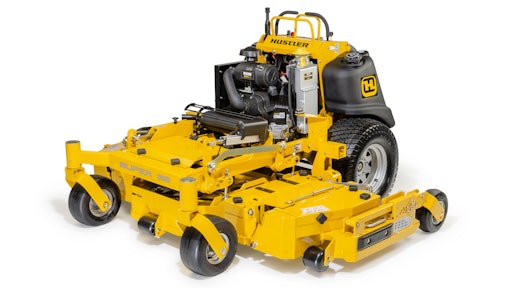 Hustler Turf
Hustler Turf recently launched a stand-on mower aimed at reducing labor and maintenance, while maintaining a quality cut.
The Super 88, which features two engine options, is a 36-hp rear discharge, commercial zero-turn mower, with dual hydrostatic drive system and 88-in. cutting width.
"You're getting the productivity of an 88-in. cut, with the cut and quality of a 54-in.," says Brad Unruh, Hustler Turf's director of product strategy. "It's different from what anyone else has introduced out there, so we're pretty pumped about what we're going to see out of this one."
With a 14-gal. fuel capacity, the Super 88's engine options — a Vanguard 36-hp carbureted engine or a Vanguard 37-hp EFI engine with oil guard system — are designed to increase efficiency. Both come with electric starts. The EFI engine offers 500 hours between oil changes.
"That's a big deal to the guys, especially in the heat of the season," he says. "They don't have the downtime to change their oil and stuff like that. The other thing it does is reduce engine temperature; so we're real excited about that, keeping those engines cooler, which can help them last longer in those tough applications.

Fewer workers needed
Unruh says the mower's zero-turn capacity helps contractors finish the job faster, adding that the mower is efficient enough to reduce the number of workers needed to complete a job.
"It allows contractors to take their three-man crew down to a two-man crew because (they) get so much more done with this mower," he says. "Then, when the guy gets done mowing, he can go grab the trimmer or blower and help the other guy with that. (They) can keep (their) crew smaller or keep (their) three-man crew and take on more jobs and get more done."
Unruh says that efficiency is important when dealing with labor scarcity, absenteeism and tardiness.
"You hear about it all the time, people talking about labor shortages and trying to find help and help that's actually going to be able to show up every day," he says.
The Super 88 made its debut at the GIE+EXPO in October. It's now in the production phase and is expected to hit dealerships in early December 2019. Multiple accessories, such as mulching kits, are available.
"You're going to continue to see us help our dealers grow commercial business and get out there with the products that are going to help the commercial guys be more productive, have less downtime, are simple to operate, simple to maintain and simple to run machines," Unruh says.
Stand-on mowers gaining popularity
Contractors are taking more notice of stand-on mowers, as many are finding them to increase safety and reduce worker fatigue.
"When you're standing up here versus sitting down you can see the turf in front of you, you can know if there's issues going on in front of you," Unruh says. "Are there sprinkler heads sticking up that I'm going to run over? Is there a stick, is there a hose, are there toys in the yard? All kinds of things out there that people want to avoid. Plus, when you find those obstacles, it's real easy to jump off, move the obstacle and get back on. That's not something you have on a sit-down mower."
Following the indoor office space trend of adding stand-up desks to improve employee health, stand-on mowers can provide a more ergonomic ride for lawn crews, he says.
"It's showing that it's better for your back than sitting on a mower all day long," Unruh says. "You see a lot of guys moving their crews into that, and they're feeling better at the end of the day."
Vanguard Big Block EFI Oil Guard
The Super 88's EFI engine comes with the Briggs & Stratton Vanguard Oil Guard, a system only about three manufacturers are using so far, Unruh says.
Rather than the typical two-quart oil reservoir common in many mowers, the Oil Guard has a five-quart reservoir. The increased capacity, along with the engine cooling capability adds up to a 60% oil maintenance cost savings per season, according to Briggs & Stratton.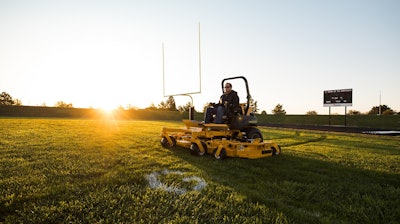 The Oil Guard system is available on the Vanguard Big Block EFI engine, which also powers the Super Z HyperDrive and one of the industry's biggest zero-turn mowers, the Hustler Turf's Super 104.
Other new models
Hustler Turf also recently updated its TrimStar, a walk-behind commercial mower and its Super 104, a commercial riding mower.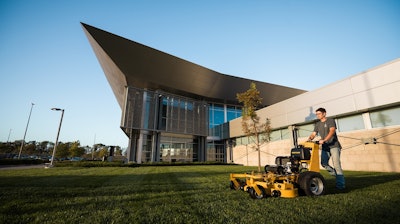 TrimStar models now feature an electric start, a new, 5-in. deck, new tires and bearings, and a frame upgrade for increased strength.
With a 104-in. width of cut, zero-turn precision and up to an 11-mph speed, the Super 104 now comes standard with the Vanguard EFI Oil Guard.