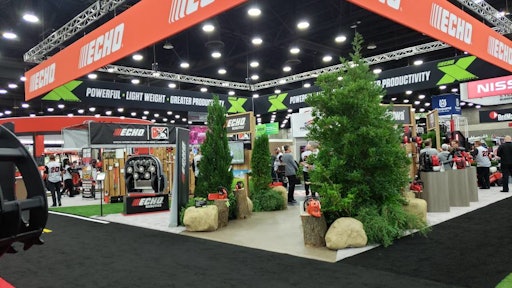 The Green Industry and Equipment Expo (GIE+Expo 2019) is America's largest showcase for outdoor power equipment, lawn and garden products, and light construction and landscaping equipment
Held at the Kentucky Exposition Center in Louisville from October 16–18, this year's expo is anticipated to break attendance records.
Live Coverage
GIE+Expo 2019 is closed to the public, but Green Industry Pros Editor-in-Chief Ryan Whisner and Staff Writer Gigi Wood are live on-location for the full three-day exposition. Check back here frequently for breaking announcements, new product features, live videos and more real-time coverage of the entire event.
Main Attractions
Co-located with another tradeshow, Hardscape North America, GIE+Expo 2019 features:
More than 1,000 exhibits from the industry's leading brands – many of which will feature exciting new product launches.
A 20+ acre outdoor demonstration area which allows attendees to view and test products themselves.
Industry news and education.
Informative keynotes from foremost landscaping and outdoor equipment experts.
Three free concerts.
Mutt Madness (an opportunity from the Kentucky Humane Society to play with and even adopt rescue dogs – last year's event helped 11 pups find new homes).
Giveaways (Mercedes Benz is giving away $20,000 and a participating sponsor will reward one lucky winner with an $11,000 UTV).
Three days' worth of events, showcases, product demos, industry information and surprises that will thrill outdoor equipment customers and enthusiasts.
Mobile App
For anyone attending, GIE+Expo 2019 released a mobile app to improve your tradeshow experience.
Facebook Posts from GIE+Expo 2019
The Green Industry Pros team is having a blast at this year's expo. Head on over to our Facebook page to join in on the fun! A few highlights include:
SkillsUSA
SkillsUSA will be showcasing "Tomorrow's Technicians Today" for the second straight year at GIE+Expo.
The SkillsUSA National Leadership and Skills Conference in June awarded gold, silver and bronze medals to high school and post-secondary students. Those medalists will display their talents at GIE+Expo 2019. Learn more here.
Kris Kiser Podcast
Managing partner of GIE+EXPO and Outdoor Power Equipment, Kris Kiser, stopped by the Grass Roots podcast to discuss GIE+Expo 2019 and explained why it is a must-attend event for landscape contractors.
New Holland Construction is showcasing several pieces from their full line of landscaping, snow removal, hardscaping and general work site solutions. The New Holland outdoor and indoor displays feature the: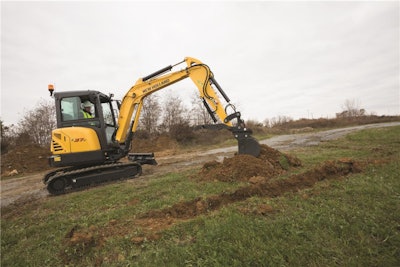 E60C Compact Excavator
C245 Compact Track Loader
C232 Compact Track Loader
W80C Compact Wheel Loader
E37C Compact Excavator
L228 Skid Steer Loader
B95C Backhoe Loader
C237 Compact Track Loader with Cab
For more information on each piece of equipment, check out our full coverage here.
Briggs & Stratton Corporation displays two exciting new mowers from Ferris. The ISX2200 and ISX3300 are upgrades from the popular IS2100 and IS3200 units. Featuring updated bumpers, modern ROPS designs and a patent-pending ForeFront Suspension System, these are the next generation in mowers. Learn more about them here.
You can also watch our videos from the Ferris booth:
Mean Green Mowers
Kobi Company and Mean Green Mowers have partnered on a new autonomous commercial mower. A 7.4 inch EVO concept autonomous mower will be on display at Mean Green's indoor booth, while demonstrations featuring the 48-inch NXR autonomous mower will be held at the outdoor demo area. Here is our full breakdown of the innovative new product.
Kubota
Kubota Tractor Corporation's new MX Series tractor line combines utility and compact design. These tractors feature more power, a roomier cab and an affordable price. Read all about them here.
ASV Holdings

ASV Holdings Inc. - The Green Beast
ASV Holdings Inc. is showcasing some exciting and flashy new compact track loaders at GIE+Expo 2019. These include "The Green Beast" and a black and red version of the RT-40 dubbed "The Black Widow." Click here to learn more.
Hustler Turf and Big Dog Mower Co.
Excel Industries, manufacturer of turf equipment sold under Hustler Turf and Big Dog Mower Co., is displaying a range of innovative products at the expo. Included are the debut of the Hustler Turf Super 88 stand-on mower, along with exhibitions of the Hustler Turf TrimStar, Hustler Turf Super 104 and Big Dog Mower Co.'s updated Hike. Here's an in-depth press release.
Vermeer CTX 160 Mini Skid Steer
The Vermeer CTX 160 mini skid steer is designed to handle heavy-duty material moving jobs, while operating efficiently and effectively in tight spaces. This machine can move heavy material, work ground-engaging attachments and maneuver in congested operating conditions. Check out our coverage.
Yamaha Motor Corp., USA is showcasing an update to its MX-V EFI (Electronic Fuel Injection) series engine lineup for the lawn and garden market. The MX825V-EFI E-Throttle debuted at GIE+Expo 2019 and offers customers more zero-turn radius performance options. Read all about this all-new engine.
Caterpillar

Caterpillar 306 CR Next-Gen Mini Excavator
Caterpillar is making waves at GIE+Expo 2019 with a bevy of innovative new equipment offerings aimed at improved user experience, performance, comfort and efficiency. The company announced the release of 16 new Cat® D3 Series Skid Steer Loader (SSL) and Compact Track Loader (CTL) models and is entering the 6-ton class with its new 306 CR next-generation mini excavator.
Having started in 1969 with a small business loan, Billy Goat is proud to celebrate 50 years of craftsmanship. Check out the full press release here.
Briggs and Stratton
Briggs and Stratton Corporation showcases equipment from Billy Goat, Ferris and others at a live press event in our gallery below: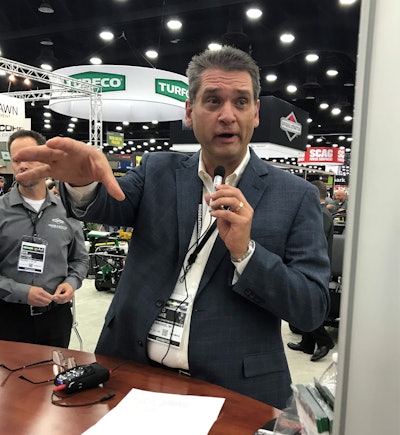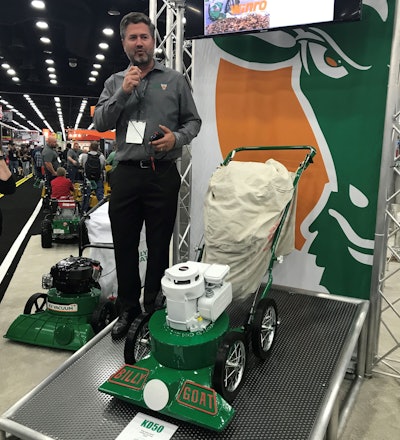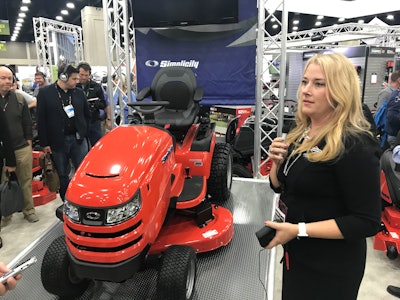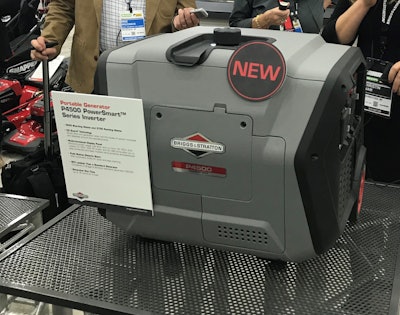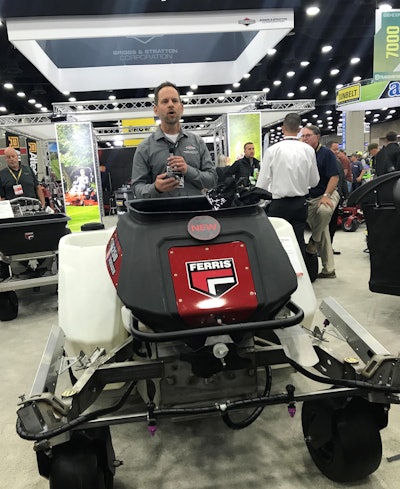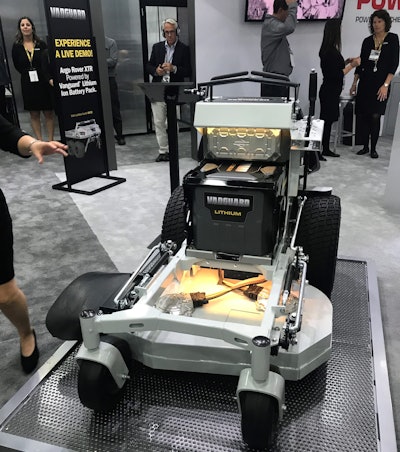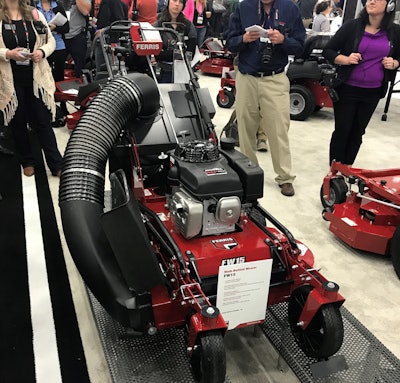 Nexcel displays its new plug and play oil system at GIE+Expo 2019. This system features a sealed oil cell that contains oil and a filter for quick, easy and green oil changes. Nexcel also refines used oil back into clean oil, reducing environmental impact. Learn more about the innovative product here.
Bobcat
While at GIE+Expo, Green Industry Pros Editor Ryan Whisner got a chance to speak with Bobcat Compact Tractor Product Manager James Crouch. They discussed Bobcat's past, present and future, as well as a new line of products featuring 15 different models. Listen to the podcast and check out our product breakdown.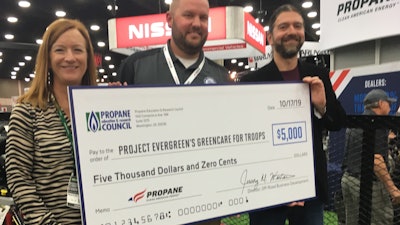 The Propane Education and Research Council donated $5,000 to Project Evergreen's GreenCare for Troops program. This donation was the cumulative result of the council donating $5 for each contractor who entered its GIE+Expo 2019 trailer giveaway. Read more about PERC, the sweepstakes and Project Evergreen's GreenCare for Troops here.