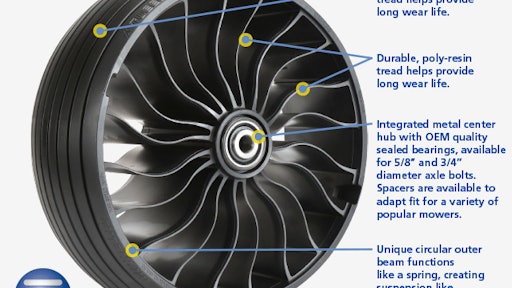 Michelin
Michelin recently announced the expansion of its airless Tweel tire line.
Initially launched in 2005, Michelin's Tweel is an airless radial tire and wheel assembly presently sold in the lawn and landscape, ATV and UTV markets. There is also a Tweel model used on skid steers.
With Tweels, the beam and wheel are connected by poly-resin spokes and like air-filled tires, the load hangs from the top of the wheel structure.
"The biggest thing to take away about the wheel, because there are solid tires out there, is that you don't have to compromise because you carry that load from the top, you're still going to have the same operator comfort," says Justin L. Brock, Michelin marketing manager for the construction and Tweel segment in North America. "You're still going to have the same traction and you're not going to give up those things, you're not going to give up stability."
The new, 15-inch, 15x6N6 X Tweel Turf Caster is expected to be available in the first quarter of 2020.
"We have the 13-inch caster now, for the smaller mowers, but we had a lot of demand from customers for the larger commercial diesel mowers," Brock says. "This is typically run with a 26-inch drive tire."
With a load capacity of 370 pounds and a 16 mph speed rating, the caster is designed for a large range of mowers, including the John Deere Z997R Diesel.
"It's going to be in a smooth version and what the smooth version allows you to do is this is going to be a flat profile, so it's going to reduce the shimmy of the machine," he says. "It's going to help you have a more even cut and it's going to help with the comfort."
Also available in the first quarter of 2020 will be the 22-inch, rear tire/wheels with 4x4- or 5x4.5-inch bolt pattern hubs for prosumer mowers.
The 4x4-inch bolt pattern has a 529-pound load capacity, while the 4x5.4-inch bolt pattern has a 727-pound load capacity.
"This is our first entry into the prosumer market," Brock says. "There's a lot of demand for this."
The 22-inch will fit the:
Bad Boy Elite (4x4)
Grasshopper 700 series (5x4.5)
Hustler Raptor SDX and FasTrac (4x4)
Kubota SZ Stand-On and Z100 (4x4)
"This really rounds out our portfolio for turf," he says. "We previously had the 18 inch and 26 inch, so adding a 22 inch really adds to the entire portfolio. There was a whole series of mowers out there we weren't covering before."
Hub for Mean Green mowers
Michelin engineered a new electric-motor, green-wheel hub for 24x12N12 turf tires for the Mean Green Rival mower. The hub will have a 5x6.5-inch bolt pattern and a 1.70-inch offset. It will be available in the second quarter of 2020.
"They've been using Tweels on some of their earlier models but they switched recently to an integrated hub motor design," says Tony Marconi, technical director at Michelin Tweel Technologies. "They needed a new methodology for attaching their Tweel to their machine. We developed a new hub design and customized a part to fit their machine. They're going to be offering their Tweel for two models."
Michelin representatives also discussed the recent launch of the Tweel SSL 2, which was officially launched in July at Ag in Motion in Saskatchewan, Canada. The SSL 2 is the newest version of the Tweel for skid steers and is Michelin's first embedded eight-bolt hub that is mechanically interlocked for improved durability.
"The spokes have a property in them that's going to be 10 times longer spoke life compared to our previous version," Brock says.
The SSL 2 comes in all-terrain (AT) or hard-surface (HST) models. The HST comes in a 12N16.5 and is constructed with a 48/32-inch tread depth and 8/32 of undertread. The AT is 12N16.5 with a 31/32-inch tread depth and 12/32-inch undertread. Their maximum load is 4,400 pounds.
The newest versions have improved construction, increasing the lifespan 10 times.
"We've got skid steer, two different types, depending on the application that you're in," he says. "If you've got a pneumatic tire on a skid steer it's very bouncy. This is going to reduce that significantly."
The outer core can be retreaded multiple times at a Michelin dealers and service locations equipped with Michelin's retreading technology.
Michelin designs, manufactures and sells tires for every type of vehicle, including airplanes, automobiles, bicycles, earthmovers, farm equipment, heavy-duty trucks and motorcycles.