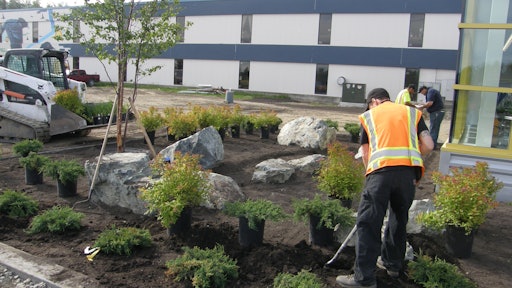 The land of the midnight sun conjures up all sort of images—everything from polar bears and huge glaciers to sub-zero temperatures, and dramatic summer and winter solstices. What one doesn't associate with the nation's largest state is mowing lawns, unless, like A-1 Lawn & Landscaping, you've been doing it for 28 years.
Located just a few miles from downtown Anchorage, the company consists of six landscape crews, four mow crews, two detail and trimming crews, two special services crews, four drivers in trucking and expediting, and three full-time mechanics that generate approximately 66 percent of the company's revenue. The other, not surprisingly, comes from snow removal.
Short Season
Probably the biggest difference between mowing in Alaska vs. the lower 48 states is the short season. Company manager Ted Pendagast ought to know, having worked several years as a landscape contractor on the East Coast prior to moving north.
"We get approximately 19 mows [a year] here compared to Connecticut, where 26 or so was the norm," he notes. "It's not your normal mowing either. Grass grows faster here because of the longer days and turf is more undulating, thanks to freezing and thawing and subsequent heaving. That's one reason we brought the Walker Mowers on three years ago. The floating deck does an amazing job.
"To avoid scalping, some companies have a sea of employees that go out with 21-inch Honda mowers. We can replace three of these workers with one Walker Mower and do a better job."
Pendagast, who also worked with Walker Mowers in the lower 48, lists a few other reasons why the company now has three of the little yellow machines and is looking to add more: "They have a small footprint, which allows them to get into tight areas while freeing up space on trailers. The bagging system virtually revolutionized our fall cleanup. The decks deliver a superior cut. They're very maneuverable and the hydros make them gentler on the grass than other zero-turn mowers. Walker Mowers may not be as fast as other competitors on the market, but they make that up in spades with their maneuverability and quality of cut."
He admits the mowers are probably 50 percent more expensive than other zero-turns, something that was originally a hard sell to company owner and founder Bret Kelly. But his previous experience proved to be a good sales pitch, and the machine's quality of cut and subsequent durability paid dividends.
Morning Drill
A-1 Lawn & Landscaping has 45 full-time employees during peak season and 11 year-round. Its ratio of installation to maintenance is 80/20, although Pendagast would like to see the work even out a bit. As he points out, maintenance work is steady, is good for cash flow and provides opportunity to upsell customers.
"One of the things I learned while working in Connecticut was the value of selling services à la carte," says Pendagast. "The company owner taught me a lesson the hard way when he took me out to dinner and I ordered a steak. I was disappointed when all I got was a steak, with no potatoes, no vegetables, no dessert and so forth.
"As he explained, when you sell a package of maintenance services, customers tend to place less value on each of the services, may it be pruning, fertilizing and providing spring cleanup. Selling them individually raises their value just like it did for me for the potatoes I didn't get."
The morning drill is intense. Supervisors clock in at 7:30 a.m. and attend a briefing where they find out if there are any schedule changes. The manager quickly rearranges crew assignments by moving magnetic name tags on a whiteboard. Employees clock in at 8 a.m. and crews are on the road 10 minutes later.
"Getting out on time is important," Pendagast emphasizes. "Alaska has a population of around 750,000, which is extremely small for a state its size, yet half that population lives in Anchorage. Traffic is heavy, meaning that crews often spend nearly 25 percent of their time driving to and from sites. That's another benefit of Walker Mowers. We can transport them with smaller trailers that are easier to haul around and park."
The dense population also puts a premium on space for the company's commercial properties. Hence hauling away snow accounts for a big share of its snow removal revenue.
Homecoming
Pendagast is not a newcomer to the area's subtleties. He spent 10 years in the Army as a paratrooper, with some of that time spent stationed in Anchorage. He moved back to the state in 2011 and started working for A-1 in 2014.
The labor challenge is one of those subtleties. Although a tight labor market isn't unique to Alaska, the state offers a few added twists. One is the North Slope. The oil industry is huge there, and provides an opportunity for good wages and unlimited overtime. The other is a short mowing season of five months that requires part-timers to find other work during the year.
"We have a seasoned full-time staff, but turnover among our summer workers can be upwards of 65 percent annually," says Pendagast. "Training is ongoing to raise our proficiency, keep injuries downs and limit equipment damage."
Training is made even more important by what he terms as a limited knowledge pool. "On the East Coast and throughout the lower 48, the landscaping industry is well-established, and contractors share new ideas and best practices through their associations and peer groups. We don't have that networking here," admits Pendagast.
Part of his charge is to share his knowledge with employees and he does that every Saturday by holding horticulture classes. He also conducts on-site training, offering tips to new Walker Mower operators, for example, and strives to educate customers about the value of slow-release fertilizers and the application of liquid ice melt in November.
This landscaping veteran is also unintentionally sharing his knowledge and experience with competitors as they, too, take note of A-1's smaller trailers and more compact mowers.