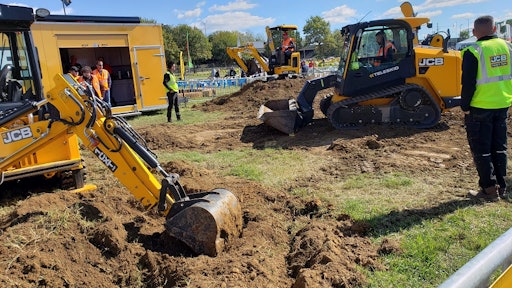 Gigi Wood
JCB recently showcased its latest compact landscaping equipment at the 2019 GIE+EXPO in Louisville, Ky.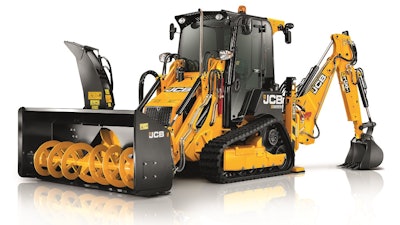 The company's smallest backhoe model, 1CXT, is now available to customers in the United States and Canada.
The 1CXT is the only tracked backhoe loader in North America, according to JCB, and it has a 60% smaller footprint than a full-size backhoe. It combines the material handling and excavating of a backhoe loader with the maneuverability and mobility of a compact track loader.
With a transport weight under 9,600 lb, the 1CXT can be towed between job sites without a commercial driver's license (subject to local regulations).
"So if you're a landscaper who goes from job to job, that originally had a skid steer and a mini excavator, now they can do that work with just one machine and can transport it," says Damien Mills, general manager of brand marketing communications at JCB. "They can take it to smaller job sites, landscaping projects, cemeteries; it has a lot of potential."
JCB also displayed updated 3TS-8W Teleskid skid steers and 3TS-8T Teleskid compact track loaders, which is reported as being the world's first skid steer and compact track loader with a telescopic boom. According to JCB, the Teleskid can reach 60% further forward than any other skid steer on the market and is the only model that can dig below its chassis, to a depth of 3 feet. The machine can also reach 8% higher than any other skid steer.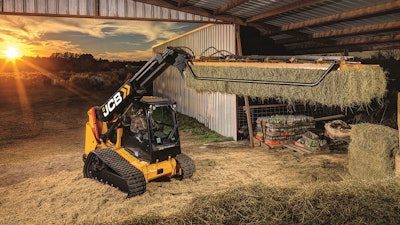 "Rather than having to climb under the bucket or over the attachment to get into the front of the machine like you do with a conventional machine, you just get in through the side door, like you would with a car or a truck," Mills says. "It's important for a couple of reasons. One, it's a lot easier to get into. Most accidents, incidents and injuries that happen with skids steers and compact loaders is from people slipping on the attachments trying to get in; or getting in or out underneath, with a load bucket above them and have something fall on them. We've essentially eliminated that."
Mills adds, that the Teleskid is the only skid steer on the market able to combine vertical and radial lift capability. He says a unique bucket-positioning levelling system allows the bucket level to be set and maintained throughout the boom's range of movement.
"If you're working on an embankment or a wall you can extend the load forward over the wall," Mills says. "You can load into a full-size truck trailer."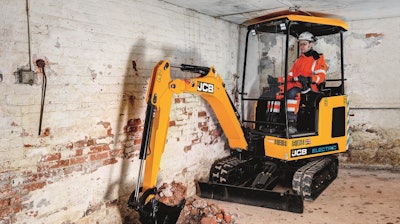 Another highlight for contractors and dealers attending GIE was the news of the availability of JCB's first fully electric mini excavator.
The 2-ton (1.9-tonne) 19C-1E is suited to construction and excavation applications within enclosed or urban job sites, or noise- and emissions-sensitive environments such as hospitals and schools.
Mills says the machine offers the same power as JCB's diesel-powered 19C excavator yet produces zero exhaust emissions and one-fifth of the noise.
"It has all the same power, all the same performance of a diesel," Mills says. "The lithium battery pack gives you a full day's work on one charge."
Powered by three lithium-ion batteries creating 313 Ah (15 kWh) of capacity, the 19C-1E can complete a typical day's work on a single charge. An optional four-battery pack increases capacity to 417 Ah (20 kWh) and delivers an additional two hours of continuous use.