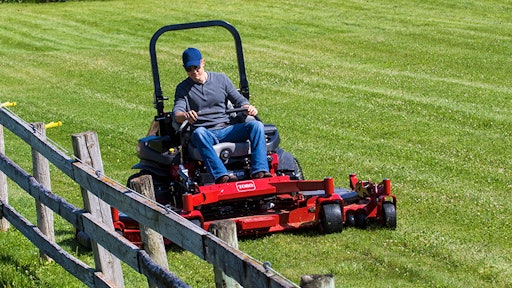 At GIE+EXPO 2019, Toro exhibited an extensive line-up of new products that aim to cut down the chaos of maintaining a landscaping business.
A full-line-up of new zero-turns, battery-powered equipment, sprayers, mowers and more were presented.
Taking the Ache out of Acreage
"When it comes to zero-turn lawn mowers, we have redesigned every single zero-turn in our lineup from $2,300 to $32,000," says Tom Werner, senior product marketing manager with Toro. "Every single part of our zero-turn lineup has been completely retooled so we can focus on the customer."
For the contractor, he unveiled the Z Master 7500-G 96-inch gas mower, which is $10,000 less than the similarly sized diesel mower introduced in 2018.
The mowing deck can fold its wings up to 75 inches, allowing it to fit on most standard trailers. The wings can also flex up to 20 degrees and down to 15 degrees, which hug the ground as you mow. When the engine isn't on, operators can still lift and fold the deck and run fans for cooling with the 40-amp charging system.
"Our Z Master 7500-G series mowers are game-changers for landscape contractors, and we're excited for people to experience the incredible performance that these machines are engineered to deliver," says Mitch Hoffman, marketing manager at Toro.
"It is awesome because now we've got 96-inch productivity for those small to medium-sized contractors," Werner adds.
The unit serves a significant number of large homeowners with extremely large properties as well.
"We've got from a zero-turn platform again no matter the size of our customer base," he says.
On the rural residential end of the spectrum, he highlighted the TimeCutter and Titan zero-turn mowers.
"The professional DNA and the iron-tough design of the new Toro TimeCutter models really make them an excellent mowing solution for anyone with large yards to medium-sized acreages" Werner says. "This mower simply can't get any more professional without officially crossing into the commercial mower category."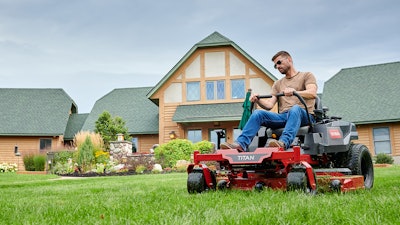 The Titan zero-turn platform is Toro's solution for a homeowner with more acreage.
"This is similar to a TimeCutter in some ways, but you have that customer that's got a little bit more yard and a little bit more attitude," Werner says. "What we've done here is beefed up everything to handle larger and rougher terrain— bigger tires, bigger hydraulics, more comfortable seats, commercial air cleaner — and really what this is as we start to bring the pro features that pull more acreage."
For both mowers, he specifically highlighted the inclusion of Toro's MyRIDE suspension system.
"It is a completely floating suspension platform," Werner says. "It's honestly like driving the couch across your lawn."
With MyRIDE, there is no need to slow down for those random bumps that are present across all lawns.
"You can just charge right through, and you can keep going to get the job done," he says.
Previously, MyRIDE was considered a premium feature that has now been made more affordable for the masses.
"The MyRIDE suspension system on our Titan is truly a game-changer when it comes to staying comfortable while attacking large properties," Werner says. "Add that high level of comfort to the professional-quality DNA that's engineered into the Toro Titan and you have a machine that's tough on challenging lawns but easy on the operator."
Even with new features, the price dropped $400 to attract homeowners, giving them pro features in a residential package.
Meanwhile, there is a new Toro Proline/Proline HDX mower for contractors.
"Whether it's urban or suburban, that rural lifestyle or moving into that pro segment, we've got new zero-turns to come take a look at," Werner says.
Improve Business Efficiency and Profits
Toro also rolled out its new Horizon business management tool, which offers services from start to finish.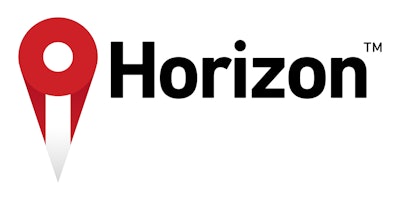 "When talking with our contractors, what we realized is that equipment is really not the main concern; they're really concerned with scheduling and understanding - are their guys actually going to show up in the morning and be there to help their operation move forward," says Chris Vogtman senior marketing manager. "It is a chaotic style of business. We took that into a business management tool called Horizon, managing their businesses and cutting chaos down to size."
The app holds all the business information including customer data, scheduling, contract management, billing and more in one place. Horizon has GPS technology to permit remote job estimates and also assist in tracking equipment and crew movements.
"It's an all-encompassing business management software solution, and it's branded agnostic, so I don't care if they're on other colors of equipment," Vogtman says. "We want them in the software systems that can be more productive and, at the end of the day, be more efficient for their customers."
Charge It Up To 60-Volts
"At Toro, our path to innovation really starts and ends with the customer," says marketing manager Aran Brosnan. "Rather than come to market with a 'me too' type of product, our new 60-volt lineup builds on the unparalleled authority that has been recognized with multiple number one rankings across a variety of industries.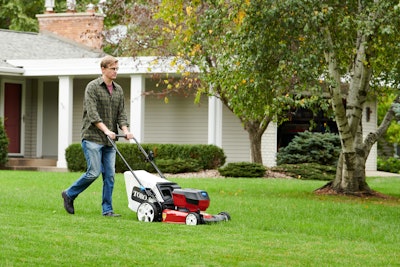 Customers now, especially in the battery realm, are really seeking that balance between performance and ease; and that's really what we're going after here with the 60 volt Flex-Force battery power lineup."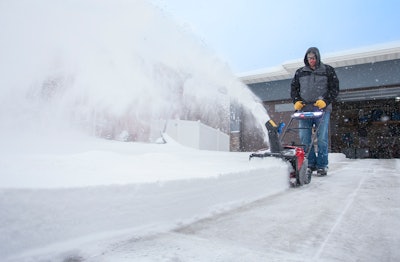 For primarily its residential customers, Toro has a battery-powered line-up including lawn mowers, snowblowers, leaf blowers and string trimmers currently in stores.
Over the course of 2020, the company will also release a push mower, hedge trimmer and a chainsaw to round out the battery product offerings.
"We have a leaf blower that has Category 3 hurricane winds," Brosnan says. "Our self-propelled mower we went with the exact same chassis, exact same steel deck back to front with the full 22-inch blade — the same one that our gas mowers (Recyler platform) use. We are really providing a differentiated solution for customers rather than replacing that steel with plastics."
All of the products in the 60V Flex-Force Power System line feature Toro's lithium-ion batteries, which have software that automatically optimizes run time and power for the product and the application. In addition, the products are covered by full warranties.
Products can be purchased with or without batteries and charger, which are available separately and are interchangeable among the products in the line.
"There's a common perception that choosing a cordless battery-powered product means compromising on power or features," says Chris Urlaub, associate marketing manager at Toro. "That's not the case with the Flex-Force line. Our priority was to design for performance, first and foremost. These are full-featured products with the same performance as our gas-powered products; they just happen to be battery-powered."