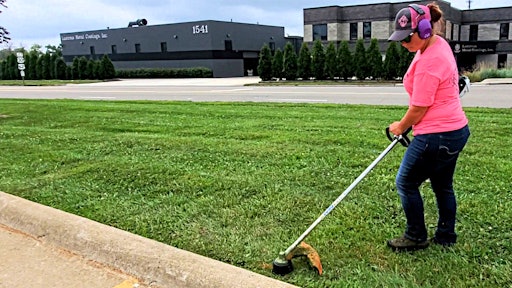 Landscaping pros have always been predominantly male – but more women are working in the industry today than ever before. According to data compiled by Data USA, women made up 9.86% of the landscaping workforce in 2018, up from 8.43% in 2014.
From landscape design and artistry to software development to high-quality lawn care, there's an endless list of specialization choices in the green industry in which women are finding their piece of the immense lawn.
Green Industry Pros spoke with four of these women who work in various facets of the industry. They discussed their career paths, what drew them to landscaping, what they love about their jobs and so much more.
Jenn Myers – NALP
In addition to being senior director, workforce development for NALP (National Association of Landscape Professionals), Jenn Myers also heads up the NALP Women in Landscape Network.
Myers explained that the Women in Landscape Network was created to support women who are already working in the landscaping industry, as well as to inspire those who may be interested in a landscaping career to follow their aspiration.
"The most recent numbers from the Bureau of Labor Statistics in 2018 showed that the industry was just under 11% female. And so obviously we need more women," said Myers. She continued, "This group was created [because] we want more women in the industry – and then once they're there, we want them to stay. And then if they have aspirations of leadership, we want them to feel like that's an option for them and that they have the opportunity to move into leadership roles."
She also explained that the NALP Women in Landscape Network is comprised of both women and men.
"We need every single person that's in our industry to support having more women in the industry. There was an article that came out [recently] that said that for the first time in 10 years, there are officially more women in the workforce than men. That's even more proof that there's just so much opportunity to go from under 11%," Myers said.
The Women in Landscape Network and its corresponding Facebook group offer women in the industry an opportunity to connect, share their stories, learn about opportunities and more.
"Sometimes people just want to share a neat story," Myers said. "Other times people say, 'I dealt with this today and I feel like it's because I'm a woman. Have you dealt with this before? How have you navigated this situation?' We've also had people share promotions, such as 'I'm the first female general manager at this company.'"
Additionally, network members share information about industry events. "We've had people say, you know, 'I'm going be attending this event in a few weeks, is anyone else attending?'" said Myers.
She detailed how, through the network, members can discuss what events they're attending and even make plans to meet up while there. According to Myers, this provides an amazing opportunity for women in landscaping to get to know each other and support each other like never before.
"It's really been fantastic to see it kind of blow up over the last few months. And the hope is that women come into our industry and feel welcome and want to stay and feel like they have women in similar roles that they can interact with, if they choose and want to. They have those people available and have an easy way to connect to them and get to know them," Myers finished.
Marisa Gora – Kemora Landscapes
Marisa Gora founded Kemora Landscapes as a one-woman landscape design operation in 2002.
As a lifelong resident of Chicago, she recognized that there weren't many landscaping companies that primarily serviced the city and its wide range of lot sizes, shapes and factors.
Kemora Landscapes focuses on servicing homeowners and businesses in Chicago and surrounding suburbs. The 'Meet the Team' section on her own website says "Gora has designed and constructed thousands of unique landscapes and has an eye for maximizing the use and functionality of any sized space."
Gora's career path story is a very interesting one. She began college with the intention of going on to medical school. Even as a pre-med student, Gora said she also had been interested in art.
"I was a premed student and I was going to go on to medical school, which was what I wanted to do since I was in second grade," she said. "I also had always drawn and really been into art, but just didn't consider it a feasible career path."
To combine the two, she figured out a plan of being a medical illustrator, until realizing there are not that many books that need medical illustrations so perhaps that wasn't the best career path.
Around that time in her college career, Gora said she just wasn't sure what she wanted to do – but she happened to get a summer job through a friend at the park district.
"I ended up staying and doing that job for four summers," said Gora.
She was then offered a job at the hospital.
While trying to make her decision, Gora lamented to a friend that she didn't want to quit her beloved summer job at the park district to work at the hospital, because she would be "stuck at the hospital for the rest of [her] life after graduating med school." Her friend pointed out that Gora had just referred to potentially working in a hospital as "being stuck." Gora quickly realized that medicine may no longer have been her dream.
This was when her career path began to truly take shape.
"Just before my senior year, we had a landscape architect come to the park to redesign one of our areas and we had to plant it and everything," Gora explained. "I was just really fascinated by the fact that this guy got to draw and do things outside. It was like all the things that I loved to do."
After graduating college, Gora began looking for a job at a design and build company. She came across an ad for a garden center in Chicago that was looking for someone to run its design and build department. Thanks to her college education and organizational aptitude, she got the job and went on to work there for four years.
During her time working for the garden center, Gora realized the company needed better methods for providing estimates and implementing marketing campaigns. When she went to the garden center owner with her thoughts, she was essentially given the freedom to run with her ideas.
"I basically got a book on how to estimate for landscapers and then researched all these software programs at the time, of which there weren't a lot," said Gora. This was around the late 1990s.
While working at the garden center and revolutionizing the way the company provided estimates, ran business processes and utilized marketing tools, Gora began going out to job sites to see designs being put in place.
She decided then that she wanted to go back to school and get a degree in landscape architecture. Gora quickly realized that there weren't a lot of classes on plants and design, which was the area in which she really wanted to work.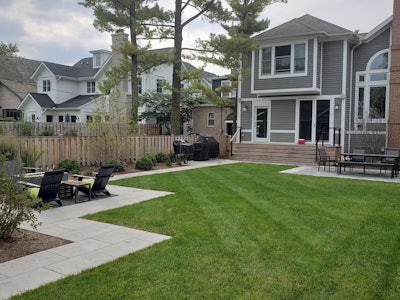 It was in 2000 or 2001 that Gora basically began putting her own educational program together. She took every available class she could find locally on subjects such as botanic gardens and arboreta. Then, when she was expecting her daughter, she approached her boss about potentially working from home. Since that was not an option, she decided to stay home after her daughter was born and continued working as a part-time landscape design professional.
Gora laughs as she explains that, at 3 years old, her daughter was out on job sites with her helping her do landscape design. She became extremely busy, and Kemora Landscapes quickly took off and became the business it is today.
Kemora offers a myriad of highly customized landscape design services. From carpentry to iron works to seasonal maintenance (such as snow removal), Gora and her crew (as well as subcontractors she utilizes) aim to serve all of customers' landscaping-related needs and bring their visions to life. Gora truly prizes the artistic aspects of landscape design and works to bring energy and creativity to every project.
Lisa Fiore – LandscapeHub
Lisa Fiore is the founder and CEO of LandscapeHub – a one-of-a-kind web-based marketplace that connects buyers and sellers of plants and landscape materials. She is also on the NALP Women in Landscape Network Board.
Fiore is truly passionate about serving the nursery and green industry.
"I grew up in the nursery and landscape industry," she said. "My father was a third-generation nursery owner in Chicago. I grew up on the nursery that my great grandfather started and I have fond memories of roaming around the thousand acres of production that they had when I was a kid."
Later in her childhood, the nursery was sold to developers. Fiore said her father and uncle pivoted the business when the production fields were sold into distribution and re-wholesaling (offering plant material at a discounted price without a nursery guarantee).
"I distinctly remember being so sad that the big nursery that I just had so many fond memories growing up on was gone," she said. "I remember them starting the new re-wholesale business."
Much like Marisa Gora, Lisa Fiore also started her professional career in the lawn care industry working in garden centers.
"I grew up going to trade association meetings and big trade shows," Fiore said. "We all went as a family and I just had fond memories of being in the industry. When I was growing up, I also worked at garden centers."
Her first job outside of the family nursery was at Manfredini Garden Center. At the time, Manfredini was a large landscape contractor in the North Shore of Chicago that also operated a little garden center.
"From there, I've worked at many other garden centers, but ultimately, I went to college and after college did a short stint in mountain guiding (yes, I wanted to be an outdoor mountain instructor," she said. "Then I returned to Fiore Nursery, which at that point had become a re-wholesale center. That was in 2000 and I was working for my dad and uncle."
During this time, Fiore describes having loved the work she was doing. She enjoyed working with beautiful plants and serving a large community of contractors and said Fiore Nursery has a large selection of high-quality plant material.
Having learned everything about the business, Fiore took the nursery over in 2010, during the recession. "It was hard times, of course," said Fiore. She explained that during this period, the business contracted but she weathered the recession and started rebuilding the business.
It was during this period that her new path would take shape.
"I started to grow the business and we started to grow into new markets," Fiore said. "In 2016 I started to think about ways to help make the family company more efficient. And that's when I started to think about a software."
She continued, "Could we build a software for my family's company that helped us manage our supply chain so we could get information faster, which would help us sell faster and help us win more bids with our clients? And that was in the fall of 2016. Shortly thereafter, I started to really think further about building out a software solution for the entire industry."
In winter 2017, Fiore sat down with her family and explained that she could not pursue development of this new software endeavor while remaining president of Fiore Nursery. Her family was supportive and a cousin took over the family business while Fiore went to work building her new enterprise, LandscapeHub.
"It's the first business-to-business marketplace," she said. "We are a platform that provides a digital sales channel for suppliers on our network. On one side, you have suppliers, consisting of growers, manufacturers, resellers, garden centers and anybody that's selling product to commercial buyers. On the buyer side, commercial buyers can come to our site, and they can search across our entire network very easily and very efficiently and they can source, build quotes and build orders."
Fiore said LandscapeHub provides one platform to streamline the workflow between supplier and buyer.
"It's a marketplace that promotes the streamlining of plant buying and plant selling," she said.
Categories are currently are limited to green goods, however, the selection is expanding. Any product that you would find in the exterior of a home, a residence or a commercial site is product that will be welcome on LandscapeHub.
"I think it's really important to say we're not just streamlining the procurement for buyers, we're also connecting and digitizing the entire supply chain," she said. "We're doing it by way of integration. We are integrating with all the major point-of-sale systems and ERP systems in the entire industry. That is really how things become more efficient."
Savanaha Spencer – Spencer Lawn Care
Savanaha Spencer runs Spencer Lawn Care in East Canton, Ohio with her husband, Shawn. Her role in the business came about out of necessity and has morphed into an exciting career and passion for her.
Among customers and friends, she is recognized and known as "TQ" or "Trimming Queen."
Savanaha explained that Spencer Lawn Care was founded in 2012.
"We originally only offered lawn care, mowing, trimming, edging and cleanup," she said. "Fast forward eight years and we have grown to be a full-service lawn care, landscaping and snow removal company."
Over the years, Savanaha always gave Shawn a helping hand with jobs as needed.
"An opportunity came up in 2018 where we were having trouble finding employees due to the rising economy," she said. "I offered to come work with him."
Initially, Savanaha admits she didn't know how much she was willing to learn.
"I also didn't know how long this would last," she said. "I just figured I would work with him until he found another employee. I went to work learning the ins and outs of the business and discovered very quickly that I absolutely loved it."
Her experience out in the landscaping field has always been extremely positive.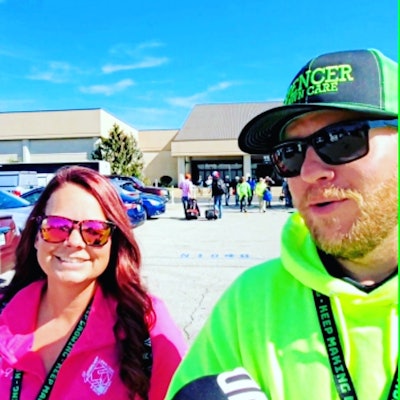 "I love being outdoors enjoying the beautiful spring and summer weather," Savanaha said. "I love working alongside my best friend. He has taught me so much about this industry. Lawn care has been a big help with getting in shape and staying more active. I also love how I have been treated as an equal and not looked down upon because I am a woman in the industry (and we all know every industry needs a woman's touch)."
When starting, she didn't now of any other women in the field.
"Now that I'm an active member of the lawn care community and a social media influencer on our YouTube channel Spencer Lawn Care, I have seen so many more women, some that have their own company, or work for a company, and even other husband-and-wife teams," she added. "It's so refreshing to be able to talk to other women in the industry that share common interests. I just love hearing their stories and how they got started."
Savanaha noted that for anyone in landscaping or any labor-intensive type of work, it's not easy most of the time for men or women.
"I really commend all the hard-working women and men out there busting their tails in all types of weather to provide for their families and themselves and as we always say, 'keep mowing, keep growing, keep making money,'" she said.
Statistical References:
Data USA: Landscaping Services. Gender Composition. 2018. (Statistics pulled from 2014, 2015, 2016, 2017 and 2018.) Accessed February 2020. https://datausa.io/profile/naics/landscaping-services#demographics