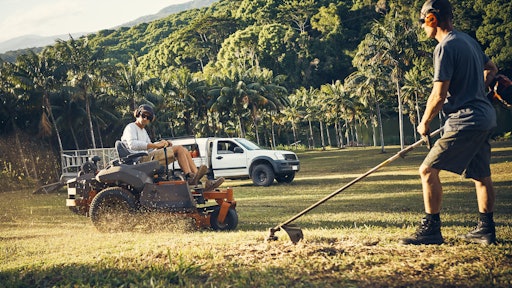 Getty Images
A landscaping supervisor overlooks and manages the field crew. The supervisor ensures the work done complies with contract conditions and the expectations of the customers and employers. The supervisor may also be responsible for aspects of the design including creating a plan, scheduling all of the tasks that must be completed, and maintaining the budget and expenditures. In addition, a supervisor is often still doing field work as well.

According to Environmentalscience, job demand for this role is expected to grow at 6% between 2014 and 2024. This is about the average of all jobs across the country.
Statistics from the IBIS World November 2018 Landscaping Services Industry Report, shows that the landscape services industry has annual revenues of $93 billion, employs more than one million people and represents 513,305 businesses.
Skills
According to Environmental Science, landscaping requires numerous skills and capabilities.
Ability to work independently
Meet project deadlines
Work at a variety of worksites and travel
Use landscaping equipment safely: chainsaws, leaf blowers, mowers and snow blowers
Exposure to extreme temperatures
Benefits
As stated in Landscape Industry Careers, an attractive offering from many companies is a benefits program. For instance, most executives and managers have health insurance and are provided with a retirement plan. Some companies offer employees corporate vehicles or stipends for using personal vehicles. Employers often invest in professional development opportunities to ensure their team members are continuously learning the newest techniques and trends.

According to Landscape Industry Careers, there are at least three benefits that are generally offered for employees working in the landscaping industry.

Dental
Paid vacation time
Health and wellness insurance
Salary
According to Salaryexpert, the average landscape supervisor salary in United States is $53,390 or an equivalent hourly rate of $26. In addition, they earn an average bonus of $1,319. These salary estimates are based on salary survey data collected directly from employers and anonymous employees in the U.S.
Salary also varies by experience level:
Entry level landscape supervisor (1-3 years of experience) earns an average salary of $39,052
Senior level landscape supervisor (8+ years of experience) earns an average salary of $65,341

In some circumstances, a high school diploma or a safety certification will be sufficient to start a career in landscaping. Higher paying job titles require a formal education with a diploma in field study areas such as landscaping, horticulture, arboriculture or ecology and have some extensive experience working in landscaping.
According to the U.S. Bureau of Labor Statistics, there are 101,390 employed landscape supervisors nationally, and the average yearly salary is $51,280. The top 10% earn an annual wage of $77,500 — about $37.26 per hour.
Depending on location and years of experience, a landscape supervisor can earn over 3% more than the national average, according to Payscale.
According to the U.S. Bureau of Labor Statistics, the top paying states for this occupation include:
Alaska — $82,580
North Dakota — $64,940
Rhode Island — $61,420
Connecticut — $60,270
California — $59,640
These figures are not determined by education and experience.

Employment
Landscape supervisors are employed in many industries. According to the Bureau of Labor Statistics, the industries with the highest levels of employment of landscape supervisors include:
Services to buildings and dwellings — $49,610 average salary
Other amusement and recreation industries —$55,140
Local government, excluding schools and hospitals (OES designation) — $59,240
Traveler accommodation —$50,640
Colleges, universities and professional schools —$51,720
The top paying industries for this occupation by yearly salary include:
Federal Executive Branch (OES Designation) —$70,110
Farm product raw material merchant wholesalers — $68,120
Other Heavy and civil engineering construction —$66,530
Residential building construction — $65,840
Electric power generation, transmission and distribution — $65,490
The landscaping industry is growing and available to anyone who is interested in learning and working hard. There are many benefits that are provided for all levels of experienced workers and a competitive starting average salary.
Although a formal education is not required for this career path, certifications and higher education can allow for an employee to receive a higher pay salary. Apprentice programs and internships are good tools and experiences to have to further progress the work experience in the industry and work up to become a landscape supervisor.