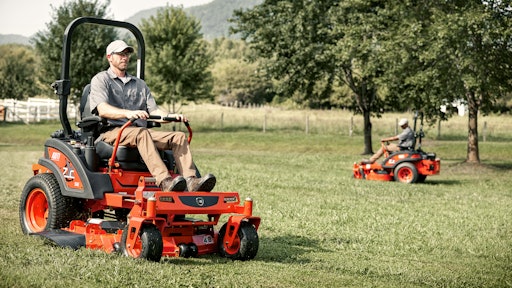 KIOTI Tractor
With technology constantly shifting, trends are not always easy to track. Something that gains popularity one month or year, may wane shortly thereafter.
Taking into consideration the economic climate in the aftermath of 2020 and the COVID-19 pandemic, Green Industry Pros recently asked representatives from major mower manufacturers and the Outdoor Power Equipment Institute to weigh in with their thoughts on the outlook for the mower market in 2021 and what features they find are drawing landscapers to their products.
Q: What is your overall outlook regarding the mower market in 2021 and into the future?
Kris Kiser, President, Outdoor Power Equipment Institute (OPEI): Despite the challenges of 2020, last year was a record year for the market. We saw unit shipments increase by 15 percent overall. Many landscape contractors, though, held back on making large equipment purchases. With a solid winter and easing uncertainty about the COVID situation, many should be in a good cash position heading into spring, and we expect this segment of the market to increase about 6% in 2021.
Ron Scheffler, senior product manager, Bobcat: With all the craziness that's been happening with the pandemic, and of course, economy issues, we still have a very optimistic 2021 ahead of us both in the commercial and residential zero turn mower markets. We see the overall market growing this year. We see folks who maybe didn't purchase the equipment last year, coming out and spending that money this year. After last year, there was probably a lot of maintenance and things like that done on their equipment. This year, we've already seen a lot of increased purchasing and buying orders. Our retail numbers are up and we just kind of see that the resilient landscapers are coming back strong after COVID and we need to give them equipment that works as hard as they do. We see a very good year this year and likewise, I think we're going to have a record year for the Bobcat brand.
Joshua Sooy, segment director, professional Equipment, Cub Cadet: In 2020 the industry saw soft demand because of the pandemic. Now we're seeing a lot of those customers that held off last year be able to purchase new commercial equipment in 2021.
Lenny Mangnall, product manager, Exmark: We're very optimistic and believe 2021 is going to be a very good year on the landscape contractor side of the business. In early 2020, everything stalled out for a period due to the uncertainty. Then as we moved into summer, things really started to heat up and we believe that upward trend will continue.
Brian Schoenthaler, marketing specialist, Grasshopper: We feel good about 2021. Indications point toward a good year for the landscape industry on both the consumer and landscaper side. Dealers remain open for business and demand for outdoor power equipment remains robust.
Brad Unruh, director of new product development, Hustler Turf Equipment: We are excited about the forecast for the 2021 mower market and beyond. Over the last year, most people spent more time at home more than ever before, leaving them more time to focus on the appearance of their yards and landscapes.
Nick Minas, go-to-market manager, John Deere: We have a very positive outlook on the mower market in 2021 and beyond. The industry is rebounding well from the pandemic and looks to be continuing the trajectory it was experiencing pre-COVID. We remain bullish on the commercial mowing market now and into the future.
Steve Cathey, territory manager, KIOTI Tractor: The overall outlook for the mower market this year and beyond remains strong. With more free time on their hands, some homeowners may have taken a more hands-on approach with their landscaping needs during the past year. However, with more folks getting back to work, they're likely going to begin once again relying on landscaping professionals to maintain both residential and commercial properties. In turn, the demand for long-lasting, high-functioning mowers is likely to continue climbing as we look towards the future.
Jake Segrin, marketing manager, Scag: We are expecting another strong year in the mower market for 2021. 2020 was a strong year but an odd year to say the least with the late spring in parts of the country and a lot of uncertainties surrounding the impact of the pandemic. Landscapers in the north, and even parts of the south, this year had strong snow seasons that should positively impact funds available for equipment upgrades in spring on the lawn care side of their businesses.
Mitchel Hoffman, marketing manager, Toro: We have an extremely positive outlook for 2021 and beyond. The circumstances that defined 2020 have shown us that homeowners are investing more than even before in their outdoor spaces, which includes contracting lawn maintenance and landscaping services. With people spending more time in their outdoor spaces, we've seen an uptick in a demand for beautification and maintenance of their properties. This gives us a good feeling for 2021. When landscape contractors are poised to have a good year, leading manufacturers of mowers and lawn maintenance equipment like Toro typically follow suit, as well.
Q: What factors do you think will impact mower sales this year?
OPEI: The pandemic's impact on this industry can't be overstated. We saw people reconnect with the living landscape in a way that we think is here for the long term. That means homeowners are investing more in their outdoor spaces, leading to more business for landscapers. Manufacturers continue to introduce new models with new features and expanded power sources, and there's strong demand from the market for new equipment.
BOBCAT: This past year, the residential zero term market took off all over the United States, as people had some money to spend and we're staying at home, doing the yard improvements, and doing their own landscaping. We expect to see that continued growth this year, and then well into 2022, as well in both residential and the commercial markets. We know as we brought the new Bobcat "Tough to Turf" launch late last season that this is Bobcat's first full season in the mower market. It's not just optimism talking, we see some real data that's showing that with our Bobcat brand, and our mower products that we have, that we're going to have growth in 2022 and beyond.
Cub Cadet: Supply is likely to be the key factor in how many mowers are sold across the industry. Demand is going to be strong. With the lingering effects of Covid-19 and early signs of inflationary pressure, it comes down to whether the manufacturers and their supply chains can provide product to meet that demand.
Exmark: There's a lot of pent-up demand for mowers and equipment in the marketplace. This is due to several reasons, not the least of which is the increased consumer demand for landscape maintenance services. Many homeowners are spending more time at home, so having a well-maintained lawn is more of a priority than ever. Production capacity will most likely be a limiting factor to mower sales this year.  Inbound component availability and global logistic delays are having an impact on production output in several industries. Lawn and garden OEMs are dealing with these challenges like so many other industries this year.
Grasshopper: Short term, supply chain issues are the present concern. Shipments from overseas are being delayed at the docks due to COVID-19 making production schedules unpredictable. In addition, prices for steel are forcing manufacturers to figure out ways to hold pricing, instead of having to raise prices. On a positive note, demand continues to show growth.
Hustler: Homeowners are prioritizing the care they put into their lawns, making them more open to investing in an expert that will handle maintenance and upkeep for them. As the demand increases and contractors build their portfolios, they're becoming more inclined to purchase high-quality units that will boost productivity and meet their customer's needs.
John Deere: With the uptick in work, the demand for commercial mowers hasn't slowed down, which is pushing manufacturers throughout the industry to deliver. This increased demand is going to play a role in sales in 2021.
Toro: In addition to people spending more time than ever before in their own outdoor spaces, and the desire to enhance and maintain those spaces, we believe that the gradual economic recovery in the U.S. will also have a positive impact on sales in 2021. Additionally, the equipment lineup that we have to offer in 2021 is arguably one of the most exciting rollouts we've seen in the landscape contractor segment in recent years.
Q: Battery-powered handheld equipment is making its mark with professional landscapers. How soon will battery-powered mowers (walk-behind or zero-turn) have an impact on the industry?
OPEI: I think it's already having an impact. We've seen several manufacturers introduce battery-powered zero turns in the last few years. Landscape contractors have a limited number of hours in the day, and they'll adopt technology and equipment that can help them become more efficient and more productive. We're also seeing larger-scale, commercial robotic, remote-controlled, and other interconnected battery equipment in the space. Battery-powered zero-turns are just the latest innovation from manufacturers to help them do that, and we expect to see more of them this year at GIE+EXPO.
Bobcat: I think it's going to take off, but I think it's going to be a little bit yet. I recently saw some data in the market that it's the fastest growing mower type in the market. Over 50% growth, year over year, the last couple of years based on the latest data. Everybody wants clean air and clean water. Green is a trending buzzword right now and that's going to continue to be up in the minds of others. There are great times to have a green machine too. If you're mowing in certain municipalities, near hospitals or schools or group homes that demand certain hours because of noise restrictions. For those situations, I believe battery-powered equipment is going to end up being somewhat of a norm. We will see some uptick in the volume out in the market as well. Right now, part of the challenge is the charging time for a mower. When we get into the hot summer days, and in the dog days of summer, when we've got a 12-hour workday, those mowers are not going to last that 12 hours yet. You can't have a 12-hour charge time, especially on those long days. As that technology improves, and as the price starts to drop a little bit, because more and more manufacturers will start looking into this, I see growth coming throughout.
Cub Cadet: Battery is already having an impact although nowhere near what we are seeing in handheld products. Once manufacturers can overcome concerns around battery life, charge times and performance, I expect we will see some significant shift.
Exmark: We're already seeing the impact of electric mowers, but for now it's very localized. Electric mowers are being used in places that have required them to be used. The reality is that most landscape contractors must look at the bottom line. In the end, it must make financial sense for them. It also has to meet contractors' productivity, power, runtime, and durability requirements.
Grasshopper: While battery-powered automobiles are making great strides, battery-powered riding zero-turn mowers are still in their infancy regarding their development and production. There are many unanswered questions such as length of run time, recharging time, battery lifecycles, and disposal and replacement costs of the batteries.
Hustler: Battery-powered mowers will become popular once the price and performance are acceptable for consumers. Business owners already have infrastructure expectations of what they want their mowers to do at a certain price point. They may not be willing to pay more for something with more features if that's not what they need. Contractors could also run into productivity issues if their batteries won't last.
John Deere: A top need for professional landscapers right now is the ability to mow all day long without range anxiety. However, the ability to mow all day at a competitive price is key to changing that perception and having an impact on the industry. With less range anxiety, the ability for these units to compete with gas, diesel, and propane mowers will increase. At Deere, we are continuing to explore options to correctly solve the electrification value equation, while still offering a wide range of gas, diesel, and propane solutions that offer the comfort, reliability, and performance our customers need.
Toro: It's ready now. Like any new technology, battery-powered professional lawn maintenance equipment has been met with a bit of resistance, and rightly so. Arguably, the technology that has been available up until this point didn't necessarily match up to the performance or run-time of gas-powered machines or has simply been cost-restrictive and impractical. We believe with the introduction of our battery-powered heavy-duty 21-inch mower that we've found the perfect balance of power without compromise, at an attainable price point. We believe it will be a home run for landscape contractors who are interested in zero engine emissions, less maintenance, and a quiet run, all without sacrificing performance.
Q: What are the most common wants and needs by landscape contractors for a mower?
OPEI: Landscapers need equipment that's safe, reliable, and efficient, something our member manufacturers continue to bring to market. OPEI members provide a range of equipment with diverse power sources, components, and options to allow landscapers the right equipment for the job. Whether that means autonomous units or wider decks to increase productivity, attachments like plows or brooms to allow for snow-clearing functionality, battery-powered units for accounts like hospitals or campuses, or remote-controlled options for slopes.
Bobcat: Landscapers are in the business to make tall grass short. For a good quality cut, you got to have that ticket to get in the game. Right after that, it's got to be that ease of ownership, which is some of that comfort as the owner-operators are now sitting in the seats more than they used to be. As example of efficiencies, our stand-on mower the ZS4000 is very comfortable to use as a walk-behind machine. They operator platform flips up and latches in place and allows the operator to walk-behind it in areas where that may be needed. That's another a pain point that we kind of took away from the operator so that he can have, a two-in-one machine,
Cub Cadet: Landscapers are running their businesses to make a living. Anything that either enhances profitability or prevents downtime is going to attract attention. Basically, they want an affordable mower they can rely on that cuts great at high speeds.
Exmark: What landscape contractors need in a mower really hasn't changed. They need productivity and efficiency, but there's a lot that feeds into that. Increasing productivity isn't just about a higher horsepower engine or a larger cutting deck. It's also quality of cut, because if you have to go back and double-cut properties, having an extra wide cutting deck isn't worth much. Also, if you have downtime related to service and maintenance, it affects the productivity and efficiency.
Grasshopper: Reliability, and maintenance and fuel costs are the most important considerations when purchasing a mower. Just as important is the productivity of the mower. Zero-turn maneuverability is a huge time saver.
Hustler: Contractors continuously look for mowers that will spend more time in the field and barely any time in the shop. Durability, comfortability, and efficiency are some of the most sought-out features; a mower that will last, get more done in less time and something that will reduce the fatigue of the person riding it.
John Deere: Over the past year, mower productivity, efficiency, and comfort continue to be major priorities for professional landscape contractors. Attachments and design upgrades that enhance ride comfort and the ability to complete jobs more seamlessly will continue to be essential for making sales.
KIOTI: As with many other types of power equipment, the wants and needs of landscape contractors for mowers come down to two simple yet critical factors: reliability and serviceability. Commercial mowers are an investment that contractors want to withstand heavy usage for at least two to three years. Knowing that a mower is reliable and won't cause unexpected delays at a jobsite is top-of-mind for contractors. And when it comes time to service the mower, which I do every 50 hours of use, contractors want to be able to do so as efficiently and effectively as possible. A mower that is both reliable and serviceable will go a long way for a landscape contractor.
Scag: Higher horsepower really seems to be a big driving force in the marketplace right now. It's hard to imagine in today's time that the original Turf Tiger was powered by a 22-hp Kohler or Kawasaki in 1997. Those two brands along with Vanguard have done a great job delivering us and the marketplace plenty of power to meet the needs of today's machines.
Toro: Landscapers are always looking for equipment solutions that will make their lives easier, handle the job quicker, and help them stay productive and comfortable on site. We take a contractor-first approach for the development of all our professional models, whether that's the maintenance-free appeal for our new 60V 21-inch heavy-duty, or the MyRIDE suspension system on many zero-turn models, which allows operators to custom-select their ideal ride firmness, or the all-season versatility of the GrandStand MULTI FORCE which allows operators to perform multiple tasks with a single machine and a changeout of attachments. It's all designed with the operator in mind and based on feedback from landscape contractors themselves.
Q: What features are manufacturers working on including to improve overall uptime for mowers?
OPEI: While we don't manufacture zero-turns, we do offer a great place to see all the latest innovations in one place: GIE+EXPO, the green industry and equipment exposition, slated for Oct. 20-22 in Louisville, Kentucky. We're planning a great show this year and looking forward to safely hosting the industry's family reunion after such a challenging period.
Bobcat: Some of the trends that we're seeing: we have a workforce shortage, the pandemic, the supplier issues, all things like that are trying to fight against our mower market. We're seeing a lot of things out there about what's available to help the landscapers today to be most efficient throughout the workday. They have smaller crews now and they're a little bit more cautious on hiring, but the jobs are there, so the equipment needs to be there, and we've got things in our lineup, like a rotating bumper at the backend where the engine is to help with quick clean outs, quick service repairs, to help keep downtime to a very minimum and get them back up and cutting grass. There are a lot of toolless types of pieces we're seeing on the equipment, plus a lot more owner/operators are out there with less crews, so they want to be comfortable. We are including some anti vibration platforms, lots of comfortable seats, added armrest features and overall things that are friendly for the operator. That includes ergonomic friendly control levers and other things that take less wear and tear and strain on the body.
Cub Cadet: Let's face it, manufacturers use essentially the same components to build their mowers. The two areas of their product they can truly differentiate themselves is in frame and deck construction. By reinforcing the areas that take the most beating you can help ensure maximum uptime.
Exmark: Improving overall uptime is the result of a small improvements that ultimately add up to significant gains. Our Lazer Z zero-turn mowers are a great example of this. If you keep the oil changed and the filters refreshed, you're good to go during the busy season. We've reduced the number of grease points to four or five, and these only need to be lubricated annually. Exmark was the first to introduce semi-pneumatic caster tires in the early 2000s, and now with the introduction of the Tractus airless drive tires, Exmark has essentially made daily tire maintenance and flat tires a thing of the past. Inconsistent tire pressure also can affect deck leveling, ride quality and the stability of the mower, but Tractus eliminates those issues, with consistency and uptime performance pneumatic tires simply can't match.
Grasshopper: Use of reliable, quality components and high-grade U.S. steel are key components to more uptime. In addition, manufacturers should continually look for ways to minimize and simplify maintenance to get mowers in the field quicker and stay there longer.
Hustler: I would say a larger deck size. The larger the deck, the quicker the mow will be. Hustler's Super 104 and Super 88 were designed to be agile and meet the demands of the contractors who require them for larger jobs. This is especially beneficial for those in the commercial industry who are facing smaller crews and a high demand for work.
John Deere: With an increased focus on maximizing productivity, efficiency, and comfort, the industry is evolving product offerings to provide more solutions for customers. Two general solutions that improve overall uptime include on-board diagnostics and easy access maintenance points. One way that John Deere has addressed this growing focus is with our latest updates to the Z900 Commercial ZTrak lineup. These updates include machine enhancements, expanded deck options, and three new attachment offerings. Another key feature John Deere provides to increase productivity includes the MICHELIN X TWEEL TURF Airless Radial Tires, available for the John Deere E, M, and R Series ZTrak zero-turn mowers. This tire eliminates flats, improving uptime and reducing the cost of maintenance and repairs.
KIOTI: Given that reliability and serviceability are key to a long-lasting, well-functioning mower, manufacturers are constantly working on seemingly small features that make a mower easier to service. Everything from easy access to air and oil filters to the ability to quickly remove the blades and clean the deck are major time-savers and critical for serviceability. Ensuring that a mower is easily serviceable will extend its lifespan and best meet the needs of landscaping professionals.
Scag: A big focus for Scag Power Equipment with respect to uptime has been designing ease of maintenance into every machine. All machines will need to be worked on at some point whether basic maintenance or unexpected repairs. By making major components more accessible and offering features like convenient engine and hydraulic oil drains, or replaceable front caster extensions to name a few it makes those maintenance or repairs time quicker which keeps customers in the field mowing.
Toro: Battery power plays a big role here. The less maintenance that contractors have to perform on a machine means the more productive they are in the field. With the emergence of battery power in the professional landscaping space, especially with our new 21-inch 60V walk behind, we've essentially eliminated all the regular maintenance associated with a traditional engine, increasing productivity, and helping boost contractors' bottom lines.