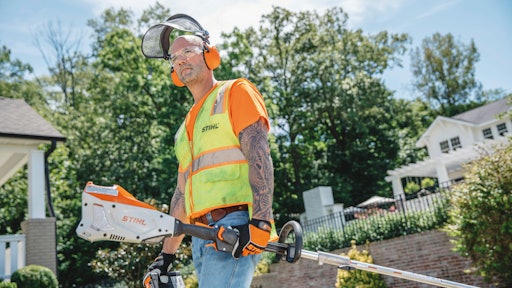 STIHL
A major part of the GIE+EXPO is the introduction of new products. Contractors and dealers can browse newly released equipment and "try before they buy" in the outdoor demo area.
Annually, the show lends itself to being the showcase for the latest innovations within the green industry. With no show being held in 2020, the anticipation is high that the manufacturers will be pulling out all the stops for the upcoming event in Louisville Oct. 20-22.
"While technology has been creeping into the green industry for some time now, we expect it will be a driving force going forward," says Chris Vogtman, director of marketing, Toro. "Coming out of the show, we anticipate a greater emphasis on applying technology to solve industry challenges like labor scarcity and energy concerns."
Evolution of battery-powered equipment, robotics and interconnected devices are anticipated to be major highlights of the 2021 show.
"I think you're going to see a lot of battery-powered products as a lot more manufacturers have pushed into that space," says Kris Kiser, managing partner of GIE+EXPO and OPEI president.
STIHL, Husqvarna, Toro, Milwaukee Tool, EGO, Briggs & Stratton, Greenworks and many more are among those pushing into or active in the battery-powered market at both the handheld outdoor equipment level and beyond.
"Simply put, battery-powered tools are the future of our industry," says Scott Sittler, marketing manager, professional products Husqvarna. "At Husqvarna, we're excited about this opportunity. We have a long history of innovation and look forward to continuing to push new technologies to develop equipment that continues to deliver ease of use, convenience, and performance for industry professionals."
Murray Bishop, director of sales at STIHL Inc. notes that many municipalities and residential areas are requiring low-to no exhaust emissions and lower noise levels so the market must adapt to meet those needs.
"While battery products certainly grow in popularity, we continue to enhance our professional gas product range improving power while lowering weight, reducing emissions and improving serviceability all while delivering the quality and dependability that has become synonymous with the STIHL brand," he says.
Battery or electric power also is expected to continue to evolve in larger pieces of equipment including mowers and beyond. More prototypes of such vehicles are anticipated to be on display giving a glimpse of what's to come.
Overall, technology seems to be on the rise at GIE+EXPO 2021.
"The landscaping business is becoming increasingly more sophisticated with high-tech tools like robotic lawn mowers and apps to manage business operations and fleet management from a mobile device," Bishop says.
Jim Clayman, vice president of marketing for Aspire Products, ServiceTitan notes there is some interesting technology being prototyped by different vendors for robotic mowers for commercial use.
Although they've been around for nearly 20 years, the robotic mowers are now on their third or fourth generation. "I think there's a recognition that there is a market here for that stuff," Kiser says.
Meanwhile, Clayman notes that on the software technology side, many contractors still have not upgraded their processes and business practices to leverage available technology such as Aspire to transform how they manage their business. He anticipates many will be checking out Aspire and other vendors to learn more about what such systems can do for their business.
Others see an ongoing trend toward larger, more powerful, and productive equipment that is easy to use.
"The landscape industry is in the midst of a labor shortage, but demand for work isn't slowing down," says Brant Kukuk, Ditch Witch compact equipment product manager. "In fact, demand for work has never been higher for many landscapers, some are working on 2-3 jobs per day. Manufacturers are designing machines with higher operating capacity, which reduces the number of loads needed on many projects and, in turn, will help improve efficiency for smaller, busy crews."
There will be a vast array of products unveiled at GIE+EXPO 2021. Many of which we are not even aware of yet.
Here's some insight at what a handful of the exhibiting manufacturers are debuting or highlighting at this year's show.
Aspire Software was recently acquired by ServiceTitan, the largest software provider for those in the home service trades.
"We'll definitely be talking about how the infusion of resources and capital from ServiceTitan will benefit our current and future customers with accelerated delivery of new features and functions in the future," says Jim Clayman, vice president of marketing for Aspire Products, ServiceTitan .
As for a specific "new" product, he notes that Aspire continually enhances its business management system that is built for commercial landscapers.
"We will definitely be highlighting new features that are coming on board, including enhanced features for managing snow removal services," Clayman says. "We will also highlight new features and enhancements that will be made available to smaller contractors who in the past may not have been large enough to take advantage of Aspire's software platform."
Ditch Witch
Ditch Witch will be showcasing the enhanced C24X walk-behind trencher at GIE+EXPO.
According to Brant Kukuk, compact equipment product manager, Ditch Witch, the updated trencher boasts a new Honda engine designed to improve performance, simplify maintenance, and offer easier operation for contractors.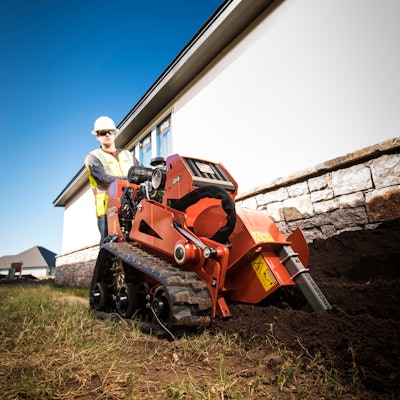 "Specifically, the new engine is fuel-injected rather than carbureted and offers more head shaft horsepower to the ground, both of which improve performance," Kukuk says. "The enhanced C24X also has eliminated the choke for easier starting, has a throttle-by-wire for easier maintenance and has an updated auger shaft support which allows bricks and rocks to pass, improving productivity of the machine."
The company's two classes of stand-on skid steers, the mini (SK600, SK800 and SK1550) and full-size models (SK3000) will also be on display. Kukuk says the machines are powered by engines ranging from 24.8-hp to 44-hp, offering up to 34.5 hp to the attachment depending on the model. The SK3000 runs on a 59-hp engine with 51-hp directed to the attachment.
Exmark
At GIE+EXPO 2021, Exmark will show a breadth of new 2022 products focused on raising the bar of productivity and lowering total cost of ownership for their customers according to Exmark director of marketing Jamie Briggs.
"We'll launch Exmark's most productive zero-turn riding mower yet, all-new stand-on mowers and innovations that reduce in-season maintenance and downtime for contractors," Briggs says. "We're also introducing new features into existing mower models."
He also says that guests will also see a host of new products Exmark is working on for tomorrow as well as concepts of innovations that the company expects will shape the commercial lawn care market well into the future.
Husqvarna
Husqvarna will highlight the launch of its latest innovation, the 525DEPS MADSAW, the first dielectric gas-powered pole saw tested to meet the OSHA standard for electric power generation, transmission, and distribution.
Scott Sittler, Husqvarna marketing manager, professional products, says the MADSAW offers insulation to prevent electrical conductivity and extreme versatility with the ability to be operated aloft in a bucket, in-tree, as well as on the ground. He says the two available lengths will make it easier for operators to access hard-to-reach areas, reducing the amount of time climbing aloft and ultimately, maximizing operator productivity.
Sittler says Husqvarna will also present its latest generation of chainsaws within the 90cc segment. "Our new saws are both extremely powerful and efficient, with a level of maneuverability rarely found in saws boasting this size and power," he notes. The 592 XP has an X-Torq engine, X-Cut chain, and Husqvarna's new X-Tough Light bar. According to Sittler, when compared to other brands, the 592 XP has "an unbeatable combination of low weight and high power making the user more efficient, and productive."
In addition, he says the 585 is a new powerful and robust chainsaw for the most demanding conditions, featuring a needle carburetor and built with a modern, user-centric design.
Outside of new product introductions, Sittler said the Husqvarna booth will offer a variety of activities and items for sale.
"An on-site interactive tool will help landscape professionals determine the best equipment to fit their needs, and we'll be selling our Xplorer line of gear and equipment on site," he says. "The excitement doesn't stop there, however. We'll also have a fun game for attendees to play, where they can win some truly amazing prizes and not your standard branded swag. To find out more just stop by our booth."
While not exactly new for 2022, John Deere will be highlighting the latest Fastback PRO Rear-Discharge Mower Deck to give it a formal introduction to the industry.
Go-to-market manager Nick Minas says the Fastback PRO, (a Green Industry Pros Editor's Choice award winner) features a heavy-duty, commercial-grade design that customers expect from John Deere, and is built to enhance productivity, ease of use and performance, while providing a high quality of cut.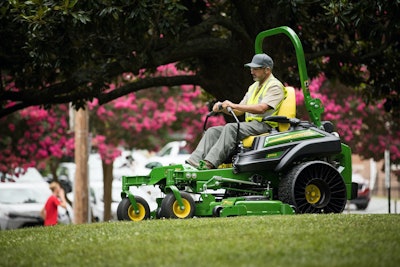 In addition, at GIE+EXPO 2021, Minas says John Deere will be celebrating the 25th anniversary of its flagship product, the Z900 ZTrak. "This is a tremendous milestone that we want to highlight as part of our continued, long-standing partnership to the professional landscape industry," he says.
KIOTI Tractor
First announced at its Virtual Dealer Meeting in December 2020, KIOTI Tractor will be debuting prototypes of its first-ever compact construction products at this year's GIE+EXPO.
"The all-new skid steer and compact track loader will allow green industry professionals who have trusted KIOTI's tractors for decades to experience the same quality and value in an entirely new product category," says Christina Propst, KIOTI Tractor marketing manager. "Currently in the late stages of development, both machines will be completely designed, engineered, and manufactured by KIOTI's parent company, Daedong. We can't wait to get these compact construction products onto the show floor." Both machines will include a KIOTI engine and powertrain.
Propst said attendees can also expect to see an array of new KIOTI products and prototypes at the show. She says KIOTI will be displaying the all-new K9 2400 Cab UTV, NS series of tractors and new ZTR prototype models.
Propst says KIOTI will be displaying new ZTR prototype models. "These mowers will include stand-up and alternate engine options and will bring all the comfort and performance KIOTI owners expect from our current line of KIOTI ZTRs," she notes.
The new line of NS series KIOTI tractors was designed for customers requiring powerful tractor and a larger platform.
She says the series will include five models, with engines ranging from 45- to 58-hp. All models will feature high-capacity hydraulics and power steering, with the option for a synchro shuttle or HST transmission, an adjustable three-point hitch and an independent PTO with auto and manual selections.
Lastly, Propst noted that the new K9 Cab features an audio system with speakers, air conditioning, heat and defrost, a tilt-opening windshield and four-wheel drive. "The UTV will also boast advancements to reduce vibration and noise in addition to a redesigned CVT with engine braking capabilities," she says.
Kubota
Kubota will be displaying its SCL1000 Stand-On Track Loader (Green Industry Pros 2020 Editor's Choice Award winner) for the first time to a professional landscape audience at a live tradeshow. According to Kubota Senior Turf Product Manager Tom Vachal, the SCL1000 is well-positioned with wide tracks, narrow body, and a rated operating capacity of 1,000 pounds to meet the demands of landscape contractors and rental yards alike.
Vacal notes that Kubota recently announced a new line of attachments for the SCL1000 ideal for landscape professionals. The new SCL attachment package includes compact buckets, trenchers, a compact mount for breakers, pallet forks, a skid auger and power rake, increasing functionally on a jobsite.
There are six compact buckets available for the new SCL1000, including both standard and high-capacity options. A new pallet fork comes in 36-inch and 42-inch fork length options and helps contractors and material handlers in a variety of industries efficiently move loads from trailers, flatbeds, or racking systems.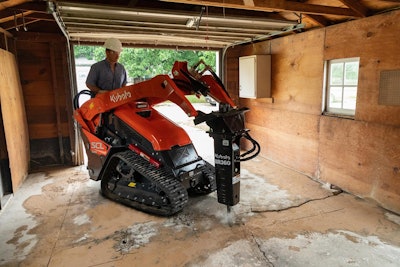 STIHL
"We are proud to offer one of the broadest ranges of diverse handheld OPE products in the industry and will provide attendees of the show an exciting preview of the products and programs that we will be offering in 2022 and the coming years," STIHL Inc. director of sales Murray Bishop.
Specifically, he referenced the continued support of the demand for battery-powered equipment with the new STIHL professional battery 135 platform. The 135 platform includes loop and bike handle trimmers, a KombiMotor, extended reach hedge trimmers, extended reach pole pruners, and edgers.
Bishop says the 135 platform delivers true commercial-grade power and performance comparable to gasoline-powered tools, all with zero exhaust emissions and low noise. The units have many of the same drive and cutting components as used in the gas-powered STIHL products.
In addition, he notes that a number of the STIHL professional battery products are already California Zero Emissions Equipment (ZEE) certified as well as the American Green Zone Alliance Field Test Certified (AFTC) allowing landscapers to operate even under the most stringent emissions and durability guidelines.
"We are also excited to be providing pros a sneak peek at the innovative charging solutions STIHL will make available in 2022," Bishop says. "At this year's show, attendees will get a firsthand look at our robust product line, including the expansion of our AS Battery System, AP Battery System and new gasoline-powered chainsaws."
Toro
Toro is looking to be at the forefront of a big shift within the green industry, according to director of marketing Chris Vogtman.
He says the Toro booth will look and feel differently this year and the company unveils new technology, electrification, connected solutions and software that brings it all together.
"GIE+Expo visitors will have a chance to get a firsthand look at revolutionary Toro equipment and learn how our Horizon360 software can help them manage it all," Vogtman says. "The booth this year will be all about charging forward."
Companies in this article