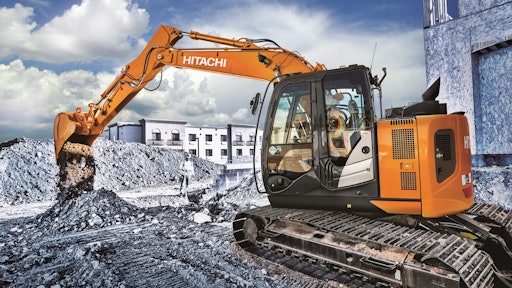 Hitachi Construction Machinery
Hitachi Ltd. announced Jan. 14, 2022, plans to sell half of its stake in Hitachi Construction Machinery Co. It currently owns a 51% share in the construction equipment manufacturer. Shares will be sold to trading firm Itochu Corp. and investment fund Japan Industrial Partners reports Reuters.
According to the Reuters article on the subject, the sale of shares is part of Hitachi's efforts to overhaul its business portfolio.
The Japan Times reports Hitachi's reorganization aims to eliminate those businesses which do not have synergies as it looks to focus more on the digital segments of the company. After the sale, the Japan Times says Hitachi will continue to have a 25% stake in the construction equipment business.
Hitachi Construction Machinery reportedly earned $7.1 billion during its last full business year. It will continue to use the Hitachi brand and plans to cooperate with Hitachi Ltd. on digital technologies.
The Japan Times writes that the OEM is looking to increase its presence in North America and improve its overall business through the partnership with Itochu.
In a press release from Hitachi Construction Machinery regarding the sale of shares by its parent company, Japan Industrial Partners has stated that its business purpose is to cooperate with entrepreneurs and management who are willing to transform existing businesses and industries while respecting the corporate culture, and, by formulating new businesses and industries that meet the needs of the times, assist in fully drawing out potential and original strengths in the relevant businesses and industries. As such, Hitachi Construction says it believes the new partner will help support the company in enhancing its business.
The company also notes in its press release it has worked with Itochu previously, having formed a joint venture for the manufacture, sales and finance of construction equipment in Indonesia for the past 30 years. Itochu will bring to the now expanded partnership its distribution networks, as well as warehouses, logistics and other elements that are expected to help grow Hitachi Construction Machinery's business, particularly in North America.
Hitachi Construction Machinery says it will continue to collaborate with existing business partners around the world. Per its press release, Hitachi Construction Machinery will cease to be a consolidated subsidiary of Hitachi and will turn into an equity method affiliate; however, the company's strategy to expand its components and service business, widely recognized as a part of the Lumada business, on which the Hitachi group focuses, remains unchanged after the removal from the scope of consolidation of Hitachi.
The company goes on to say it will continue collaborating with Hitachi and the Hitachi group in a variety of areas including the Internet of Things (IoT) as well as procure some components from Hitachi particularly for its mining segment. Its mining group will also continue working with Hitachi on efforts to reduce emissions from mining equipment, such as development of electric-powered dump trucks.