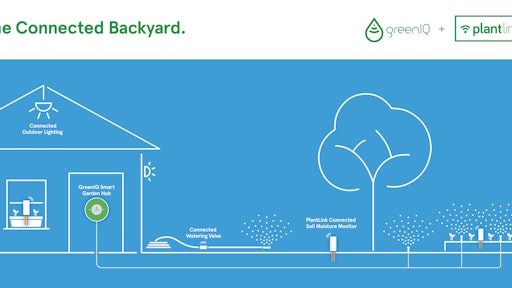 Smart watering is becoming increasingly imperative as professional gardeners and landscapers face mounting pressures to reduce water waste, while still achieving garden aesthetics. GreenIQ, a smart, wireless irrigation controller is further expanding its ecosystem of connected outdoor devices, with its latest integration with PlantLink. GreenIQ says that PlantLink is a highly adaptable and intelligent sensor that automates irrigation schedules so that they are specific to each plant's unique watering needs.

Smart irrigation controllers, like GreenIQ's Smart Garden Hub, are now providing garden professionals increased visibility and autonomous control of client irrigation systems to improve and streamline lawn care management, while dramatically reducing customer water bills. With PlantLink joining GreenIQ's now expanded connected garden ecosystem, professional gardeners and landscapers will have access to these features:
Self-Sufficient Garden–PlantLink's sensors and database of over 50,000 plants ensures accurate plant identification and soil detection to ensure for ideal watering conditions.
Long Range and Energy Efficient–With ZigBee-enabled connectivity, PlantLink allows the freedom to place links and monitor moisture levels from up to 100 yards away, while requiring minimal power usage.
Prevent Under and Overwatering–Improve a plant's health and lifespan with regular PlantLink's water alerts. Using

GreenIQ's

Hub, gardeners can pair PlantLink sensors with other ecosystem sensor partners, such as Netatmo's Weather Station and Rain Gauge, for hyper-localized weather to prevent under or over watering.
Connect Cost Efficiently–PlantLink's base station can simultaneously connect up to six sensors to a single

GreenIQ

Hub, which

GreenIQ

says achieves a thoroughly networked lawn at a fraction of the cost.
With PlantLink's 50,000 plant-powered database and watering prediction algorithms, the system can easily calculate varying watering schedules based on the hours that the user can actually water. GreenIQ says that this formula creates an unrivaled user experience for both professional and amateur gardeners.
In addition to expanding its ecosystem of partners, GreenIQ is launching its dedicated support program for lawn care specialists called GreenIQ Pro. GreenIQ explains that with part of the program, professional gardeners and irrigation management companies will soon be able to concurrently control any given number of Hubs from a single administrator account using the GreenIQ Pro mobile app—available soon via the App Store and Google Play–to better monitor, manage and simplify lawn care management.
GreenIQ's Hub allows the remote control of irrigation systems across multiple sub divisions, business parks, sporting grounds and even wider geographical regions. Allowing, through use of the GreenIQ Pro App, switching irrigation on or off based on the latest local weather forecast. With the PlantLink integration, both Green IQ equipped lawns and planters, can all be monitored via the PlantLink website.
GreenIQ says they have also recently launched an industry-first flow meter that measures water usage by volume rather than units in time, giving professional landscapers and gardeners even greater control and visibility, while also allowing the easy detection of a potential irrigation water leak or pipe burst.
"Our mission is to be a household name in the world of smart gardening. We are committed to innovating and creating the ultimate smart garden experience, while protecting the planet and saving our customers money," said Odi Dahan, founder and CEO of GreenIQ. "Our recent PlantLink partnership and support program is a testament to our dedication in delivering unique and intelligent watering options for garden and landscape professionals, while empowering them to streamline lawn care management and better serve their customers."
GreenIQ will be located at booth #519 at the Irrigation Show, taking place and the Long Beach Convention and Entertainment Center from Nov. 11–12.