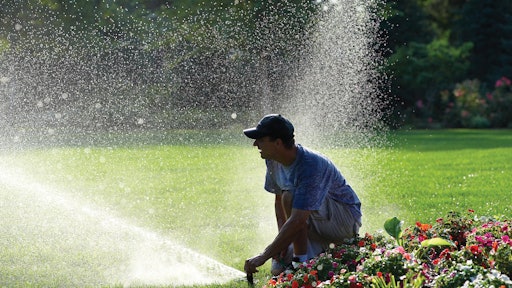 Rain Bird Corp.
Whether you're a seasoned irrigation professional or someone who's only recently added irrigation to your services menu, choosing the right system components can be challenging. Today, more property owners are concerned with water conservation than ever before. As a result, irrigation technology continues to advance at a rapid pace, and manufacturers are developing more products designed to use water efficiently.
The right irrigation components combined with the right plants can help a property owner or manager save time and money on landscape maintenance costs and water bills. By installing the optimal combination of valves, sprays, nozzles, rotors, controllers and drip irrigation, contractors can position themselves as water management experts and help these customers achieve their conservation goals without sacrificing healthy turf and plants.
Installing the latest smart controller or adding a rain sensor can help improve water efficiency, but if your system is poorly designed, needs pressure regulation or is using overhead sprays where drip would be a better option, you're still using more water than you should. An irrigation system is only as efficient as its least efficient component.
Site-specific considerations
Because every landscape is different, it's important to gather site-specific information before deciding which irrigation components to use on any project.
Take a close look at the landscape you're trying to irrigate. Determine your soil type and your landscape's grade: Is it flat, or does it have some high and low points? What turf, shrubs or other plants are currently on-site or will be planted later? You also need to understand how your climate impacts the site's watering needs, as well as the amount of water, pressure and flow available.
Selecting irrigation components without first gathering the following information can lead to an irrigation system that does not perform to meet the landscape's requirements and can cause significant performance and maintenance problems:
Water supply, pressure and flow limit. Each type of irrigation component has a performance range for proper operation, and these ranges must fit within the available flow and pressure criteria, both of which are a function of the water supply.
Valves are often seen as one-size-fits-all components when there are actually many different valve options to choose from. It's important to size your valve correctly and then look at factors such as water pressure, flow and type of water you will be using. Will you be using reclaimed water with debris? Will you need pressure regulation?
For sites with high water pressure, pressure-regulating spray heads can help avoid issues such as misting and fogging to achieve optimal performance. In fact, spray heads purchased in some states are now required to have pressure regulation because they can save significant amounts of water.
Climate. Areas with unique weather conditions will require special components. For example, windy areas may benefit from products or devices that emit larger droplets, which are less likely to be blown away. Landscapes in hot, arid climates may need either higher-flow nozzles or multiple irrigation cycles to adequately water the site's plant material.
Soil type and terrain. The irrigation system's application rate should not exceed the soil's ability to accept water; otherwise, that water will run off the surface and be wasted. Clay soil absorbs water more slowly than sandy soil, so to avoid runoff, nozzles with a lower precipitation rate (PR) are a good idea.
Look at your plant material and grade of landscape when choosing sprays for a zone. Do you need a lower precipitation rate to deal with a clay soil or a slope? How far do you need to spray to achieve head-to-head coverage? Do you have a tight watering window—the amount of time in which the system needs to complete its watering cycle? A flat landscape with good drainage and a tight watering window would be best suited for traditional or high-efficiency spray nozzles. A sloped site with lower water pressure and more distantly spaced heads is better off with a stream nozzle with a lower precipitation rate.
On sloped terrain, rotors or dripline with check valves prevent water from seeping out at a zone's lowest point where it can cause runoff and erosion.
Size and shape of the areas to be watered. Always select the type of device that will cover the area properly using the least number of units. For example, areas between the sidewalk and curb may be best watered with fixed sprays, but a spacious backyard can benefit from rotors that can cover larger areas.
Types of plant material to be irrigated. Turf, trees, shrubs and ground cover have different watering needs. Irrigating all of them with the same type of component can lead to wasted water and/or unhealthy plants. This is also why different types of plant material should be on separate zones.
Compatibility of the components used on the same valve. Component compatibility is particularly important when laying out laterals or circuiting sprinklers into groups that will be served by the same valve. Avoid mixing components with different precipitation rates on the same valve whenever possible. When components with varying precipitation rates are on the same valve, one area will likely be overwatered to sufficiently water another area. Even the same type of components may require separate valves to match up water application rate with the rest of the components.
It's a good idea to consult your manufacturer's sprinkler performance chart for precipitation rate and other important data, including arc/coverage pattern, operating pressure, radius/diameter of throw and nozzle discharge rate in gallons per minute. After you've collected all the data needed, choosing the right valve, spray, rotor or drip emitter comes down to the option that best satisfies your design and operational goals.
Look beyond your comfort zone
Choosing the best irrigation components for an installation or upgrade isn't as simple as it may first appear, and it's easy to fall into certain habits to try and save time or labor.
Some less experienced or untrained contractors may try to skip gathering site information and go right into purchasing components or using products they already have on hand. It's also not uncommon for contractors to find a product they really like and then try to use it on all their irrigation projects. It may be a comfortable choice, but it might not be the best one for a particular application. Don't cut corners to try and get by. Talk to your distributor or manufacturer's sales rep to learn about newer, more efficient, higher-performing options.
From there, make sure those rotors are properly adjusted, that spray head is achieving head-to-head coverage and the drip emitter is the right gallons per hour. This will maximize irrigation efficiency while ensuring that your plant material is still getting the amount of water it needs. You're also less likely to get customers calling you back to the site because they're unhappy with their system's performance.
Contractors should recommend that their customers try to watch their irrigation systems run once a week to note any problems sooner rather than later. Monitoring plant health is another way to tell if a system is working as it should because signs of stress can indicate under- or overwatering
Get the right training
Getting the proper irrigation training is a major step that can help contractors and their teams make the best choices when it comes to irrigation system design and specification. While learning on the job from more experienced crew members is certainly valuable, it may not be enough to ensure you're designing the most efficient systems.
Many workers in all professions also turn to online platforms like YouTube to either augment or replace their own organization's training. While there can be good information on those platforms, it's difficult to vet the content's accuracy beyond likes and comments.
Distributors and manufacturers often offer irrigation training that's not specific to a particular brand, and that training can be an excellent resource for anyone new to irrigation.
With all the different types of irrigation training available today, there are options that can work for just about anyone. Training can even help skilled professionals stay on top of the most water-efficient component options, as well as best practices for installation and maintenance.