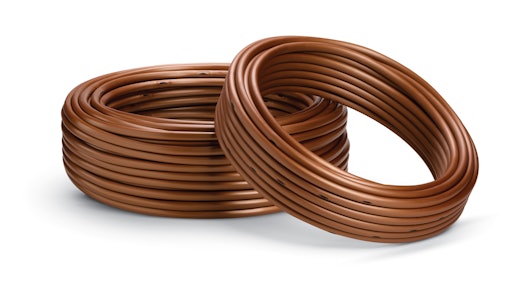 Rain Bird recently released its XFS-CV dripline with Copper Shield technology to prevent damage to the dripline from root intrusion. The company says the XFS-CV dripline additionally delivers:
A heavy-duty, 4.3-PSI check valve that not only keeps the dripline charged with water in elevation changes of up to 10 feet, but also prevents water from draining out of the dripline at the zone's lowest points, preventing plants from being overwatered and avoiding wasteful puddling.
The flexibility to be used in virtually any drip irrigation application—on sloped and level areas, and above ground and below.
Uniform irrigation of all plants in the drip zone because the dripline remains charged with water.
Copper Shield technology to protect the emitters from root intrusion without the use of harsh chemicals or treated filters.
Water conservation by eliminating the need to recharge the dripline at the beginning of each watering cycle.
A durable, proprietary and flexible tubing material that is dual-layered to resist chemicals and ultraviolet damage. 
Request More Information
Fill out the form below to request more information about
Rooting Out Irrigation Dripline Root Intrusion