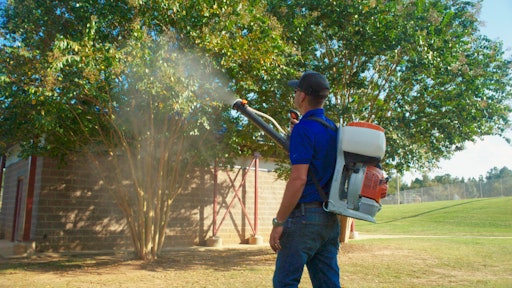 If you noticed an uptick in customers inquiring about organic services and products, it's not a coincidence. The media is full of articles questioning the safety of synthetic pesticides and lawn care products, including news about communities banning them, while still others debate the pros and cons. Regardless, the result is more consumers taking note of the chemicals in the products they rely on for their lush landscapes.
"People are realizing the harmful consequences that come with using synthetics and powerful chemicals, and are becoming more concerned about the lasting effects those products have on the soil and in the environment. With the development of organic products that are powerful and effective, customers are eager to make the switch," says Alex Reynolds, the director of marketing and product management at Mirimichi Green, suggesting that the efficacy and safety of organic lawn care products can help drive the growth of the organic market.
Mirimichi Green produces an organic line—made up of all-natural ingredients—to control pests, including mosquitoes, ticks, fleas, ants, roaches, no-see-ums, chiggers, spiders, mites, whiteflies, aphids and more. "The Environmental Protection Agency considers natural and organic ingredients as those that can be found in nature and pose little to no threat to the environment. Our natural pesticide can provide peace of mind knowing that it is effective, but also safe for pets, kids and plants," claims Reynolds.
Dipping your Toes in the Organic Lawn Care Market
The first step for landscape contractors who want to implement a successful organic lawn care service is product research. Reynolds says, "Not all organic products work the same, but by asking the right questions (i.e. what are the ingredients, what is the pH, what is the science behind the product that makes it work), contractors can find organic products with lasting results."
She also recommends that landscape contractors contact organic lawn care product manufacturers and distributors to request test report findings to best determine the efficacy of a product before use. "Based on the results of the different products, contractors can determine what will work best for their customers," she says. "Often landscape contractors make the mistake of pushing organic products as an alternative and not a solution. If you promote organic products as a solution to landscaping issues, the stigma behind organic products not being as effective fades away once customers see the results.
"Overall, the landscaping market is focusing more on organic inputs as science and testing continue to show the harmful effects synthetics are having on people and the environment over time. With increased awareness of the success of organics, the market will continue to grow and provide solutions." Reynolds concludes, "Going organic means the landscape industry and its customers are being thoughtful of their inputs and not sacrificing the environment to get temporary results."