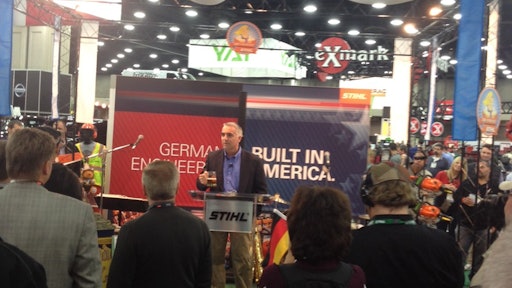 At their press conference at GIE+EXPO 2013, Stihl Inc. showcased several new products. Throughout the press conference, Stihl representatives continued to thank their independent dealer network for their hard work in selling and servicing the brand. Nick Jiannas, Stihl vice president of sales and marketing, shared news that the manufacturer is on target for finishing out 2013 strong, citing the independent dealer network as one of the main reasons for the success.
Several new and improved products were shown at the press conference, including the SR 200 backpack sprayer that sells for $399.95 MSRP. The sprayer is designed exclusively for liquid use and features a one-hand joystick-style handle with an integrated throttle lock and liquid flow designed for improved control over the rate and range of spray.
New features like the M-Tronic microprocessor-controlled engine management system, found on the mid-size professional Stihl MS 261-C-M and MS 261 C-MQ chainsaws, were also introduced. The M-Tronic system is designed to optimize engine performance and compensate for changes in operating conditions, such as temperature, elevation, fuel quality and dirty air filter.
Stihl says its new AR 900 backpack battery can power all handheld products in the Stihl Battery KombiSystem with extended product runtimes up to 11 hours. The manufacturer believes that products like the AR 900 will be what pushes contractors to add the Kombi System to their fleets.