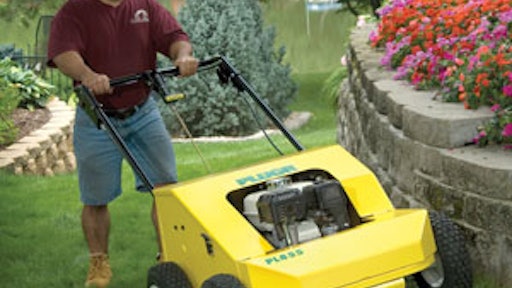 As the general public gains interest in more environmentally friendly ways to manage turfgrass, resourceful landscape contractors are positioning themselves to capitalize on what could be an impending spike in demand for turf renovation services.
Some manufacturers of turf renovation equipment are already seeing that positive momentum, particularly in areas where weather patterns, soil types and turf varieties make services such as aeration critical to maintaining a quality lawn.
There's also the effect of the green movement. "Efficient water and fertilizer utilization are key drivers behind the growing popularity of aeration," says Nick Cusick, president of SourceOne Outdoor Power Equipment. Many contractors are adopting the Integrated Pest Management (IPM) approach to lawn care, which stresses the importance of responsibly using fertilizers and chemicals, smart irrigation, effective mowing practices and, you guessed it, aeration.
However, consumers generally aren't aware of the benefits of aeration and other turf renovation services. State and regional landscape associations are helping play a role in consumer education, as are equipment manufacturers and dealers. "But it's really up to the entrepreneurial contractors to promote these services and communicate their benefits," Cusick reminds.
PENT-UP DEMAND
According to PRO research, the number of landscape contractors who perform aeration services has remained relatively unchanged for the past few years (roughly half of landscape contractors). But over the next several years, the number is expected to climb for a variety of reasons.
While consumer education remains an ongoing challenge, more homeowners are becoming aware of the benefits of "total landscape maintenance," which includes lawn aeration and dethatching. Also, IPM is expected to continue gaining traction, which further heightens demand for aeration.
Down South, it's simply a matter of timing. "We expect to see an increase in demand for aeration this fall, especially in extreme drought areas where the ground has been too hard to aerate these past couple of years," says Jeff Hill, a regional manager for Billy Goat. "Areas in the Southeast with high clay content should see the biggest increase because this type of soil needs aeration on a regular basis to promote root growth. But in other areas of the country where the need for aeration is less pressing, some consumers have opted to put it off due to the economy."
Still, that hasn't stopped resourceful landscape contractors from trying to branch into this business already. "With the current economic situation causing contractors to lose accounts due to budget restrictions and even property foreclosures, more contractors are looking at additional avenues to generate income with the accounts they still have," says Nathan Antons, national sales manager for SourceOne.
Other contractors are thinking more long-term, searching for ways to diversify their service offering and provide more value to their customers. And down the road, as the economy strengthens, these contractors hope to be in a position to serve a rapidly expanding market.
Linda Beattie, commercial public relations director for Schiller Grounds Care (manufacturer of the Classen and Ryan brands), says that of the 85 million U.S. households with a lawn, roughly 50% hire out lawn care services, which include aerating, dethatching and overseeding. "With a population of aging baby boomers and a longer life expectancy, the need for turf care services will continue to increase," Beattie says.
Beattie also points out that further stabilization of the housing market will also fuel demand for turf renovation services. "Maintaining a healthy lawn can increase property value anywhere from 5% to 15%," she says. "Plus, it's proven that well-landscaped and maintained properties sell 27% faster than properties that aren't."
SHORT LEARNING CURVE
As is the case with many landscape services, contractors often branch into turf renovation when existing customers ask them to. That's fine, because if all the stars align, it is anticipated that more homeowners will be asking for aeration and other turf renovation services over the next several years.
Hill would like to see more contractors take a proactive approach. "Contractors should aggressively sell the service to existing customers by explaining the benefits of renovation, and by offering a package along with their other services at contract time," he says.
Cusick agrees. "Both commercial and residential customers are looking for convenience and results, so contractors who are willing to provide the widest range of services will maximize their customers' convenience factor. Aeration, spot renovation, re-seeding and other related services that make the contractor a 'one-stop service provider' benefit both the customer and the contractor."
This is especially true for maintenance contractors. Since most commercial contracts for mowing and fertilizing are done on an annual basis, Cusick says any "optional" services should be included in the annual proposal. "Including any extra services as 'optional' doesn't put pressure on the customer, but does communicate that you're a premium service provider who really cares and has more to offer," he adds.
In any event, the good news for landscape contractors is that there's a relatively short learning curve when it comes to turf renovation. Equipment manufacturers have been working overtime to create educational materials that are beneficial to not only consumers, but also contractors.
In terms of equipment investment, "You could get a good aerator for under $4,000," Hill says. Then, if you were able to aerate six 5,000-square-foot lawns a day charging $80 a lawn, you'd recoup your investment in three weeks.
If you're uncertain about how quickly your aeration services will take off, renting equipment is always an option. "Turf care services offer an exceptionally high return on investment since they're considered an add-on specialty service, and will bring in more than enough revenue to cover the cost of renting the equipment," Beattie points out.
Don't lose sight of the fact that, just like with any other service you provide, you need to invest in quality equipment that will do the job right. "The size and quality of your equipment will depend on the nature of the client base you're serving," Cusick says. "If you have a bunch of small to medium-size residential properties, walk-behind equipment will probably do the trick. If you do a lot of estate work or commercial properties, pull-behind equipment makes more sense. But regardless of what type of machine or brand you purchase, make sure you choose equipment that can be operated by your entire crew so you have more flexibility. This is especially true for walk-behind aeration equipment that traditionally has required 'linebacker-type strength' to operate."
Manufacturers have taken measures to simplify equipment operation, increasing maneuverability while reducing operator fatigue. That said, most operators would rather ride than walk, no different than when mowing. And that's why Bob Brophy, director of lawn products for Turfco, says he's seeing a shift toward riding aerators—particularly on 8,000-square-foot lawns or larger.
Concern for the operator is the primary reason for the growing popularity of ride-on aerators. When considering the fact that an operator could end up walking upwards of 20 miles in a day, potentially for several days straight, traditional walk-behind aerators can really wear guys down. "It is getting more difficult to find employees who want to work that hard," Brophy says.
Economics is the second consideration. According to Brophy, a younger, stronger operator can complete up to fourteen 10,000-square-foot lawns a day with a traditional walk-behind aerator. For a 45-year-old, that might be a tall order. "However, a 45-year-old on a riding machine can probably do up to 20 lawns in a day, and not be all worn out at the end of it," Brophy says.
That means you can ask one of your regular crews to help aerate. The crew might even be able to figure at least some of the aeration stops into its regular route. "So you add cash flow without additional overhead in the way of trucks and new employees," Brophy explains. That's when diversifying your service offering really starts to make sense.
When it comes to providing turf renovation services, it also makes sense to offer more than just lawn aeration. Dethatching and overseeding are also important procedures that contribute mightily to a lawn's overall health and appearance. Just like with aerators, a variety of stand-alone equipment and attachments are on the market. Multi-use machines are also available, such as SourceOne's TurfSavr, which can serve as a seeder, slicer, spreader and dethatcher.
As you can see, there are plenty of relatively low-risk options to help you break into the turf renovation market. Now that consumers are becoming more aware of the benefits and demand is expected to grow over the next several years, offering services such as lawn aeration could be a great way to rejuvenate your lawn maintenance business.
Companies in this article