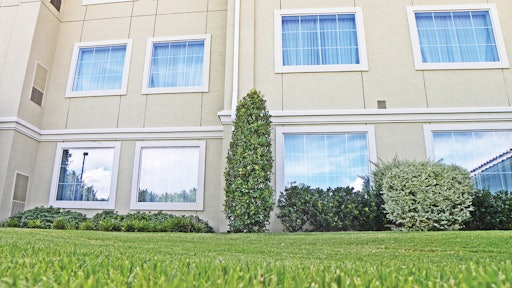 Experts at Engage Agro USA, distributor of Fiesta Weed Killer, offer insight into the rapidly expanding market for sustainable lawn care—along with tips to help lawn care operators better market these types of products and services.
Q: It's important for lawn care contractors to understand that organic-based lawn care is not necessarily the same thing as a "greener" or "more sustainable" lawn care approach. Please explain.
To avoid feeling like you are swimming upstream to understand each of these terms, it's helpful to provide meaning for each of these seemingly interchangeable words.
Sustainability is a constantly shifting thing, not a fixed result; it's a path composed of incremental decisions or steps to take toward sustainability. A sustainable lawn can be defined as "a lawn area that requires few material inputs while having a positive impact on the environment." (University of Minnesota Sustainable Urban Landscape Information Series, SULIS, 2006). For example, use of a pesticide for turf and grass weed control with low environmental impact is one step along the path to sustainability. Similarly, selecting the best adapted grass species and varieties for a particular area is another step in the path towards sustainable lawn care. Download the Fiesta Technical Bulletin.
A product or practice is considered green if it meets certain environmental standards. Green lawn care products and practices are a part of the sustainability picture, but not the entire picture. For example, a bio-pesticide product approved by the EPA that is used in a lawn care program is inherently less toxic than a conventional one, because bio-pesticides are made from naturally occurring substances that control pests by non-toxic mechanisms. And because they decompose quickly, there is generally lower exposure and less pollution in the environment compared to conventional pesticides. Using green products such as bio-pesticides in lawn care is another step on the sustainability path.
Organic refers to lawn care practices and products that use a whole-systems approach to maintaining soils and lawns without toxic chemicals. Practices that benefit the entire ecosystem such as increasing the long-term soil health and preventing pollution of the surrounding watershed are used. While transitioning from a conventionally maintained lawn to an organic system of maintenance can be lengthy and costly, doing so puts the lawn and landscape further along the path of sustainability.
Q: Conventional wisdom suggests that the primary market for greener lawn care services is younger adults with young children. Do you agree?
We see this as one primary trend but there are also a lot of baby boomers who are asking more questions and looking to learn about more sustainable and greener products.
Q: We've been hearing more and more that the U.S. market for green products and services is expanding. In fact, the share of green homes in the single-family residential construction market has gone from 2% to 17%. What kind of trend is
Engage Agro USA

seeing with respect to the U.S. lawn care market?

There is indeed a trend toward green practices. The trends are higher in lawn care markets such as Seattle, San Francisco, parts of Chicago, and several Northeast cities. In fact, a 2009 survey by the National Gardening Association indicated an overall increase to nearly 12 million households using only natural products on lawns and gardens, up from about five million in 2004.
Q: If a contractor wants to promote a more sustainable approach to lawn care, what are the key message points he needs to hammer home with consumers in his market?
A sustainable approach to lawn care offers customers an integrated program that provides an effective, competitively priced, less toxic and environmentally safer alternative to a conventional program.
Sustainable lawn care practices support customers' healthy lifestyle choices and their desire to be environmental stewards. This choice supports the use of products that have a non-toxic mode of action against the target pest, contain naturally occurring ingredients, and demonstrate minimal toxicity to people and the environment.
The control of unsightly weeds and non-native, invasive plants that compete with native species is another benefit of sustainable lawn care products. They are very effective and preserve the aesthetic appearance of lawns and landscapes.
Sustainable products provide an option for customers who want to switch from conventional products to ones with a less negative impact on the environment. Offering sustainable options can increase customer loyalty and retention as well as provide a strategic advantage in the marketplace.
Companies in this article