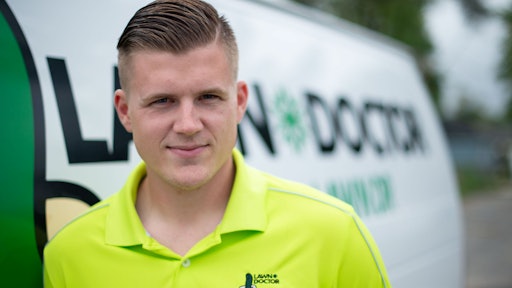 Kendall the "Lawn Man" Hines has been involved in the family business, Lawn Doctor of Grand Rapids, Mich. since he was eight years old.
"I grew up on the lawns with my dad out there, learning every aspect of the business," Hines said. "I got to see it from a first-hand perspective; the agronomic conditions and how to treat weeds and fertilize a lawn."
But Hines offers more than just his background in the green industry. Over the past five years, he's grown his client base from 100 to around 2,000 accounts by changing the way he sells the service, via a chatbot platform he's developed.
The Hines
Lawn Doctor

Franchise

As Hines and his brothers grew up, his parents maintained the Lawn Doctor franchise part time and after playing college baseball for a few years, he took over sales and marketing and grew the company exponentially.

Recently, he and childhood friend and now business partner, Henry Eggers, purchased the family franchise and added four more Lawn Doctor franchises in Western Michigan.

Hines and Eggers grew up together on a street called Castlebrook, where they played football together in the front yard. Now the pair has named their holding company after this fond childhood memory and are working together to grow both their Lawn Doctor franchises and their new holding company.

"It's been growing fast and we have huge aspirations for where we want to go, and we're putting together the team now that's going take us to the next level," Hines said. "We have some pretty big targets that we want to attain. We started with one truck and one machine now we have 11 trucks and 15-16 employees this year."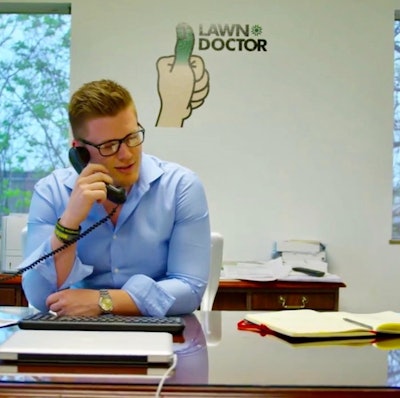 Services Offered
Hines' Lawn Doctor franchises service mainly residential accounts, and offer services such as fertilization, aeration, and power seeding to keep lawns green, thick, and weed free. Additionally, the insect division is rapidly growing with a rise in mosquito borne illnesses.
"We show them results in the lawn, then they get a friendly phone call when the mosquitoes are out," Hines said. Lawn Doctor offers treatments to spray foliage around the property, keeping the area mosquito free for 30 to 40 days.
"It's a real problem from a safety aspect, and families want to make sure they're protected," Hines noted.
Innovating and Changing Sales Strategies
Hines used a variety of methods to build his client base over the last five years. He described the increase in business as "bootstrapped organic growth," generating leads from knocking on doors, utilizing social media advertising, developing a customer service call center, and perhaps the most innovative tool, a chatbot that sells lawn care.
One can often get a price quote by visiting any company's website, but Lawn Doctor of Grand Rapids takes that a step further.
"As soon as you request that quote from us, you're texted and emailed a link to the instant quote chatbot, then you enter your phone number," Hines said. "The chatbot recognizes who you are from your phone number and where you live. It shows you a picture of your house, measures your square footage, and asks how you want your lawn to look. From there, it puts together a program and pricing and asks if you would like to sign up."
He feels this development is the natural next step for selling lawn care services.
"You can buy every other service online, but in the green industry you can't buy lawn care online. Why is that?" Hines said.
He considers the chatbot as a tool that never shows up late, works weekends and allows customers to buy at their convenience.
"Often, a lot of customers call the office with the same questions, such as 'when's my first and second treatment?' Now we can use chat technology to answer those common questions those customers have," Hines said.
Not only is he using this in his own franchise, but other Lawn Doctor franchises and businesses in the green industry are onboard and purchasing the bot platform to increase business and revenue for themselves.
In addition to the customers gained by the chatbot, Hines also credits his aggressive approach to building the franchise's online presence and reputation as another strategy that helped him increase his customer base by 1,000 clients in a single season.
When he took over sales and marketing for Lawn Doctor of Grand Rapids, Hines made it his mission to build his franchise's reputation by increasing the number of google reviews left by clients.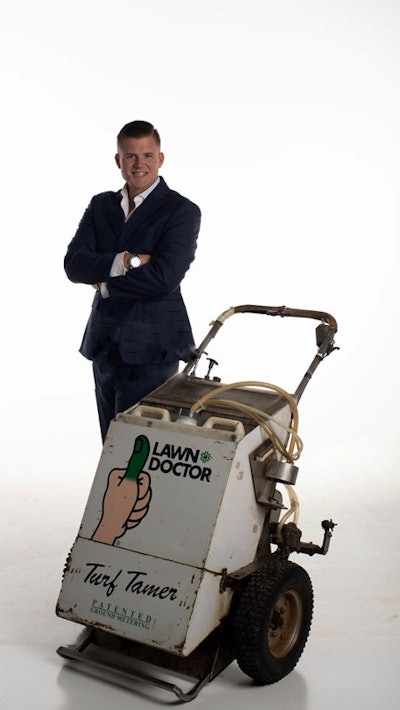 "It's hard to get a Google review because it requires time," Hines said. "I made it an ongoing mission to get estimate requests and reviews."
Hines and his team employed several strategies to encourage customers to leave reviews. He described the effort to get the first 30 reviews as "hand to hand combat."
He used his chatbot to send out satisfaction surveys, which directed customers either to write a review, or provide feedback and the opportunity to improve services.
"Nobody's perfect and things happen," Hines said. "But we always try to make it right, that's the most important part."
At the time of publication, Lawn Doctor of Grand Rapids has a 4.6 star rating and127 Google reviews.
Hines has also seen customer growth through multiple advertising strategies. Getting engaged through community events or home shows has been successful for Lawn Doctor. At such events, Hines uses a big flat screen TV to pull up a potential customer's lawn. He can then measure it and get them set up right there on the spot.
Another popular technique has been taking advantage of social media, particularly Facebook live. "Lawn Doctor Live involves interviewing different business owners and guests, while providing tips for homeowners," Hines said. For example, episode one of Lawn Doctor Live reviews how to hire a home service.
Millennial leadership
In addition to chatbot innovation and use and social media, Hines credits his young staff for much of their success. He often describes the young team as "hungry" to grow their business and thinks that age has something to do with it.
"They [employees] don't have responsibilities of kids, mortgages, etc. things that might cause them to work less," he noted.
Hines sees his franchise in a unique position. Growing what his parents built and refined over the years, and combining young talent and new innovations in technology will keep his business going strong.
"We're building a business and can feel and see the energy of what the future is. We're in a unique position in this industry there's not a lot of younger owners doing what we're doing," Hines said. "This lends to a more vibrant culture and it's very much selling them on the vision of where we're going, what we want to do here."