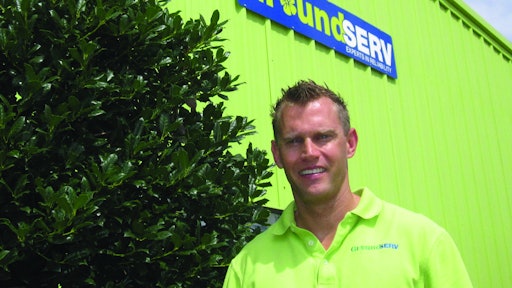 Your company was founded in 1996, but in 2009 you decided to rebrand it as GroundSERV. Why?
I started my landscape company like most people do, trying to be everything to everyone. Then I heard Mike Rorie speak at my first GIC, and he talked a lot about focus. I went home and shared my plan to focus with my team.
Over the next 18 months, we dropped all residential work and concentrated solely on growing our commercial maintenance division. We quickly grew from $500,000 to $1.5 million in annual sales.
Then in 2008 the economy started to slow—and the price wars began. We found it increasingly more difficult to close sales, and our growth stalled. About that time, PLANET released their "Crystal Ball Report #28 – Marketing: Invent Your Future". It talked about the opportunities some companies around the country had seized by expanding their service offerings. I researched several of those companies and initiated my rebranding plan. We now offer a full complement of exterior maintenance services to our commercial clients.
Landscape maintenance is still our biggest service segment. However, we now offer parking lot sealing and striping, parking lot sweeping, window washing, emergency storm response, irrigation repair and service, pressure washing, brush-hogging, snow and ice management, and tree care. As I like to say, "If it's outside the sheetrock and inside the property lines, we can handle it." Several of our services are handled by sub-contractors, but our clients don't mind.
Does your ability to provide such a wide array of property management services assist you in acquiring and retaining customers?
Our clients enjoy the ability to call one company which they know and trust to take care of multiple tasks. I don't know of a property manager who likes to babysit seven different service providers. Our goal over the next three years is for landscape to make up no more than 50% of our service load.
I use a fishing analogy when describing our business model. We're basically a boat with multiple lures in the water. If we "hook" a client on pressure washing, for example, we make sure to do a great job at that and then introduce them to our other service offerings down the road.
Our model is the same as the national service aggregators, but with a huge difference. I think most of those guys are watering down the value of what Green Industry professionals do. They're whispering in the ears of big companies like Target and Wal-Mart, saying, "We can introduce a middle-man, cut your costs by up to 50% and still provide top-level service". It can't be done; the math doesn't add up. We provide the same services as those national companies, but at a local level with much higher quality standards.
You became a Landscape Industry Certified Manager this past November. Has that certification helped your company better compete in today's marketplace?
Attaining certification through PLANET as a Landscape Industry Certified Manager is the highest level you can achieve as an owner in our industry. We proudly display the Landscape Industry Certified logo on our website, and never miss an opportunity to let customers know about our credentials. I was walking with a potential client a few weeks ago who mentioned her troubles with her last service provider. I said, "You can relax now, you've got a nationally certified professional on your property". I could visibly see her apprehensions melt away. We closed the deal that day.
Companies in this article