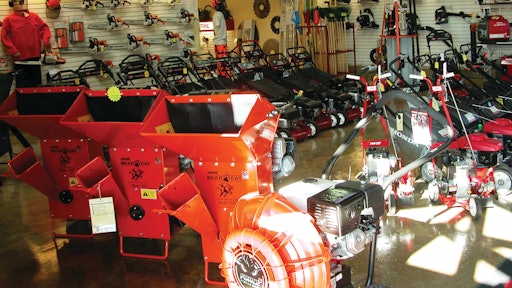 Safety advances on brush chippers have been significant over the past several years. Features such as "safe distance guarding," which helps keep the operator away from the infeed rollers and knives on hand-fed chippers, have become common. Other manufacturer-unique features also exist, such as Morbark's engine kill switch which prevents the engine from running if the chipper door isn't closed properly.
Nonetheless, there is no substitute for safe operation—and that responsibility lies with the operator. Here is an overview of brush chipper safety tips for you to consider.
Gear up for safety
Do not wear loose-fitting clothing. Make sure everything is buttoned up and tucked in.
Avoid accessories such as scarves and jewelry.
Throw on some sturdy work pants and a good pair of steel-toed, non-slip work books.
Other personal protective equipment is also essential: hard hat, ear protection, OSHA-approved eye protection, and gloves that do not extend beyond the wrists.
Pre-operation safety checks
If at all possible, set up the chipper on level ground.
If the chipper is hitched to a vehicle, ensure that the hitch is secure.
Use wheel chocks to keep the chipper from moving.
Perform a walk-around inspection to look for loose nuts, bolts and belts; obstructions in the infeed; loose fittings or leaks on hydraulic hoses; fluid levels (engine oil, radiator fluid, hydraulic oil and fuel); dull and/or cracked knives.
Check the function of the safety bar.
Make sure discharge chute is pointing in the right direction.
Safe operation
After starting the chipper, let it idle a while to warm up. Engage the clutch and raise the RPM to full throttle.
Always chip at full throttle to ensure proper discharge and avoid and issues with plugging.
Feed the brush butt-end first.
Keep your hands out of the infeed chute while the machine is running.
Don't try to kick material into the chute, either.
Read your safety manual! This is just a quick overview of basic safe operating procedures. As always—read, understand and follow the instructions in your safety instruction manual, along with the various safety symbols and warnings that appear throughout the manual and on the product itself.
Companies in this article