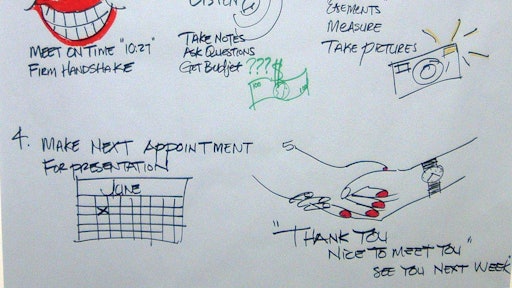 Contractors in the Working Smarter Training Challenge have found that process mapping is an excellent tool for improving the way tasks are completed. To begin utilizing this tool, you must first understand two important concepts.
A business process is a workflow or set of activities that allows you to produce a product or provide a service. Process mapping is the act of documenting the steps in this workflow, providing a picture of that workflow for all to see and analyze.
Normally, companies start with processes that take a while to complete and/or involve several people. It's also wise to map out processes that are completely new, or those you want to change and improve.
Start at the beginning of a process. For example, you receive a signed contract. What is the next thing you do in response, and then the next? What is the last step in the chain of events? Do you bill the customer or receive payment, or is your last step sending a thank you card to the customer after receiving payment? That's really for you to decide. The important thing is to include all of the many steps in between so you get a clear picture of the complete process.
Involve employees that are familiar with the process. Assign one of them to be the facilitator who takes notes and draws out the process map.
Observation can also be quite helpful. You as the owner, or perhaps your operations manager if you're a larger company, could actually watch certain processes unfold. Look for inefficiencies and take notes. Consider having several people observe a process in order to gain different perspectives.
Tasks to tackle first
"We have found that you could have a process map for just about everything you and your employees do on a daily, weekly, monthly or yearly basis," says Massachusetts contractor Arnie Arsenault. But you have to start somewhere. Here are some of the most important tasks to develop process maps for.
Morning startup: getting crews checked in and on the road
End-of-day process: emptying trash, tuning up equipment, reloading trailers, filing paperwork and timecards, etc.
The first 10 minutes on a job: helping set the stage for a highly efficient service
Filling out daily job sheets with all necessary—and correct—information
Service call execution
Equipment maintenance and/or repairs
DOT truck and trailer inspections
Generating leads, sales process
Sales hand-off package; getting signed contract to crew on the ground
Billing and collections
Don't forget about new hires, training
Landscape companies, especially mid-size and larger ones, cannot forget about employee training. Map out the process of bringing on a new employee and assimilating them into your organization. How do you go about sharing your values, mission and standards? The best companies have a clear process for doing that.
Also, map out processes for all of the important field tasks your employees will be doing. The best companies find the best, most efficient way of doing something—and then establishing that method as "standard work" which all employees follow. Establish processes for mowing and trimming, spring cleanups, pruning, installing mulch, planting perennials, installing paver walkways, seeding a lawn … and the list goes on.
The sooner you get started, the sooner you'll start removing waste, reducing errors, improving customer satisfaction and making more money.
Thanks to the following Working Smarter members for their help in putting this story together: Daniel Currin of Greenscape Inc. in Holly Springs, NC; D.J. Vander Slik of D.J.'s Landscape Management in Grand Rapids, MI; Arnie Arsenault of A. Arsenault & Sons in Spencer, MA; Jim Paluch of JP Horizons, developer of the Working Smarter Training Challenge.