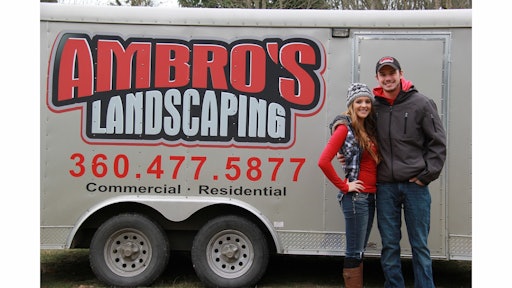 When you are the owner/operator of your own commercial landscaping business, equipment selection and organization is paramount. Jason Ambro of Ambro's Landscaping in Sequim, WA, started his business in 2011 and has continually taken steps to ensure he is outfitted with the tools to complete a job that meets his impeccable standards. Equipment upgrades and a trailer with every product in its place help him to maintain several retirement and condo associations with ease and fervor.
Mowers movin' on up
As a one-man maintenance crew, Ambro has worked his way up from a Craftsman mower and Ryobi handhelds to a higher-grade selection of equipment that works as hard as he does. It didn't take long on the job for him to realize he needed better equipment to get the results he was after.
"If you don't have the right equipment, employees or work ethic, you are not going to get anything done," says Ambro. He now works with a Honda HRC 21-inch walk mower, Toro 30-inch TurfMaster and a Hustler FasTrak. The combination of mowers has him cutting wide-open areas faster, and tackling tight areas more effortlessly. 
"The Toro TurfMaster was a great purchase that has really helped cut down on time," Ambro shares. "I was using the 21-inch every day for the jobs where we need the push mower. But since I got the 30-inch, I use that most of the time. If there is a steep hill or tight space, though, I'll grab the Honda."
Ambro is looking to soon upgrade his prosumer-level Hustler FasTrak to a Super Z or X-One, also from Hustler. While the FasTrak has helped him to get his business off the ground, he wants something more from a mower in the future that will result in a better cut quality.
"The Hustler FasTrak has been a great mower and I recommend it to anyone starting up a company. But I would like to upgrade to a mower with more power and a thicker deck," explains Ambro. "My current mower has a shallower deck. So when mulching, the clippings get caught and it effects the quality of cut; it isn't sucking up the lawn, but is bending it."
In the meantime, Ambro always bags his clippings. He says he is happier with the end result, and bagging helps him to avoid staining sidewalks with the wet grass. He is also working on a design and patent for a mower attachment he says is like nothing on the market. For clippings or debris that gather on the site, he has a Stihl BR 600 backpack blower.
"Stihl and Echo are the most common small pieces of equipment people use around here," says Ambro. "This blower has the power and padding. Especially working in these condo associations where you are blowing for long periods, you need that padding."
A handheld solution that gives him an Edgit
Also in the handheld category, Ambro has a few tricks on his trailer. He uses the Echo SRM-225 for much of his trimming. What's so unique about that? Well, it's the attachment he has on it. He says the Edgit Pro is the best tool has ever bought for his business.
"The Edgit Pro is a disk that connects to the head of your trimmer," says Ambro. "It gives you a nice edge. On top of that, in those really tight spots where you can't get the riding mower and the push is even a squeeze, this disk, instead of whacking over the grass, actually sucks it up like a lawnmower. We are able to get to those tight spots and it looks like we took a lawnmower there when it is actually the trimmer."
Ambro says he gets stopped all the time out on the job by homeowners and other landscape contractors who are curious about the Edgit Pro product. Originally looking for a product to help deflect stones from his face on a rocky property, he found a tool that does that and more after a routine internet search. "I constantly search eBay and Google for new tools that can help cut down on time or improve the look of lawns," explains Ambro. "Time cut down on mowing and/or trimming means I can spend more time on hedgetrimming, spraying and cleaning up."
Ambro has outfitted two of his Echo trimmers with Edgit Pro attachments: an Echo SRM 230 for tackling high grass, and an Echo PAS 266 with the hedgetrimming and chainsaw attachments.
Even with a staff of one, there are a few duplicate items on the trailer. That's for good reason. As the owner/operator out on these jobs alone, Ambro says he has no time to waste.
"I like to have two of everything," says Ambro. "The worst thing is when you have a piece of equipment break down in the middle of a job and you have to fix or replace it. That puts you behind. Recently when one of my trimmers went out, I fortunately had the backup to continue my work."
Tip-top trailer
Another place where Ambro tries to save time is by carefully organizing the layout of his trailer. Every tool has its location, and every location is as carefully thought out as the tool that sits in it.
"Every tool has a place, so if something is missing, you know it is missing and you are not leaving it at the job," explains Ambro. "That's why I have a specific place for every tool."
Tracks purchased at Home Depot line the inside of the trailer. Different hooks are selected for certain tools. Hooks slide and move, making it easy to reconfigure the trailer to increase efficiency or make room for another piece of equipment.
"When you add a new tool, just buy another hook and put it in there," says Ambro. "I have had the trailer a year and have rearranged it countless times to move equipment around to where it works best."
An example of careful placement is the blowers. Blowers are located right next to the trailer's side door so Ambro can grab and go when he is ready to use them.
"I don't have to drop the back door to get to the blowers," says Ambro. "Everything is set up for easy access. The tools I use the most are in the easiest-access locations so I can spend less time on jobs."
Shelves along the back wall hold several key items that were once stored in a messy toolbox. Water bottles are stored in a locked-tight storage container so they are not at risk of being contaminated by pesticides. Blades, safety gear and gloves all have their own clearly labeled storage bins. Next to them you will find fuel, mixed cans, fertilizers and pesticides in their own containers. Two backpack sprayers or premixed and stored in the truck for use out on the job.
Mowers are secured with ratchet straps to prevent damage to tools or the trailer. The careful organization not only saves Ambro time and headache, but impresses his customers. He says customers pay attention to the careful care his trailer receives. 
"We get compliments all the time about how organized our trailer is," says Ambro. "If you show your clients or customers that you take care of your things, then you show them you are going to take care of their property as well."