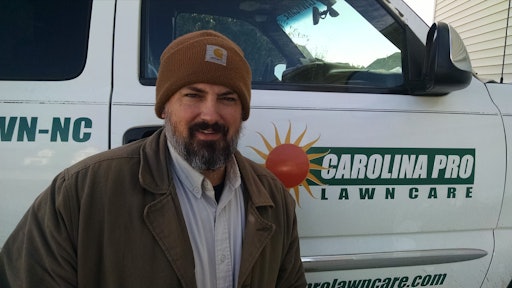 There's a segment of the consumer public that prefers to do its shopping online. That segment is growing. There's also a segment of the consumer public that wants to know it's getting good value for its dollar, without having to spend countless hours doing research. That segment is already huge. An online service that connects shoppers to qualified lawn maintenance providers is designed to meet both of those salient consumer needs, while also satisfying something on most contractors' wish lists: grow sales without having to spend more time working ON my business.
TaskEasy is the brainchild of Ken Davis, a former rental property manager who knows firsthand how tedious it can be to find, screen and evaluate service contractors. This becomes particularly cumbersome in industries like lawn care and landscaping where the number of contractors is plenty, estimating systems are all over the board, and both pricing and quality can fluctuate wildly.
TaskEasy allows consumers to shop for services in a given metro market. A consumer can then schedule a service—be it lawn mowing, snow removal or holiday lighting—at which time their credit card is charged. The funds are held in escrow until a contractor completes the service and provides photographic proof, and the consumer is satisfied and releases payment to the contractor. While TaskEasy doesn't charge contractors any membership fees, it does take a reasonable percentage of each sale as payment for its services, naturally.
TaskEasy works with a national network of local contractors. The company has "certified" more than 2,500 contractors in more than 1,600 cities from all 50 states. Consumers using TaskEasy can be confident that the contractor who'll be servicing their property is reliable, reputable and professional, TaskEasy assures.
The trick is the fair market pricing
The consumer can also rest assured that they will be paying a fair price for the given services in their given market. This concept of fair market pricing, Davis says, it was really sets TaskEasy apart from other online lead-generation services.
"Using an algorithm that takes into account local averages for specific lawn services, as well as utilizing contractor feedback, we adjust pricing to make sure we're providing a fair market value specific to the location our customers and contractors are in," Davis explains. "Finding that sweet spot is our definition of market forces, which we're confident we can do to satisfy both the customer and the contractor. This has allowed us to mow 70,000 lawns nationally."
How contractors can benefit from
TaskEasy
Although Davis' original vision involved property managers flocking to TaskEasy in order to simplify their service vendor management tasks, thus far the majority of those consumers using TaskEasy have been homeowners. "However, our property manager clients are increasing rapidly, and we are currently in discussion with some major property managers," Davis points out.
Regardless if it's a property manager or homeowner, the main benefit for lawn maintenance contractors is new customer acquisition.
"TaskEasy adds 3-4% to my sales, and those are profitable sales," says Robert Randolph of Carolina Pro Lawn Care in Fuquay Varina, NC. Plus, Randolph adds, they are typically customers he would never have acquired on his own. He says TaskEasy is making smart investments in search engine marketing (i.e. "Googling"). Customers searching online for lawn service providers will often end up finding and clicking on the TaskEasy website. "You can't ignore this," Randolph says. "I might as well work with TaskEasy so they're feeding me new work."
But aside from sales lead generation, TaskEasy says it does several other valuable things for the contractor. "Maintaining a strong and productive relationship with contractors is an extremely important part of what we do," Davis says. "Without contractors, TaskEasy can't take care of customers. Because of this we do everything we can to keep contractors happy and simplify their work so that they can spend more time servicing homes and getting paid, and less time worrying about the 'business' side of things."
Some of the value-added services TaskEasy provides to contractors include:
Customer billing and collection
Payment to the contractor via direct deposit
Handling 1099 tax forms for the contractor
Option to use

TaskEasy's

insurance (for a nominal fee)
Customer management system for both new and existing customers
Routing management tools
Contractor support seven days a week
TaskEasy says it also makes every effort to ensure that its contractor partners are paid in a timely fashion. What happens, for instance, if a customer doesn't want to release payment to the contractor after a service has been completed?
"Our process requires that contractors take pictures of their work," Davis points out. "Then we have our contractor support team check the photos to verify quality, as well as use other audit data to understand what's going on. This helps us so that even if the customer isn't satisfied, we can see if our contractors have held up their side of completing the service. This system, as well as holding a customer deposit, allows us to make sure that the contractor is always taken care of—as long as they're doing the work. The few times that a customer has been completely unwilling to pay, we ourselves have taken care of the contractor's payment out of our own pocket."
Two contractors share their experiences
Randolph's company, Carolina Pro Lawn Care, services several key markets around Raleigh, NC. Founded in 2010, the company specializes in full-service maintenance for that typical middle-class homeowner who needs a reliable, affordable service for around $45 per mow. Carolina Pro Lawn Care does serve some commercial accounts, including HOAs, which have been attained through word of mouth, but the company's specialty is definitely mid-market residential.
Randolph was contacted by TaskEasy. "Their website was getting quite a few hits in our area, and they called me saying they were looking for contractors to work with," Randolph recalls. "I did some research before agreeing, and saw how they were ranking pretty high in Google. So I could see that they definitely knew what they were doing from a marketing standpoint, so I thought I'd give it a try."
So far, so good. The homeowner customers TaskEasy has supplied are right in Randolph's wheelhouse. Pricing is right on the mark as well. "The really nice thing is that it's convenient and I get paid right away," Randolph says.
TaskEasy-supplied jobs do take a few minutes longer to complete, Randolph points out. That's because job information has to be entered into Carolina Pro Lawn Care's business management software, which happens to be web-based Service Autopilot, and also the TaskEasy web-based software. And, as pointed out earlier, crews also have to take photos of their work. "It's not really a big deal, though, because a given crew is only doing a couple of TaskEasy jobs per day," Randolph adds.
Chris Cann of Cannlawn in San Antonio, TX, started maintaining lawns part-time in 2013. "I was a 'YouTube landscaper' with just my truck, a mower and a string trimmer; I didn't even have a blower, just a broom," Cann says with a chuckle. "But San Antonio is the type of area where, if you do a good job, you can build a lawn business pretty quickly."
That he did. And then TaskEasy called.
"In February of last year, after about a year in business, I had around 40 customers," Cann tells. "Then I got a call from TaskEasy. What really struck me was that they didn't seem interested in getting a sign-up fee or anything. They pretty much said, 'Here's an opportunity, take it or leave it.' So I gave it a shot."
Cann is really glad he did. He started out by doing just a couple of TaskEasy-supplied jobs. The pricing was comparable to what he was getting on his own. So he decided to move forward as a TaskEasy-certified contractor. Soon he had five clients, then 10 and then 20. "Next thing you know, I'm making an extra $800 a week," Cann relates.
The nicest thing, Cann adds, is that he's been able to grow without having to invest in marketing and administration. "I did nothing to grow my business but perform services ... I haven't advertised once," Cann says.
Like Randolph in North Carolina, Cann's TaskEasy-supplied clients have almost all been residential. "I did service a couple of commercial sites, but they were one-timers," Cann points out. That said, commercial is something Cann would like to pursue more aggressively. When he told this to TaskEasy, TaskEasy set Cann up with one of its employees who acts as a business consultant to its contractor partners.
"From day one it's been like, 'Welcome to our family,'" Cann says in regard to becoming a TaskEasy-certified contractor. "When I told them I wanted more commercial clients, they said they would help me and not charge me a dime. They seem to be working really hard to maintain this close-knit, family atmosphere."
The job details TaskEasy provides are really good too, Cann says, which is very important to him. "I know exactly what the customer needs and wants. I don't have to do any of that legwork with TaskEasy. And I don't lose clients, at least so far. I haven't lost a single one."
For more information on TaskEasy, visit greenindustrypros.com/12033513.
Companies in this article