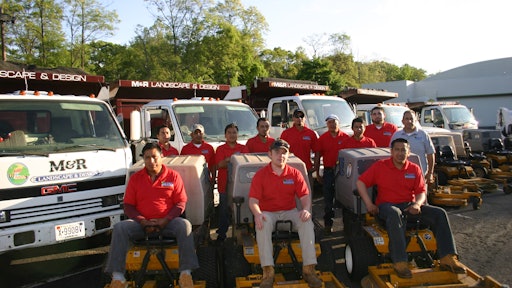 "Things got tight for a while," says Manny Carlino, owner of M&R Landscape & Design in Westfield, NJ. He's talking about the downturn of 2008-9. "I pulled all of my employees together and laid it out there. We had to either lay a couple people off, or everybody had to cut their hours down to 35-38 a week until we got through it. I told my guys to talk about it and think it over, and we'd regroup the following afternoon. Without question they all said they'd cut their hours; they didn't want to see any of their co-workers lose their jobs."
This kind of comradery and "company culture" is the envy of most small business owners. Carlino recognizes how lucky he is to have it. But truth be told, it hasn't happened merely by chance.
"I have never had an employee leave my company on their own volition," Carlino points out. "I am very proud of that fact and that I have created a culture and family atmosphere—and no one wants to leave M&R. My men all come in every morning and shake each other's hands and say good morning to one another. That's an important part of my company and something I am very proud of."
M&R Landscape & Design is definitely a place employees want to be. "I have many employees of other companies that I run into daily at convenience stores or gas stations, and they all ask me to please hire them because they know my employees are treated and paid well," Carlino shares.
Respect and compensation aside, M&R Landscape is also an easier place to work, thanks to its high level of organization. "The biggest thing that has made us a more profitable company is all of the systems we've put in place," Carlino points out. "We have systems and lists for everything, from how we fuel our trucks and equipment all the way down to our route setups." This kind of standardization and predictability fuels efficiency—and that efficiency fuels not only company profits, but also employee morale.
A few perks always help
All M&R employees receive four paid holidays and holiday bonuses every year. "We also run company events every year where employees and their entire families are invited," Carlino tells. Past events have included World Cup soccer games, professional baseball and hockey games, and picnics. "This year we're going to a fun park," Carlino adds. "Everything is paid for by the company, including food and transportation."
Carlino says he was always brought up to treat people they way you yourself want to be treated. So that's what he strives to do as a business owner, and it has paid off. "I have been blessed with very good, hard-working, family-oriented employees," Carlino says.