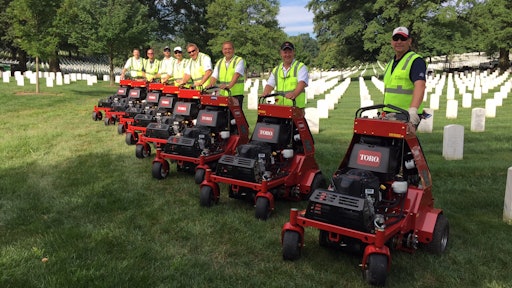 The Toro Company
Toro partners with National Association of Landscape Professionals, provide aerators for Annual Renewal & Remembrance Event.
Toro was a proud sponsor and participant in the 19th Annual Renewal and Remembrance landscaping event on July 20, 2015, at Arlington National Cemetery in VA. Toro, along with its distributor partner, Turf Equipment & Supply Company based in Jessup, MD, provided the National Association of Landscape Professionals with Toro stand-on aerators and volunteers to help restore the cemetery grounds.
"We are honored and proud to be supporters of such an important event," comments Chris Hannan, senior marketing manager at Toro. "It's our small way of showing our respect and appreciation for those who have given so much for our country."
Toro says that their 30-inch stand-on aerators are designed for high productivity and are compact enough to go almost anywhere. With zero-turn maneuverability, variable speed, and reversible traction drive, they can easily get into, and out of, tight areas, making them ideal for this large restoration task.
The National Association of Landscape Professionals (formerly known as PLANET) is an international association serving lawn care professionals, landscape management, hardscaping professionals, irrigation and water management, and interior plantscapers. The Renewal and Remembrance landscaping event is the largest green industry day of service in the country, drawing hundreds of professionals in the green industry each year to Arlington National Cemetery to renew the national landmark's 200 acres. More information about the Renewal and Remembrance event can be found on the association's website.