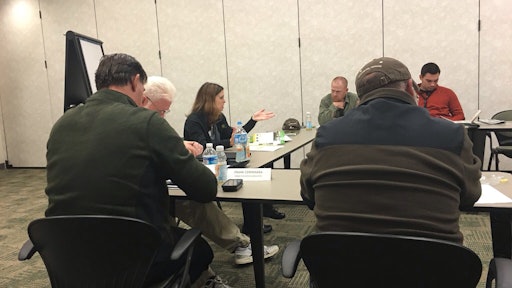 Amy Jones IMRE
John Deere hosted a Turf Care Quality Factory Tour at its Cary, NC, facility. The two-day event brought in waves of current and prospective John Deere users—including both dealers and contractors.
Attendees said the biggest highlight of the event was the roundtable discussions. Five different topics were addressed:
Commercial Mowing Equipment and Business Development
Commercial Worksite Products, Design, Build and Installing

John Deere

Financial
SiteOne Landscape Supply (Formerly

John Deere

Landscapes)
Parts
Participants were invited to speak openly with both the John Deere representatives, as well as the other contractors. Each topic was given 35 minutes, but there were three that had the most active discussion.
Commercial Mowing Equipment and Business Development
The primary focus in this section was to engage the contractors in talking about the different tactics they take when acquiring new business and continuing their growth. Methods such as treating clients with respect and taking the time to fully train and screen employees came up as the most successful ways.
Jim Piccoli of Sunrise Landscapes in Tampa, FL, said that he takes the time to send out text messages for holidays or when a client's child has a sports game. "These are the same clients that are paying you, but you make them your friends, because you never fire your friends."
Taking the time to work with clients and provide a positive outlook on a company and offering was something John Deere said was also high on their list of business do's.
"We're about brand recognition, we're focused on it and we've got a lot to offer," says Brian Walker of John Deere. "We're really geared towards hearing from our customers."
John Deere

Financial
John Deere's goal in the area of financing is to allow contractors to "operate at the lowest possible cost". Its fleet program offers contractors discounts when they purchase a certain amount of equipment. The most attractive part to the contractors in attendance seemed to be the delayed financing.
Through the delayed financing, payment wouldn't begin until they start using the equipment. That means contractors can upgrade and add new mowers at the end of the year—but not begin paying for them until they start mowing in the spring.
Parts
Parts seems to be a topic that always hangs on a contractor's mind. When Brian Aldinger, parts marketing representative of John Deere, asked the roundtable participants what their first thoughts on parts were, the table chimed in saying that in their opinion, parts were expensive and lacked availability. One of the reasons contractors said that John Deere was such an attractive brand was because of parts availability.
Contractors in the group said that often when faced with a lack of parts at their local service center or in their own service department, they're forced to build "Frankenstein mowers" with parts from old pieces of equipment. John Deere's parts onsite program was an attractive offer for those contractors. The program provides contractors with a cabinet (they can also decide to get more than one) stocked with parts that their local dealer restocks every month or so.
"There's no better place to have those parts than in your own shop. It saves your mechanic time and money," says Aldinger.