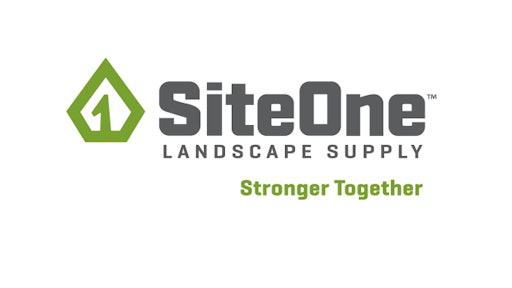 John Deere Landscapes LLC has unveiled its new name and logo as SiteOne Landscape Supply LLC, effective October 19. The new brand represents the next step for SiteOne as an independent company after its acquisition by Clayton, Dubilier & Rice in December 2013. SiteOne has over 460 locations in the U.S. and Canada, and is a wholesale distributor of landscape supplies for green industry professionals in North America—including irrigation supplies, fertilizer and control products, landscape accessories, nursery goods, hardscapes and outdoor lighting, along with a broad array of services designed to help green industry professionals operate and grow their businesses. SiteOne will formally introduce customers to the new brand at the GIE+EXPO in Louisville, KY.
"As a market leader, our vision is to make our customers the most successful landscaping professionals in the green industry—and that's what our new brand represents," said Doug Black, SiteOne's chief executive officer. "We have over 2,500 passionate and knowledgeable associates across North America, all focused on the success of our customers. The new brand reflects our unique position as the only national full-line provider of landscaping products which, along with the deep knowledge and state-of-the-art solutions that we offer, will form our foundation for future growth."
SiteOne's tagline, "Stronger Together" defines its partnerships with customers, associates, suppliers and communities, and its commitment to excellence in product offerings and service delivery. "By working together with our suppliers and customers we can achieve great things for all stakeholders," said Black. "We have an exciting new look, with the same exceptional associates who will continue to deliver the high quality products and services our customers know and trust."
The brand roll out will be completed by December.