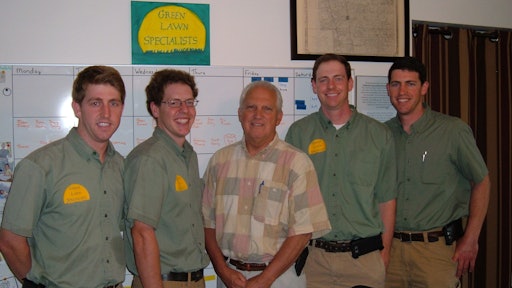 Coming in at No. 7 on our Landscape Industry Hidden Gems list last year, Green Lawn Specialists in Lewis Center, OH, grew 78% from 2012-2014 and had another blockbuster year in 2015. There are no signs of slowing down this year either, says Philip Germann, although he and his three siblings/business partners are more focused on what helps facilitate growth than growth itself.
"We're just trying to make sure that what we are doing is profitable and done right," Philip says. "There should never be any lust for size. We should be focusing on profitability, good customer service and systems. If those things are in place, the volume will come."
Rooted in lawn maintenance
Philip handles sales, customer service, general dispatch, job costing and daily accounting functions. Kyle oversees the more complex landscaping projects. He also maintains licensing and registration for lawn applications, and handles payroll and weekly/monthly accounting functions. Scott runs the irrigation and lighting division. Chris floats between working with the mowing and landscape crews. He also oversees equipment maintenance.
The Germann brothers actually started working together in middle school. Things started getting serious as they moved through high school. They began obtaining licensing, joined the lawn care association PLCAA (now NALP), and started listening to consultants like Jim Huston and Charles Vander Kooi. In 2006, with anticipation of moving to the central part of Ohio, they sold their company. The brothers had every intention, though, of getting back into the business once settled in Delaware County. They did that in 2008 when they bought a small, bankrupt maintenance firm.
"We liked that the company was primarily in residential maintenance," Philip says. "They had shed a lot of commercial accounts, but that was just fine with us. Also, their customers were in the right location. So we signed a non-disclosure and looked at their books. We had them drive us around to meet with their customers. We found that about half of their customers were happy and priced correctly. We could live with that. What needed fixing was fixable."
Case in point, one homeowner was unhappy because the previous contractor rammed a mower into her backyard trampoline. "We told her we'd bring our hand tools and put it back together, and we did," Philip tells. "We later told her we needed to double her price so we could continue providing the kind of service she wanted. She renewed her contract. I was amazed by how flexible she and many other customers were. People don't want to have to find a new service provider. They just want their service provider to take care of them."
As the business grew, the Germann brothers started to eliminate "distractions" and focus more on what they are good at: residential maintenance. They culled some unprofitable accounts, and tightened their geographic radius from roughly 30 miles to 15. They stopped doing work for builders.
"We don't do any design/build any longer," Philip adds. "We used to take jobs that were a little bit out of our comfort zone. Now we just do basic enhancements and replacements; generally nothing over $3,000. And we don't go after those $40,000 HOA maintenance contracts. We want to do the smaller, less-competitive jobs extremely well—and aggregate it together."
Everything is based on referrals. "Our main marketing venue is Angie's List," Philip says. "We have tried spending money with them by adding coupons and enhanced listing options, but the results were not encouraging. So we now stick to the basic, free listing and focus on keeping our ratings up to date and of high quality. We respond to every rating, and make sure we detail clearly, if a rating is not good, exactly what happened. Honesty is better than nothing.
"Sometimes this means challenging a customer's claim," Philip continues. "One customer said we never returned their email, when in fact we had. Other times, it means humbly accepting responsibility with some clarification to build pity (like a note about the tough weather). Many customers will take down their bad review if you refund their money and apologize in a timely manner. A refund, even if unjust, is cheaper than having a bad review on your site for years and years."
Different in a good way
Good customer service is top priority. It also helps when you do things that make you stand out. One thing Green Lawn Specialists does is offer fixed monthly pricing.
"Virtually all new residential maintenance contracts are signed this way now," Philip says. "It creates a better commitment between us and the customer. Customers who are not looking for a relationship are scared off. It also helps us ensure that our team will be reasonably busy through the whole season. It helps us route efficiently, and we don't worry as much about drought."
Green Lawn arrives at a customer's price by determining the number of mowings in an average season, times the average amount Green Lawn needs per mowing, and dividing that by the number of months the contract is for. "Most customers want an eight-month contract," Philip adds. "People are comfortable writing checks for the months they are getting work (April-November)."
Lawn applications and aerating are billed separately, as is the unique topdressing service Green Lawn offers. They purchase a compost product called Com-Til from the City of Columbus, which mulches in seed with a nutrient-rich compost blanket containing organic matter and beneficial micro-organisms.
"We plan to continue pushing this service this year, primarily in the fall as an add-on to seeding and aeration," Philip explains. "About 80% of our seeding customers add the topdressing. We apply the compost by hand because most of the jobs are small. We have subbed larger jobs to a local company that has blower trucks."
Keys to a successful growth spurt
Another thing the topdressing service does is help keep employees busy during the slower fall months. "It's important that we offer good-paying jobs," Philip says. "We base our pay scale off of area wages, and not just in landscaping. If our industry expects to pay $12/hour for quality people, we are crazy.
"Our employees also want more flexible schedules," Philip continues. "There are limits to this, of course. But we do offer paid time off, along with a winter salary that provides a baseline check when work is slow. We've found that you'll seldom keep decent talent if they face a seasonal layoff."
Philip offers other words of wisdom for landscape company owners who are trying to grow. "We job-cost constantly. After a job is done, we crunch the numbers to see if we over- or under-bid. You have to know your numbers—and know them right away."
The Germann brothers also believe in fleet consistency. "We buy the same brand and model of mowers for each crew," Philip relates. "That way parts are consistent. We also know what tends to break down, so we get good at fixing it."
"We also started buying new GM trucks instead of used," Philip adds. "A three-man crew can cost $1.50 to $3 per minute in lost productivity when a truck breaks down. We also end up paying good money for mechanic work. Plus, it makes significantly less financial sense to up-fit a used truck with a snowplow or salter. So we have found it to actually be less expensive to have newer trucks. We don't get the bells and whistles, though; no heated seats, and most don't have power windows."
Consultants have also proven to be a good investment. "We like to have a meeting once a year with a consultant, and try different people to get different perspectives," Philip explains. Last year they brought in Ed Laflamme of The Harvest Group. "Ed helped us figure out that we weren't getting a state fuel tax refund that we should have been applying for. If you've been in the business a while, consultants don't really tell you anything you haven't heard. But they do help open your eyes and prioritize what needs to be done."
Software is one such priority. Green Lawn Specialists had been using a program called QXpress for nearly 15 years. But it was acquired by WorkWave, a cloud-based platform. Not feeling confident that QXpress would be supported in a couple of years, Philip began looking for another option. He settled on Service Autopilot, another cloud-based program. "This is the closest thing to QXpress we found," Philip says. "We need something that's geared toward recurring service and scheduling. It basically gives us the ability to efficiently manage a large volume of small jobs."
You've likely heard the phrase "sibling rivalry". But when it comes to the Germann brothers, it's more like "sibling revelry".
"We are each other's best friends," Philip relates. "Having grown up together, we learned to fight fair and have complete respect and trust. Our common faith is a large driver of this. We all grasp that life is not simply about today, and that there is a higher power whom we are accountable to. We each have strengths and weaknesses, and we try to support each other and delegate roles accordingly. We all have made enough mistakes to learn the value of digging in and helping when bad things happen, as opposed to assigning blame and fighting."
That sounds like a recipe for success in any business—family business or otherwise.