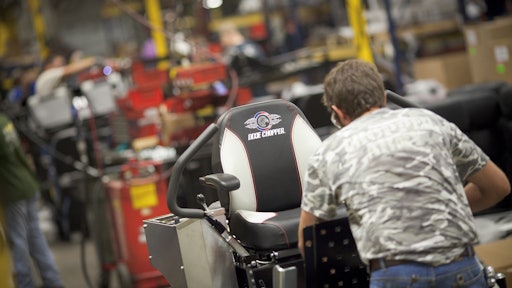 In February 2014, it was announced that Jacobsen, a Textron Inc. company, would acquire the assets of Dixie Chopper, an Indiana-based mower manufacturer that was seriously on the ropes. Now two years later, some of the workers who'd left have come back. Additional company leadership has been added. New products—such as commercial walk-behind and stand-on mowers—have been introduced. Existing products—such as its Classic zero-turn rider—have been refreshed. And the dealer network is growing again.
"Over the past two years, we've been able to revive over 100 Dixie Chopper dealers who'd stopped purchasing Dixie Chopper product," says Chris Vernon, president and general manager of Dixie Chopper. "We've also signed close to 80 new dealers. The channel is definitely moving in the right direction."
So is sales performance. Of course, that first year (2014) was quite a challenge. "We bounced back really strong last year though," Vernon points out. "Dixie Chopper is back to its historical peak, and if we stay on track this year, 2016 will be the biggest year Dixie Chopper has ever had."
Vernon was tapped to lead Dixie Chopper in June 2014, just a few months after the acquisition closed. He had been serving as vice president of strategy and product management for Jacobsen. "When I first came to Dixie Chopper, the people turned out to be a unique experience for me," Vernon relates. "This was the most dedicated group of people I'd ever worked with."
The biggest issue, two years ago, was cash flow. "In 2012 and early in 2013, Dixie Chopper had overfilled the channel with inventory," Vernon explains. "They had also offered terms to dealers that were extremely long. This kept the channel full of aged inventory, which prevented any need for new inventory, which led to a major liquidity crisis, which led to parts fulfillment issues because they were having trouble sourcing parts from their vendors." In essence, Dixie Chopper had created its own bubble—which ultimately burst in late 2013.
When Jacobsen took over in February 2014, Dixie Chopper had over a million dollars in backordered parts. "That was what was really upsetting to the dealers," Vernon says. "But before we even closed on the acquisition, we started calling suppliers, telling them that we were going to make good on everything they were owed because we needed to start building machines again. And we did. We unfroze that supply chain and were assembling mowers by March 10 (2014)."
What's to prevent something like this from happening again? "First, you can't offer up terms that don't make sense for both the dealer and the manufacturer," Vernon says. "Secondly, you need a healthier-turning product line. We've made a lot of changes. Retail sales in 2015 were up over 25%. We have the channel unclogged and flowing fairly well now, and intend to keep it that way."
Dealer patience paying off
Jeff Worthy of Cutting Edge Lawn Equipment in Lakeland, FL, has been a Dixie Chopper dealer since 2003. "The redesigned mowers have been a huge plus," Worthy says, adding that they now appeal to a broader set of end-users looking for ease-of-use. "It's a real sleek configuration now. The height-adjust mechanism is so much better; no more chains on the foot pedals." Cutting Edge also sells Exmark, Gravely and Altoz mowers.
Worthy, a Dixie Chopper dealer advisory council member, has been reassured by additional changes. "I went to Dixie Chopper in September to talk about pricing, warranty and finance programs. Jacobsen has listened to basically everything we dealers have been telling them. Honestly, that's pretty unusual for a manufacturer."
Clint Sanders concurs. His dealership, Outdoor Specialties in Lexington, TN, has only been in business one year. "They were very helpful in helping me get started," says Sanders, who is also on Dixie Chopper's dealer advisory council. "They didn't try to oversell us, and their reps were always there for us. We sold as many mowers in a month as they'd hoped we'd sell in a year. So it's been good for both of us."
In addition to Dixie Chopper, Outdoor Specialties also sells Gravely mowers and Stihl handheld equipment. "We sold around 80 Dixie Chopper units last year," Sanders points out. "We also sold close to 70 Gravely machines."
Outdoor Specialties has definitely gotten off to a quick start, and Sanders is quite optimistic about what this year will bring. He's also optimistic that his relationship with Dixie Chopper will continue to be a smooth one.
"I've noticed that Dixie Chopper really wants to listen to their dealers and get things corrected as soon as possible," Sanders says. "I've even had engineers come to my shop to look into different issues. All mowers have problems, but those problems do need to get fixed—and so far Dixie Chopper has always gone above and beyond to resolve any situations. They have a new website that makes parts ordering easier and more streamlined. And they are returning calls a lot faster."
Can the comeback continue?
Many of the new dealers Dixie Chopper has signed were already in the outdoor power equipment business. "They were carrying one or two lines, but were impressed by the renewed energy Dixie Chopper has along with the unique type of customer that is attracted to the Dixie Chopper brand," Vernon says.
Dixie Chopper has always had a loyal end-user following. "We are working hard to do exciting things and give our dealers new tools to help them market Dixie Choppers and grow their individual market share," Vernon says.
Dixie Chopper has strengthened its presence at prominent national tradeshows such as GIE+EXPO, where it has become a major event sponsor. It also sponsors a Hometown Heroes promotion and recently announced an exclusive sponsorship with Willie Robertson of Duck Dynasty fame. Dixie Chopper delivered several custom-made Duck Commander zero-turn mowers for Robertson to use. Vernon says Robertson has been a loyal Dixie Chopper user for years and is well-known and admired by the typical Dixie Chopper customer.
Branding helps create awareness and instill confidence, but what dealers and contractors really want is simply a solid product. Not long after the acquisition was finalized two years ago, Dixie Chopper began the process of refreshing all of its mowers. For example, most models had Generac engines on them. Now they are powered by the more popular Briggs Vanguard, Kawasaki and Kohler EFI. "We've really given our entire commercial line a facelift for this year, and also addressed a lot of warranty issues that were there," Vernon says.
Dixie Chopper has also broken into other product categories such as intermediate walk-behinds and stand-ons. Vernon says the product development team is not done churning out new ideas either. "We have a multi-year product plan in place. Our engineers are working on some ground-up riding mower designs that will make for some pretty exciting 2017 models. GIE+EXPO this October is going to be a lot of fun."