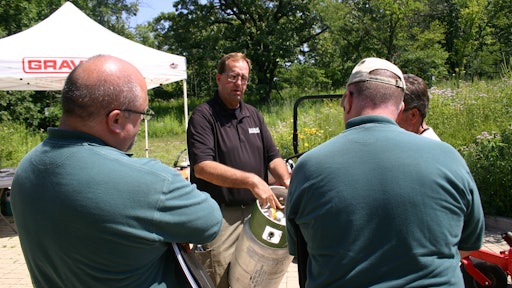 Equipment dealer Mike Halloran was one of several propane experts who presented at an educational event coordinated by the Chicago Area Clean Cities Coalition on August 4. He helped lay out the reasons why a park district or landscape company would want to make the switch to propane mowers.
Halloran is the owner of Halloran Power Equipment in Palatine, IL. His wife, Jill, is the owner of Mowerworks just 10 miles to the west in Barrington. Aside from being owned by a Halloran, the two stores share a lot in common. For one, they take the commercial market very seriously. Secondly, propane-powered mowers are big business.
Case in point: the Forest Preserve District of Cook County. Halloran has sold them a total of 32 propane-powered zero-turn riding mowers since 2012. The staff has been pleased with the results—so much so that it plans to convert numerous pieces of its remaining mower fleet over to propane, pending acceptance of a grant application for the conversion to propane power.
Halloran says financial incentives such as grants and rebates can play an important role in getting a customer to make its first plunge into propane. "The State of Illinois has one of the best incentive programs in the country," Halloran says. "Through the Illinois Propane Gas Association, people can get $1,500 per mower for up to three mowers—each year." That's $4,500 for three mowers, roughly half to two-thirds the price of a single mower, depending on make, model and size. In any event, that's some serious cash savings on the part of the end-customer.
Rebates not the only reason people are switching to propane
Halloran and other propane experts made their case at the Chicago Area Clean Cities Coalition's "Picnic in the Park" on August 4. The educational event was hosted by the Forest Preserve District of Cook County (FPDCC) and held at the Sagawau Environmental Learning Center in Lemont, IL. Those in attendance included employees of neighboring park districts thinking about the switch to propane mowers and/or vehicles. They were interested in hearing about the experience the FPDCC has had over the past few years.
Tom Thompson, maintenance supervisor for the FPDCC, shared some of that experience. "By converting our fleet to propane-powered mowers, we have been successful in making them both environmentally friendly and fuel-efficient. This is a benefit to our community and environment, and a value to taxpayers."
Switching to propane has also helped the FPDCC save roughly $1 per gallon of fuel. That translates into big bucks when you're running 32 zero-turn riders seven days a week from April through October. And we're not just talking about normal everyday use. Crews mow on a 10- to 14-day cycle. So when it comes time to mow a given section of the 70,000 acres the FPDCC maintains, the growth is heavy and demanding.
"When we were transitioning to propane, we first tested out some 60-inch zero-turns," says Jorge Campos, a fleet manager who works for Thompson at the FPDCC. "We loved them, but really wanted the extra productivity of a 72-inch mower." Additionally, due to the demanding conditions the FPDCC mows in, ample engine power would be needed. So Halloran decided to convert some Gravely 72-inch gas-powered mowers to propane in order to provide both the largest cut width and most powerful engine possible, a 35-hp Kawasaki. Gravely is Halloran's best-selling brand when it comes to propane mowers.
"The biggest challenge when we switched to propane was educating our mower operators," Campos tells. "There will always be questions about procedures and safety when you're switching to a new fuel. The only real difference, from a technical perspective, is the regulators on a propane engine."
Halloran played a huge role in facilitating that education. He conducted training days to make sure operators knew how to start the mowers, troubleshoot common issues that new operators encounter, as well as handle the fuel itself. He also took every opportunity to reinforce the benefits of powering with propane.
"With propane, you're saving money on the fuel itself," Halloran reminds. "But you also have reduced engine maintenance because propane burns so much cleaner than gasoline. Propane is safer because it ignites at a considerably higher temperature than gas. If by chance there is a propane leak, the fumes simply evaporate in a matter of minutes; there are no puddles to clean up and worry about. So there is significantly reduced fuel spillage and spoilage, which cuts costs. And because propane is contained and sealed in a canister, you don't have to worry about contamination."
Pulling together
In addition to Halloran, another propane expert, Jaime Mendez of AmeriGas, also spoke at the Chicago Area Clean Cities Coalition's Picnic in the Park event. He stressed the importance of all stakeholders pulling together in order to make propane a more commonly utilized alternative fuel.
"Partnerships are so important to making this work," Mendez says. "You (the end-user, i.e. landscape contractor) need strong partnerships with your fuel supplier, your equipment and vehicle vendors, and wherever you need to go for service support."
Adam Goldstein of STAG USA echoes that statement. "Yes, you need a good propane fuel system to make it work, but you also need a quality installation," Goldstein says. "Converting to propane isn't rocket science, but the details do matter—a lot." STAG USA is an international alternative fuels manufacturer specializing in extreme-duty applications such as police cars.
Speaking of quality installation, Clay Johnson of Metro Lawn Propane Conversions also presented at the Picnic in the Park. Metro Lawn trains people to perform their own propane conversions using certified kits, and then provides ongoing support. Metro Lawn is owned by AmeriGas.
"There are economic, environmental and political benefits to using propane," Johnson reiterates. "Economically speaking, you'll reduce fuel cost by 20-25%, require 10% less maintenance and virtually no carburetor maintenance, and reduce spillage/spoilage by about 10%. Environmentally speaking, you'll cut emissions significantly. Politically, you're using a homegrown fuel source, reducing our reliance on foreign oil."