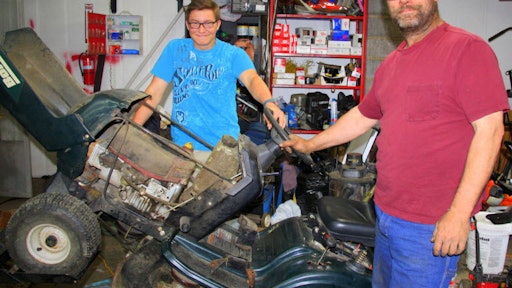 The small West Virginian community of Princeton isn't getting any bigger. The population—now at roughly 6,400—has been steadily declining since the 1990s. But even though it is the adopted home of the guy who played Gilligan on the classic TV show "Gilligan's Island", Princeton is by no means on the verge of becoming a deserted island—unless you're talking about small engine repair.
"I started my business, Joe's Small Engine Repair LLC, in 2013 after two shops in town closed," says Joe Roske. "I have a good niche because I'm open evenings and weekends. The other couple of dealers close by 5."
Another reason Roske is open evenings and weekends is because he's still working his full-time day job at an area recycling plant. "My small engine business is growing like crazy, but my wife won't let me quit my day job yet," Roske says with a chuckle. Maybe that day will come sooner than later. "I'm getting calls and voicemails from customers all day long. I return them on my lunch break, and then race home so I can start meeting with customers at my shop by 6 p.m."
Eye-opening experience
Roske first developed an interest in small engine repair as a teenager growing up on a farm. He now runs his repair business out of his home (garage). "I've thought about upgrading to an actual shop, but it's so expensive. Plus, right now I'm taking advantage of tax incentives for business use of my home."
So far, customers don't seem to mind. After all, they just want their equipment fixed. It's a diverse group of customers too. "Most are homeowners," Roske says, "but I also have a couple of home furnishing rental companies that have begun carrying certain types of lawn and garden equipment. I also have some local asphalt paving companies that need to have their rollers serviced, which typically have a Honda or Briggs engine."
Customer traffic has continued to grow with time—and word of mouth. "I ran my first advertisement this year, a business listing in a local trading journal," Roske tells. "It was very affordable, $20 for four weeks, and has helped get my name out there. Otherwise, I've been staying plenty busy with repeat customers and referrals. I also do some other low-cost advertising such as pens and business cards."
Roske has also begun sticking labels on the equipment he services. "I figure that if a piece of equipment is later sold to someone else, that person is going to see my name right away," Roske explains. "That's a potential new customer I'm immediately making a connection with, so to speak. Plus, the stickers simply keep my name in front of existing customers, which is also very important."
Growing a customer base has happened fairly quickly, organically and headache-free. The same cannot be said for initially getting the business up and running.
"It was a struggle at first because I had to do a lot of research to find out who the distributor for a particular brand was in my area," Roske recalls. "I found that sometimes a distributor carries a certain brand, but isn't allowed to sell it in a certain area. So it took a while to get all of that sorted out and get my vendors in place."
Roske also quickly learned that you need to place a certain size order to open an account with most distributors and/or manufacturers. "I'm working on becoming an Authorized Dealer for Briggs & Stratton," Roske points out. "My goal is to become our area's only Diamond Dealer, but Briggs requires a larger parts inventory. I'll get there. Also, I've passed the Kohler Certification Test. Kawasaki requires a storefront, as does Husqvarna. So my goal over the next few years is to erect a shop behind my house to serve as a showroom and warehouse. I'll continue using my garage as my service shop because I have it set up pretty efficiently."
Give customers what they want
Again, customers just want a reliable place to go to get their equipment fixed. They want a person they can trust who offers quality service, products and expertise.
"I'm a dealer for Interstate Batteries," Roske says. "I want to provide quality, not just another cheap battery that has to be replaced every year. Customers love the idea of a six-month warranty. There are other customers that want to go the cheap route. There are economic challenges in our area so it's hard to convince some people to pay more for something like a battery."
That's OK, Roske adds, because there is no one size fits all approach when it comes to power equipment. One thing people are willing to spend a few more bucks on is small engine protection. Ethanol-blended fuel has created both challenges and opportunities for dealers like Roske. That's why he has become a dealer of K-100 Fuel Treatment, which he prominently features in both his shop/store and on his website and Facebook page.
"When I begin an equipment repair, I open up the carb and take a photo of the fuel bowl so I can show the customer how nasty the fuel has turned," Roske says. "When the customer comes back, I show them the photo. Then I pull up my website and show the customer the section on K-100, which has some videos on fuel testing. After seeing all of this, the product really sells itself.
"If I do some major work on an engine, I give the customer a complimentary 2.5-ounce packet of K-100 so they can treat their next 5 gallons of gas," Roske continues. "I used to stock up on the 8-ounce bottles, but found that my customers weren't understanding how much to mix in their gas at a time. I've switched to these 2.5-ounce packets to make it as simple as possible."
Roske also walks customers through a simple preventive maintenance procedure before sending them home with their newly repaired equipment. "While doing work on most machines, I place a fuel shut-off inline before the carb, and educate the customer to run the unit out of fuel before putting it in storage," Roske says.
In addition to the K-100 Fuel Treatment, another new product line Roske has begun carrying is Interlube International's Opti-branded oils and ethanol fuel treatments. Opti-4 engine oil, when purchased in a certain quantity at the time of equipment purchase, will double the warranty period on internal engine parts. "Additionally, this is the only company I've seen that will warranty against ethanol (E10) engine damage," Roske says. Opti-Mizer Max ethanol fuel treatment, when purchased in a certain quantity at the time of equipment purchase, will provide warranty coverage on four-cycle equipment for up to six years. Customers just need to hang onto their receipts, use the Opti-Mizer Max in all fuel (including stored), and have a dealer inspect their damaged equipment to verify that E10 was the problem.
Roske has also begun carrying Kinetix High-Performance Engine Oils and Lubricants. He gets the products through Power Distributors. He has also looked into a couple of wholegoods lines, but is once again running into minimum-order challenges.
One day it will happen, he assures. In the meantime, he's sticking to his philosophy. "The key to positive growth is to treat your customers right and with respect," Roske says. "Educate them, but don't talk down to them like they are stupid. I also encourage customers to rate me on Angie's List, Google and Bing."
For a service-oriented business, online reviews are becoming very important in helping to pull new customers in—which is exactly what Roske is trying to do as he aspires to take his business to the next level.
"My business is basically debt-free," Roske points out. "I plan on investing all profits back into inventory and capital improvements such as adding that showroom/warehouse in my backyard. I also want to upgrade to LED lighting in my shop, along with more efficient heaters. I also want to add some solar panels to offset the additional energy usage that will come with the new building.
"I've partnered with BK Delivery Service to handle my pickups and deliveries for customers who don't have the means to bring me their equipment," Roske continues. "I'm also building a gas-powered air compressor to mount on my trailer. This will enable me to offer routine on-site service for those customers, especially the elderly, who don't mind paying a little more for service that comes to them."
It's all about giving your market what it wants—and needs.